In a pair of do-or-die, nail-biting, breathtaking situations, two goalies stood between Canada's fifth Olympic women's hockey championship and Dos Pueblos High's fifth CIF girls' water polo crown.
Both goalies came through.
At Gangneung Hockey Centre in South Korea, 20-year-old Maddie Rooney smothered Canada's last shot, preserving Team USA's 3-2 victory in the Olympic shootout.
At the Elings Aquatic Center in Goleta, San Marcos senior Sophia Trumbull reached high to deflect Abbi Hill's hard shot off the crossbar. After Trumbull's 15th save of the game, the Royals passed the ball out of danger, and seconds later the whole team was in the pool with their coach, Chuckie Roth, celebrating their 4-3 victory over Dos Pueblos and the school's first CIF title in girls' water polo.
Like the USA women, the San Marcos girls evinced a singular dedication to their cause and made their dreams come true with truly great performances. Unlike the hockey team, the Royals were not expected to reach the championship game — except by themselves.
San Marcos was seeded No. 7 in the CIF Division 1 Elite Eight. In their last regular-season game, the Royals lost to Laguna Beach, 10-3. Six days later, they faced Laguna Beach, the defending champion, in the playoff opener. They won in double overtime, 8-7. Mater Dei, a team that beat them in January, was next. They knocked off the Monarchs, 6-4. Finally, they came up against No. 1 Dos Pueblos, their league rival, which had swept San Marcos by scores of 10-2 and 7-4 while winning 28 consecutive games.
But the crowd that filled the stands and spilled onto the pool deck at last Saturday night's showdown was no longer certain to witness the coronation of the Chargers. San Marcos fed off the electricity in the air, mounting a tenacious defense that frustrated the 1-2 punch of the Stanford-bound Ryann Neushul and Hill, a powerful junior. The Royals led 2-0 at halftime and came out of an eventful third quarter in a 3-3 tie. Piper Smith scored the game-winner with 4:22 on the clock, flinging a shot that skipped once off the pool surface into the goal.
Trumbull made three big saves thereafter: repelling a point-blank shot by Thea Neushul, Ryann's cousin; soaring high to swat away Olivia Kistler's attempt; and finally, thwarting Hill.
"Sophia was amazing," Roth said. "The backbone of our defensive effort runs through her to Piper and Hannah [Meyer]."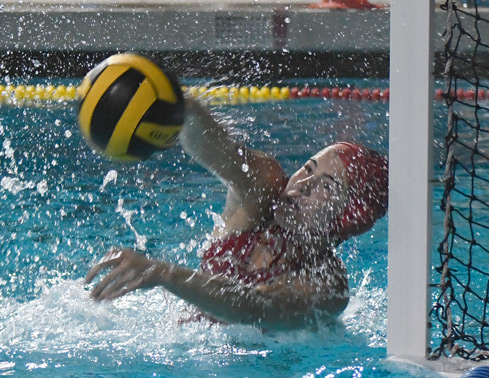 By Paul Wellman