When Michael B. Jordan told me that 2018 has been "incredible; it's been a crazy ride," he wasn't exaggerating. The 31-year-old had three films come out ​— ​blockbusters Black Panther and Creed II, and HBO's Fahrenheit 451 ​— ​and is now doing the awards circuit, as Panther has garnered a slew of recognition, including seven Oscar nominations and two Screen Actors Guild wins, one of which was for Outstanding Performance by a Cast in a Motion Picture. Jordan will also receive the Santa Barbara International Film Festival's Cinema Vanguard Award on Thursday, February 7, at The Arlington Theatre.
Jordan began acting at the tender age of 12 and has plied his trade ever since. His résumé is impressive, weighted with intense, complex characters such as the 16-year-old drug dealer Wallace on HBO's The Wire and quarterback Vince Howard on the TV series Friday Night Lights, as well as BART police shooting victim Oscar Grant in the film Fruitvale Station. More recently he took on the Rocky franchise with 2015's Creed, playing the emotionally layered protagonist Adonis "Donnie" Johnson Creed, the illegitimate son of Rocky Balboa's opponent-cum-friend Apollo Creed.
While Jordan has in innumerable other television and film roles under his belt, his 2018 films Creed II and, particularly, Black Panther have launched him into the cinematic stratosphere. I recently spoke for a few minutes over the phone with Jordan, who was in Utah at Sundance Film Festival.
In Creed, Adonis embodies a multifaceted masculinity that we don't typically see on film. And then there is Black Panther's Killmonger, whose behavior seems more stereotypical male. What do you see as their similarities and differences? I never thought about it until just now. [Pauses.] I'm just trying to be thoughtful about [my answer]. Killmonger's a very aggressive, very passionate, very emotional person who has a lot of hurt, a lot of pain. He has a lot of pain that's deep inside him that's rooted from childhood, from a lack of identity, a lack of knowing where he comes from, from growing up in systemic oppression … but kind of outcast from this Wakandan culture in the world of Marvel.
Then you have Adonis, who comes from the world of Rocky, who didn't know who his father was either. He grew up in the shadow of legacy, of history. One who doesn't know his history and his legacy at all, who didn't really get any type of attention … that was brought up kind of in the shadows as well, but kind of been running from his legacy, his father's shadow, so to speak. He's very passionate as well. He fights for what he believes in. He's very hot-tempered. He's very emotional as well. But just grounded in a world where they don't have superpowers or superheroes. … They're both very passionate about what they believe in, and the differences are all of the obvious ones. One has vibranium, and one doesn't. [Laughs.]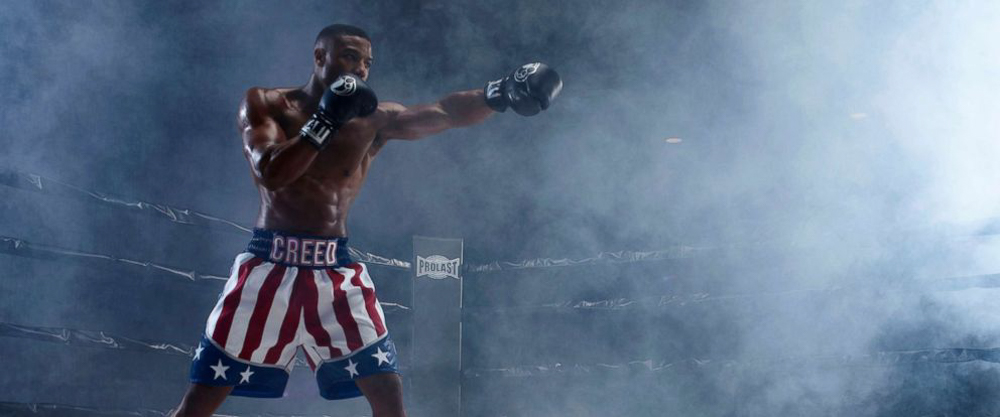 By Courtesy Photo