Fifty years after the Jan. 28, 1969 oil spill in the Santa Barbara Channel, the region is on the verge of another upheaval – the wholesale removal of aging oil infrastructure.
Seven platforms out of 19 in the Channel have shut down operations and will likely be removed, starting in the 2020s, together with their piers, pipelines and onshore processing plants in Carpinteria, Goleta and Gaviota.
The oil companies themselves will bear most of the cost, billions of dollars overall. At the same time, the state Legislature has been forced to budget tens of millions because former owners have disappeared into history or declared bankruptcy.
The first task at hand is to plug dozens of offshore oil wells with cement, an expensive and time-consuming task
This year off Summerland, the State Lands Commission will be working on "legacy" oil wells that were drilled in the late 1890s and are leaking oil onto the beach.
Off the Rincon this winter, Chevron Corp. will begin plugging wells at platforms Gail and Grace. And off Goleta, ExxonMobil will start plugging two wells in the surf zone at Haskell's Beach, and 30 offshore wells at Platform Holly, starting in February and April, respectively.
"It's an unusually happy moment to see change," said Anne Wells, planning manager for the City of Goleta. "It's something our entire community is witnessing. We're moving in the direction of a coastline that's free of our 1930 oil and gas history, into a new era of a natural coastline. I have to pinch myself."
Untested Waters
Platform Holly, installed in state waters two miles off Goleta in 1966, is slated to be decommissioned within five to seven years, state reports show; no platform of comparable size has ever been removed on the Pacific Coast. And at least six more offshore oil platforms – Harvest, Hidalgo, and Hermoso off Pt. Conception, Habitat off Carpinteria, and Grace and Gail off the Rincon and Ventura County – may be removed around the same time. These platforms range in age from 32 (Gail) to 53 years old (Holly).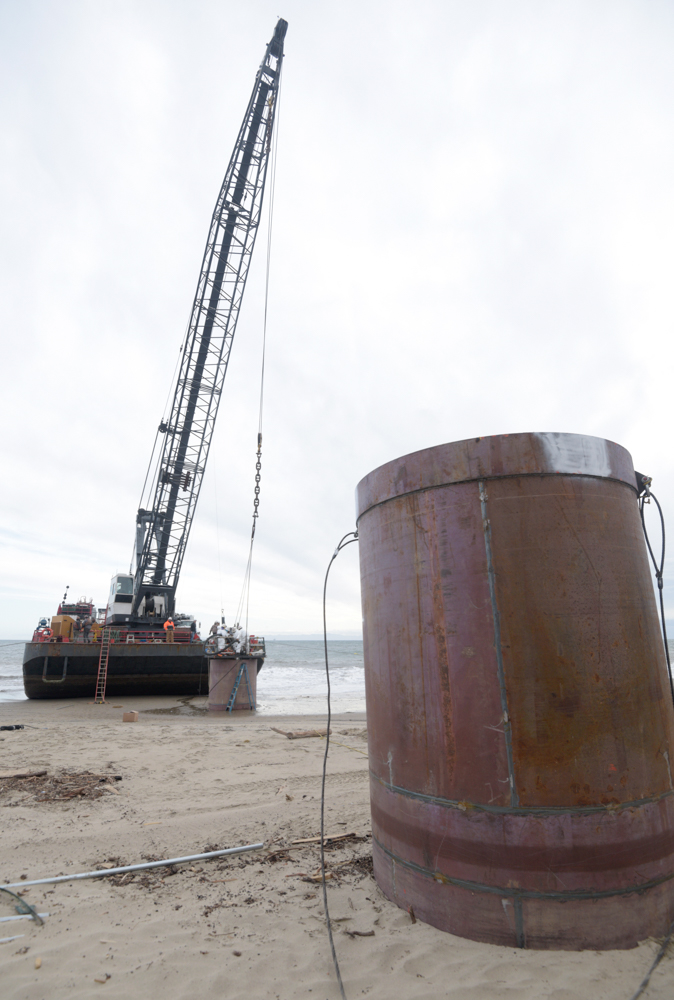 By Paul Wellman