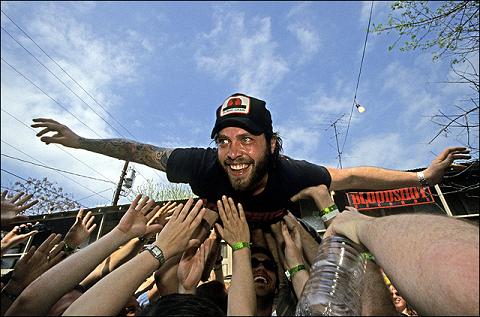 Kirk Rundstrom, the
singer/songwriter/guitarist for Splitlip Rayfield and Scroat Belly,
passed away February 22, after an heroic battle against an
esophageal cancer. He leaves behind his wife, Lisa, and two girls,
Ellie and Mollie. Rundstrom, whom Santa Barbara residents might
remember from appearances in the Sings Like Hell series in years
past, was diagnosed with the cancer only last February, but after
four months of intensive chemotherapy and radiation with no effect,
his cancer was determined inoperable and terminal. Rundstrom turned
to acupuncture and holistic treatments, and with two to six months
left to live, decided to begin playing music again with the band he
helped form in 1996, leading the band on a sold-out whirlwind
tour.
Split Lip Rayfield, based in Wichita, Kansas, has produced seven
full-length CDs of "punkgrass," its own mischievous blend of
old-time country, bluegrass, and witty songwriting about the tried
and true themes of bad cars, bad jobs, and bad women. Fans will
remember Rundstrom most for his electrifying live performances,
with his tattooed arms breaking strings by the dozen, and his
passion for playing the incredibly engaging live music that
inspired him to regroup the band for what would be his final
tour.
Fans can donate to the Kirk Rundstrom Cancer Fund or send
condolences to the family via
the band's website.
Rachel Weight is an Independent intern.