News
News-Press Owner Threatened with "Massive Retaliation"
Former Editor Denies and Denounces Child Porn Article
Former Santa Barbara News-Press editor Jerry Roberts angrily denounced a front page article in Sunday's edition of the News-Press, indicating that he may have downloaded thousands of pornographic images involving children and minors as "libelous," a "smear," and an "unconscionable story." At a late afternoon press conference held at the office of attorney Dennis Merenbach, Roberts "absolutely, 100 percent, and unequivocally" denied that he ever downloaded any child pornography.
Roberts said that he and his attorneys are still exploring their legal options, but strongly suggested that he will seek "massive damages" against the News-Press and its owner Wendy McCaw. During the press conference, Roberts was red of face and visibly angry, as he stated, "As a journalist, it is notable that this cowardly story was published without a byline and without any attempt to contact me in advance of its publication." Throughout the press conference, Roberts frequently reached over to hold the hand of his wife, Linda Kiefer, who delivered a brief and tearful comment of support for her husband.
The News-Press article in question did not come right out and accuse Roberts. Instead, the article reported how the News-Press was taking legal actions to retrieve the pornography-riddled hard drives from the city police who have them in custody. The police have declined to release the computer drives to the News-Press because the child porn images are legally considered contraband. Possession of child pornography is against the law. Because the computer was a used machine when the News-Press purchased it and because other people at the newspaper used it before Roberts was hired as editor, the police investigator assigned to the case concluded it was impossible to determine the identity of the person who downloaded the child pornography. Likewise, Eric Hansen, chief trial lawyer with the Santa Barbara District Attorney's office, concluded on March 2, "Given that multiple persons had either access to or use of the computer during its several year existence at the News-Press, there appears to be no single viable suspect. Additionally, there are no remaining investigative leads as to who put the images on the computer."
Roberts quit the News-Press last July over ethical and professional differences with News-Press owner and copublisher McCaw. His resignation-and the ethical and personal tensions at the paper-triggered an on-going meltdown that has garnered no shortage of unfavorable publicity for McCaw and her paper. Initially, McCaw sued Roberts for $500,000, though the action took place within a contractually required and confidential arbitration process rather than an open public legal dispute within the confines of Superior Court. Roberts counter-sued for $10 million, and McCaw upped the ante, suing Roberts for $25 million.
In the context of the arbitration process, Roberts said he first heard that technical experts hired by McCaw discovered a bounty of "erased" pornographic images on his computer's hard drive. Roberts' computer had been seized shortly after he quit, and its contents have been exhaustively reviewed by McCaw's security experts. It was then that the existence of these ghost images became known. Roberts and his attorney stressed that the computer had no password protection, meaning that anybody could use it.
Furthermore, they said that the pornographic entries were not accompanied by any time signatures, meaning there's no way to determine the dates and times when the images were downloaded. And finally, Roberts noted that when the issue first came up, he volunteered to take a lie detector test, which he passed with flying colors. The News-Press article did not list the names of any of the computer's previous operators, only Roberts.
The article also asserted that Roberts refused to discuss the matter with the Santa Barbara police. But Roberts's attorney Dennis Merenbach claimed this was false. Merenbach said he volunteered to make Roberts available to the investigators, but that they knew Roberts was seriously ill at the time. Roberts was dealing with cancer treatments while recovering from surgery on his spleen. Because of that, Merenbach said the investigator opted to ask him, rather than Roberts, whether he had downloaded child pornography.
Roberts said he will issue a demand to the News-Press that it retract the article and issue a correction. After that, he said he would figure out how to proceed on a possible libel action. Because the material stated in the News-Press article referred to material gleaned from court documents, it would normally be protected from such actions. But Roberts insisted that the News-Press acted with malice by publishing information it knew to be false and by failing to seek his reaction to the story.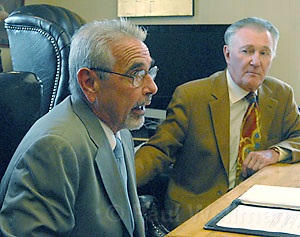 While Roberts has known of the News-Press's interest in this matter for months now, he said he was totally "blindsided" by its publication in Sunday's paper. While Roberts declined to comment as to why the News-Press chose to publish the story now, other former News-Press employees-who have either been fired or quit over escalating disagreements with McCaw-were more forthcoming. Not only has Roberts been a lightning rod in the ongoing dispute with McCaw over tone, ethics, and management of the newspaper, he's also enjoyed a wealth of public and professional support along the way. Not only has Roberts won several ethics awards-most notably from the Society of Professional Journalists-he was also recently the subject of a fundraising roast in San Francisco that raised $50,000 for his legal bills. That's twice what he expected to make. Finally-and perhaps most strategically-an arbitrator has now been selected, and at some point, he and McCaw will have to sit down at the table to hash out the multi-million dollar differences.
Efforts to reach News-Press associate editor Scott Steepleton and McCaw spokesperson Agnes Huff proved fruitless before deadline.
For the Santa Barbara Media Blog's take on this story, go here.