Reviewer Derek Svennungsen kindly offered to retract his official review in favor of a journal entry penned by Willie Nelson's trusty guitar:
On Thursday night, May 3, at the Chumash Casino's Samala Showroom, in front of the Lone Star flag, Willie Nelson (whom I call Long Hair) and I played the songs that have made us famous. With me set sturdily in his expert grip, Long Hair bent me achingly to "Crazy" before we chugged through "Whisky River" and "On the Road Again." It was beautiful and was received by loving, generous applause after Willie's solos (though I don't think of them as "solos," of course). But folks weren't there just to revel in '70s hits. They were there for modern takes on classics old and new, performed by the great Willie Nelson and me, his trusty guitar.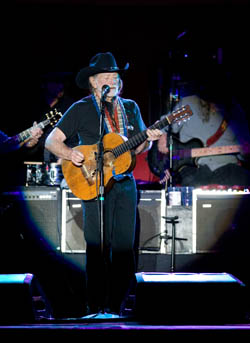 The crowd was rapt when Long Hair's long-haired sister played her piano, and all of us instruments on stage, including the bass, drum kit, second guitar, and mouth harp, felt emboldened by the kind audience's attention. (Some nights, it's nothing but rowdiness, bottles, and green smoke. Tonight was not, thankfully, one of those nights.) These people knew how instrumental (pun intended) my six strings are in the creation of Long Hair's archetypal songs.
We played "Nuages" – originally by Django Reinhardt, my hero, second only to Willie himself-and for that moment the crowd was only listening to me. And when Long Hair made his dazzling runs up my strings, well, the shivers I got are ineffable. All the while, Willie was having a great time. He threw two or three bandanas into the crowd and joked a bit before lovingly putting me down for the night. And on his way out, he brushed hands with his adoring crowd, a stunt that always makes me nervous. (Watch the fingers, Long Hair!) But, of course, he seemed to love his crowd as much as they loved him.