Food & Drink
Secret Eats at Mount Calvary Retreat House and Monastery
A Little-Known All-You-Can-Eat Buffet in the Mountains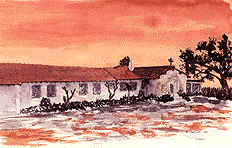 When you're in the market for a delicious, cheap lunch, a monastery is not likely to be on the list of possible candidates. But when I learned that the Mount Calvary Retreat House and Monastery offers a $10 all-you-can-eat lunch buffet, a friend and I headed for the hills to see what Benedictine monks eat. What we found was expectedly healthy and unexpectedly, well, Middle Eastern: homemade falafel balls fried to crispy perfection, tabouli with fresh tomatoes from the monastery garden, pita bread and tahini, salads of leafy greens, sunflower seeds, and beets.
Despite embracing ethnic and flavor diversity, the chef prepares only appropriately monastic fare, using none of the sugar, butter, or cream that most of us – myself enthusiastically included – have come to view as the mark of a successful dining out experience. But the Mount Calvary menu – which changes daily – is a bittersweet reminder that it's much easier to eat healthily and well when someone else grows, cooks, and serves the food.
As we'd arrived a bit after 12:30 – when lunch is served – the limited seating in the dining room was mostly full, but we were happy to carry our trays to an outside table. About a mile up Gibraltar Road, Mount Calvary offers views of the Channel Islands and endless sun drops dancing on the Pacific, a tableau so stunning that I was only slightly jealous of the hang gliders floating high above our heads. I was glad that my dining partner was someone with whom I could comfortably share silence, as idle chatter would have detracted from the idyllic atmosphere. As it was, the monastery's gentle silence made for the kind of gastronomic enjoyment that only comes from eating slowly and tasting each bite. (Unlike the monks, however, I got my $10 worth, eating well past the point of hunger satisfaction.)
After lunch, we strolled in the elaborate monastery gardens and settled into cozy armchairs with books from the eclectic, well-stocked library, also open to the public. On the way back down the mountain, my foot was much lighter on the gas pedal than it had been on the way up.