On Friday, May 25, UCSB hosts what is arguably the most creative and noncomformist film fest in Santa Barbara, a town replete with cinematic celebrations. It's called Reel Loud, which for 15 years has been pairing short (less than six minutes), silent student films with live bands to deliver quite an exciting evening of filmic fun. For the 16th annual Reel Loud, the theme is "Carnivale: Reel Specimens of the Unknown," and there are nearly 20 entries coming from every genre, from comedic horror to animation to the mind-bending avant garde. See reellouducsb.com. Here are 10 films to get excited about:
1) Pink Slip: Drawing inspiration from the Charlie Chaplain-type physical comedies of the 1920s and '30s, this follows a young man named Harry who's down on his luck.
2) Clean: College can be a stressful time, and things only get worse for Adam when he goes to the Laundromat to wash his clothes and they end up attacking him.
3) CSOwned: UCSB students and alums alike fondly remember the CSOs, who got such monikers as "Cops Sorts Ofs" and ".50s." Here we see what it's like when one of them finally reaches his breaking point.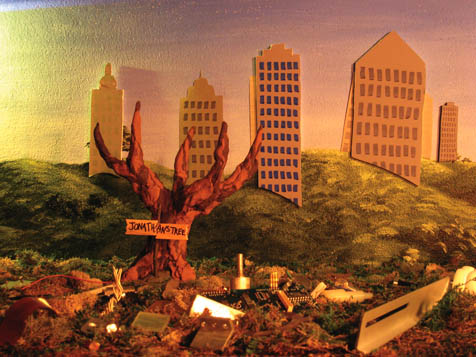 4) Jonathan's Tree: What happens when robots rule the world and discover a tree as a link back to humanity? Well, much as humans often harm the environment when trying to enjoy it, the robots love the tree to death.
5) Wonder Ball: In "breadsketball," the bread bounces and the balls taste great. See what happens when an unwitting baller winds up on a foreign court. Game on.
6) Repentex: Aimed for the Catholic crowd, this infomercial advertises a new drug that wipes away all that guilt you've accumulated from religion. You get to hear the results from one customer, too.
7) Monster Party: When the monsters take over the house and start partying down, Little Billy's only got one weapon at his disposal: a broomstick.
8) The Lemonsnake: When a lemon tree can't deliver the sour fruit that a neighboring snake desires, things get problematic.
9) Spank Zombie: The tides change when a new brand of zombies comes to earth seeking spanks instead of brains. Who'll rise to the challenge to save the world?
10) Foup: The travel flick gets a new face when a man gets sucked into a photo and travels via pictures hanging on walls.