Theater
Children of a Lesser God at Rubicon Theatre
Silence Full of Sound
It's no wonder Children of a Lesser God ran for 887 performances on Broadway. This beautiful and passionate play has made a comeback and is as relevant and powerful today as it was when Rod Lathim first directed it at the SBCC Garvin Theatre in 1985. The tender and compassionate love story between James Leeds and his deaf student Sarah is about the world of the deaf, but it is also about any couple's quest to understand each other and to appreciate each other's differences and unique qualities.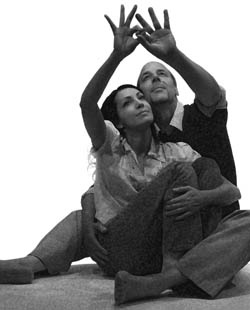 Initially bewildered by Sarah's utter refusal to learn lip-reading, James persists in gaining her trust. Having a reputation as a radical teacher and possessing a warm sense of humor, James intrigues Sarah and gradually melts her defiant fa§ade. Sarah is too intelligent to be a maid at the New England School for the Deaf, so James persuades her to strive for a better life. As he transforms from a teacher to a man in love, James continues to urge Sarah to enter the "hearing world." For Sarah, however, "deafness is not opposite from hearing; it's a silence full of sounds." The play thus dramatizes multiple layers of love and marriage. It evokes a psychic longing for a magical, deep communion-one where words are superfluous. Act I ends with a promise to "Let no one come between us," but at the same time, the situation has become a contest of wills. One detects James's Pygmalion-like wish to create a lover in his own image, most noticeably in his frustrating effort to teach Sarah the music of Bach.
Remi Sandri is exquisite as James Leeds, using sign language simultaneously throughout his two-hour performance. Graceful and charismatic, he is matched by a mysterious, attractive, and angry Sarah, played by T. L. Forsberg. One of three deaf performers in the play, the spirited Forsberg demonstrates the power and richness of non-verbal communication. Proud and fiercely independent, she commands attention with her facial expressions and her body movement. Intricately connected to the main characters are the former students-innocent, infatuated Lydia and politically involved Orin. Both Talia Dagan and Garrett Zuercher are passionate in their delivery.
Ultimately, even if love transcends such physical barriers, there remain political battles to fight. The play suggests that happiness, the pursuit of which is woven into the fabric of society, may be elusive.