Conductors can generate a lot of excitement around a concert, especially when they are as highly regarded (and as heavily hyped) as David Robertson, who will be at the Lobero Theatre on Saturday, June 30 to conduct the first of the Music Academy's Festival Orchestra concerts.
No one in American music was as talked about this year as Robertson, who is currently music director of the St. Louis Symphony. Born and raised in Santa Monica, Robertson has a reputation for presenting modern music with evangelistic fervor. His program for the Academy Festival Orchestra concert includes the dramatic Symphony No. 5 of Carl Nielsen, which was written in response to World War I and has a big part for the snare drum. There's also John Adams's Century Rolls, a concerto Adams wrote for Emanuel Ax that attempts to review the entire history of 20th-century piano music-from the perspective of a player piano.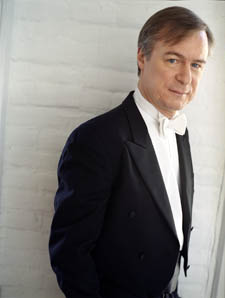 Joining Robertson for the Adams piece will be his wife, virtuoso pianist Orli Shaham. In addition to being a respected keyboardist and the mother of the couple's two sons, Shaham hosts a radio program called "Dial-A-Musician" which involves taking listeners' questions about music and calling famous musicians for the answers.
Robertson conducts the Music Academy of the West's Festival Orchestra on Saturday June 30, at 8 p.m., at the Lobero.