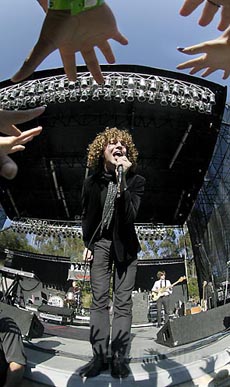 One of the privileges of attending the big summer rock shows at the Bowl is getting a look at some of the hardest-working people in the music business-opening acts. Typically they are young, ambitious, and riding some considerable early success. The opening slot gigs are a chance to practice for the big day-coming soon-when everybody in the audience is there to see them. And, in the best cases, the urgency of the situation comes across in the performance, and you get the feeling that, for now at least, everything counts.
Hot Hot Heat fits this description perfectly. It is the opening act for Snow Patrol on July 17, and the band could not be hungrier or (duh) hotter. I spoke with lead singer and songwriter Steve Bays last week. He's the one with the mesmerizing voice and the Ian Hunter/Marc Bolan rock-star afro.
Is Santa Barbara the first stop on this tour? Yes, I think so. We have some other dates in the area that are not with Snow Patrol, so people in San Luis Obispo and Santa Cruz will get to see us in smaller venues. We love coming to Santa Barbara. The response we have gotten there has been amazing.
Did you just finish recording something? Yes, Happiness Ltd. It'll be released on Tuesday, September 11. There's no significance to the date intended-unless, of course, you see some. The label asked if we wanted to move it forward a week, but we said no. It's ready, and records traditionally come out on Tuesdays, so that's our release date.
What was it like recording this one? All-consuming. We came in with the idea that we were going to do something in the urgent, recorded-live mode, and put it together in two weeks. But then we got into the production process, and we started to make it sound lush. Not all the way to Sgt. Pepper's-closer to Rubber Soul. It has an arc like a movie. On one song, "Out of Heart," I use a big, cinematic falsetto, and there are theremins, like on [The Beach Boys'] "Good Vibrations."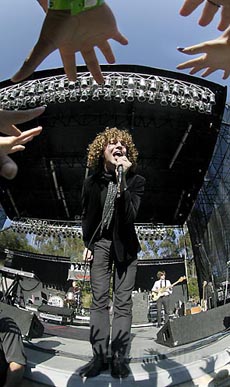 Wow, are you a California band now? No, although we did hire Luke [Paquin] on guitar, and he's from San Francisco. I am such a Canadian that I feel like a traitor living in Los Angeles. In fact, when I first moved to L.A. in January of last year, I hated it and I moved back to Vancouver. But I have to be here, it's where we signed, and we are determined to take this opportunity of being on a major label and make something of it.
Despite the success and the major label [Warner/Sire], Hot Hot Heat comes across as still hungry. Is that how you feel? Still hungry is the best thing you could have said about us. I think about this a lot, and to still be that way is the key. It isn't even tied to age so much because I see these artists out there who are older, but somehow they have still got that, and I wonder, "How the fuck does he do it? How does he keep it?" You have to stay hungry, even to the point where you feel maybe it's not constructive, but restless, because without it, in pop music, you're just dead. There's so much music out there, and the window of opportunity for a band opens and closes so quickly, we just want to be there for it.