Theater
SBCC Theatre Group Brings Stoppard's Rough Crossing to the Garvin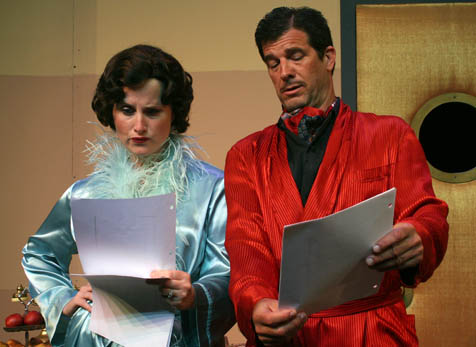 "His farces are what I'd call 'inspired silliness,'" said director Rick Mokler of Rough Crossing, the Tom Stoppard "comedy with music" that opens this week at Santa Barbara City College's Garvin Theatre. Audiences will find themselves shaking with laughter at the simultaneous wit and utter ridiculousness of the show, which tells the story of a theatrical team that boards a trans-Atlantic ocean liner bound for New York and Broadway with a musical, The Cruise of the Dodo, that is nearly complete. When Adam, the play's composer who is hopelessly in love with his leading lady, overhears the Dodo's leading man profess his love to her, his friends in the production decide to pretend they were only rehearsing the show's as-yet unwritten final scene.
If this sounds like the premise of a theatrical version of MTV's Punk'd, be assured the ensuing hilarity will be far more entertaining than anything Ashton Kutcher could devise, as the three main characters work throughout the drama to keep up the lie and reunite the lovers. Add one crazed steward who can't seem to get his balance until the ship hits stormy seas and some haughty attitudes on the parts of the lead actors, Natasha and Ivor, and the situation threatens to spiral out of control multiple times, much to everyone's amusement.
Rough Crossing, which was adapted from Ferenc Moln¡r's The Play at the Castle, is one of Tom Stoppard's few pure farces. Stoppard, who has written more than 24 plays, ranging from Rosencrantz and Guildenstern Are Dead in 1966 to The Coast of Utopia in 2002, has won countless awards, including an Oscar for the screenplay of Shakespeare in Love in 1998. His claim to fame in the writing world has always been his wordplay, a skill that provides the comedic foundation for Rough Crossing.
Director Rick Mokler agrees with the critical consensus, saying that "[Stoppard] is probably the greatest living English-language playwright. What I like most about Rough Crossing is the language-it's just terrific."
While this play lacks the serious undertones and intellectual subject matter of many of Stoppard's other works, it more than makes up for that with sheer comedy. The witty dialogue and physical humor, combined with what Mokler calls an "all-star cast," promises to have the walls of Garvin Theatre resounding with laughter.
"These are the 'funny people,'" said Mokler of his cast, adding that besides being highly experienced, award-winning actors, they are "all absolutely hilarious."
"Sometimes the hardest part about rehearsal is trying to keep a straight face," he said.
The lead role of Alex Gal is played by Jon Koons, who has acted in various venues on the West Coast and appeared with the SBCC Theatre Group in 12 shows, as well as having written screenplays and acted as the artistic director of the Liarsville Hippodrome Theater. Tony Miratti will join him to play Gal's sidekick, Sandor Turai. Devin Scott, an acclaimed actor and director who has worked on both coasts, plays the lovesick composer, Adam Adam.
Julie Anne Ruggieri plays Natasha, and Jon Zuber is her leading man, Ivor Fish (pictured above). Both are SBCC Theatre Group veterans. The play's most eccentric and hilarious role, Dvornichek the unconventional steward, is played by Ed Lee. Lee received an Independent Theater Award in 2007 for his role as the title character in the SBCC Theatre Group's production of The Foreigner, and he will no doubt light up the stage again as his character struggles to get his sea legs.
"We are fortunate to have a cast comprised of Santa Barbara's funniest actors," said Mokler. "It is the most experienced cast of lunatics I have ever had the pleasure to work with."
4•1•1
Rough Crossing will preview tonight, July 12, at a reduced admission price ($14), and set sail for its official opening on Friday, July 13, at SBCC's Garvin Theatre (721 Cliff Dr.). The show runs until Saturday, July 28. Tickets are $21 on Friday and Saturday evenings and $19 on Thursday evenings and at Sunday matinees. Information and tickets are available at the Garvin Theatre box office or by calling 965-5935.