Sports
Polo's Pacific Coast Open Rolls On in Santa Barbara
Fastest Ball Game in the World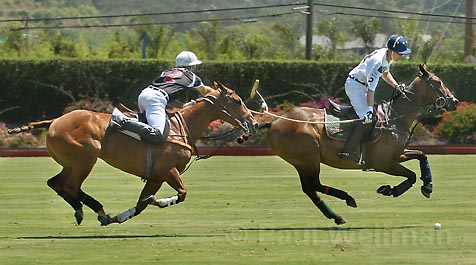 The beauty of polo is the synchronization of horse and rider, making it the fastest ball game in the world. With the horses topping 30 miles per hour, it is safe to say that the games at the Santa Barbara Polo & Racquet Club last Sunday afternoon were moving faster than the thick southbound traffic on nearby Highway 101 through Carpinteria.
But speed incurs danger, and midway through a contentious match between the Zacara and Piocho Ranch teams, there was a pileup on the polo field. It happened so suddenly that Sunny Hale did not see it.
"I turned around to talk to somebody," she said. "I turned back and, oh, my gosh, two horses down, two people down."
The downed players were Memo Gracida and Kris Kampsen, both riding for Piocho Ranch. Within seconds, their horses scrambled to their feet. Kampsen got up slowly, holding his right shoulder. Gracida lay motionless on the field. His horse had rolled over him-the equivalent of the defensive line of the Chicago Bears hitting him all at once. An ambulance was summoned. After almost 10 anxious minutes, Gracida was helped to his feet and walked off under his own power.
"We had a really bad day," Tom Barrack said later. Barrack, who has had some really good days as an international real estate mogul, sponsors Piocho Ranch, named after his spread in the Santa Ynez Valley. Besides losing half his starting lineup, Barrack was playing with a broken index finger on his right hand, the one that holds the mallet.
Barrack's team finished the game with two substitutes. Zacara won by a 14-7 score to gain the upper hand in the Bombardier Pacific Coast Open, the most prestigious polo tournament west of the Mississippi. But because only four teams are vying for the trophy, they all have a chance of reaching the championship match, depending on the outcome of the penultimate games today, Thursday, August 23. Zacara, 2-0 in round play, will face Audi Polo (1-1) at 1 p.m. Piocho Ranch (1-1) takes on Grant's Farm/ERG (0-2) at 3 p.m. The final is set for Sunday, August 26, at 2 p.m. A consolation match will take place at 1 p.m. Saturday.
Piocho Ranch went into the tournament as the team to beat after winning the America Cup earlier this month. Its leading scorer was Kampsen, whose shoulder was separated Sunday. "If I can stand the pain, the doctor says I can play," he said. "I'm going to play." Less certain was the availability of Gracida, a legendary champion from Mexico who is more than 50 years old.
Zacara-named after sponsor Lyndon Lea's children, Zachary and Chiara-is on a roll. Ruki Baillieu and Nicolas Roldan, two aggressive young players, lead the foursome. They showed no mercy Sunday. The umpires resumed play before Piocho's subs were ready, leaving Barrack and Julio Gracida, Memo's son, trying to fend off a four-pronged attack. During a strained display of sportsmanship after the game, Lea apologetically said his men should have waited until Piocho was at full strength.
The happiest faces of the day belonged to Sunny Hale and Melissa Ganzi. The two women comprise half the lineup of Audi Polo, a rarity in high-goal tournament play. Each scored a goal in their 12-11 victory over Grant's Farm/ERG. Gonzalito Pieres, a rising superstar from a famous Argentinian polo family, scored nine goals, including the winner in sudden-death overtime. Andy Busch was the last defender with a chance to stop Pieres, but Hale rode him off. "It was like a downfield block in football," Busch said. "She prevented me from making a play. She's a smart, seasoned player."
Paco de Narvaez, the star of Busch's team, won the last two Pacific Coast titles with Duende, a team that has taken the year off. Its sponsor, Mike Hakan, broke his leg when his horse had a heart attack and fell on him.
Santa Barbara's premiere tournament is the second leg of the Triple Crown of Polo, a series that ESPN2 will televise on October 7. It began in March at Sarasota, Florida, and will conclude next month at Aiken, South Carolina.
4•1•1
The Pacific Coast Open continues at the Santa Barbara Polo & Racquet Club today, Thursday, August 23, through the weekend. See sbpolo.com or call 684-5819.