News
Supes Vote to Raise Parking Fees Only at Cachuma and Jalama
Beaches Remain Free, Mostly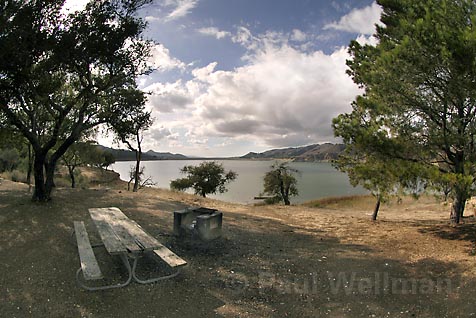 Though the Santa Barbara County Board of Supervisors voted October 16 to raise day-use fees at Cachuma Lake and Jalama Beach county parks as well as to raise group picnic-area fees at all other county parks, what they didn't do was the hot topic of the day. The board decided not to go forward with the possibility of implementing parking fees at the county's beach recreational areas. In fact, the matter was essentially swept off the table by the supervisors, as no supervisor advocated further discussion of putting day-use fees in at any parks other than Cachuma Lake and Jalama Beach.
Despite this, however, 3rd District Supervisor Brooks Firestone warned that the board has an obligation to provide parks for future residents, and in order to do that, it must make capital improvements now. Perhaps most daunting is work needed at Goleta Beach, where the county is considering ideas to save the shore from erosion at a cost estimate of $10-$28 million, said Parks director Daniel Hernandez. "If we don't spend that money, we won't have a park," FireÂ-stone said. "It's just a fact of life." That matter will be discussed at a November 20 meeting.
Fourth District Supervisor Joni Gray-who during a September 4 meeting suggested charging fees at other park locations-voted against increasing fees at Cachuma and Jalama. "I just can't support the increase of fees at Jalama and Cachuma if everybody else gets in free," Gray said, adding that rather than increasing fees at only those two parks, she would be more inclined to just make them all free.
While day-use parking fees won't be at county beaches, reserving group picnic areas in all of the county's parks will cost more. The increases will bring Santa Barbara County in line with park prices in other counties. The fee adjustments-the first in more than four years-will provide roughly $380,000 per year that will go toward landscape maintenance services lost in previous budget cuts, as well as a system that will facilitate making reservations at Jalama. Group picnic-area fees will be raised from $7 to $10 at each park, while a cost dependent on the size of the group for up to 100 people will also be raised $5. Any group with more than 100 people won't see increased fees. For these reasons, Supervisor Joe Centeno voted against the adjustments, citing Waller Park in Santa Maria as a place where volunteers "worked their tails off" to help the park and didn't deserve a bump in the price. He also didn't want to shortchange low-income families who often visit the park, saying. "I'm reluctant to make it more difficult for those people to go to that park."
The day-use vehicle fee at Cachuma Lake and Jalama Beach will be bumped from $6 to $8, while annual passes for day use will jump from $55 to $65. According to a county staff study, if the county charged a daily-use rate of $1 per vehicle at the county's six beach parks, roughly $667,600 in total annual revenue would've been generated. Minus the ongoing costs, the county could've netted $423,000. An $8 fee for all beach parks would have given the county $5.1 million in annual net revenue.
The Environmental Defense Center wrote a strongly worded letter against fee raises and the Santa Barbara chapter of the Surfrider Foundation said it adamantly opposed the idea of charging parking fees at county beaches. The county only has so many places with beach access, said Santa Barbara Surfrider chair Scott Bull on Monday, so if the county began charging for those spots, it would be taking away accessible beach for many people who can't afford it. "The parks shouldn't be about generating revenue as they should about providing refuge," said Matt Wallace, a Surfrider executive committee member.