Arts & Entertainment
UCSB Presents Wu Han and the Chamber Music Society of Lincoln Center
England Calling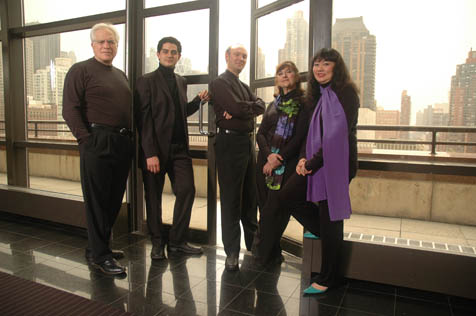 Wu Han is a pianist and co-artistic director-with her husband, cellist David Finckel-of the Chamber Music Society of Lincoln Center, which will appear on November 8 at the First United Methodist Church in a concert presented by UCSB Arts and Lectures. The program, England 1900-1930: A Musical Renaissance, will include works by John Ireland, Sir William Walton, Ralph Vaughan Williams, and Edward Elgar. Wu Han was gracious enough to speak with me from her apartment in New York.
Congratulations on your performance last year with the members of the Emerson String Quartet; I particularly appreciated your red shoes and your lively approach to Brahms. It seemed to me that you had captured the rollicking spirit of his chamber works, giving us a sense of what his concerts were really like, rather than a museum for musical works. Is that your approach for England 1900-1930? Any performance is a living thing; you always have to re-create the experience of its first audience on the spot. This English repertoire is very unusual-it's hardly played. With the Walton piece [Quartet for Piano, Violin, Viola, and Cello], for instance, it took months even to get the music-and when we did, the parts were really expensive! Walton wrote the piece when he was 18 or 19, then revised it when he was in his eighties, so it has this youthful energy-it's really like rock 'n' roll-yet very sophisticated chord progressions. At the time, English composers were importing new chords from France and Germany, but it's very much in an English style-like afternoon tea.
Why "a musical renaissance"? That's an interesting comparison for a time period that encompasses High Modernism, World War I, and the Great Depression. You're right; these were very difficult times, and you can hear the war in parts of the pieces. Sometimes a society will create the greatest music when things are less comfortable-people seek out comfort in art. The John Ireland song cycle, Land of Lost Content for Voice and Piano, is based on poems by A. E. Housman that talk about what it was like to face death: "I shall have lived a little while before I die forever." But the piece has both this advanced harmonic language and some things that sound like Gershwin or Cole Porter, and a glorious epilogue. The other song cycle, a far more famous one by Ralph Vaughan Williams [Songs of Travel for Voice and Piano], is similar, but in a slightly different style. We chose five songs from this cycle, each with its distinct flavor, and the fifth incorporates elements from the first four. The lyric goes, "I have lived and loved, and closed the door," and that really sums it up.
It sounds as if these works are very different from what was going on with the Second Viennese School at the same time. Yes, they're all very English-there's no getting away from that. The Elgar piece, the Quintet in A minor [Op. 84], isn't easy to find on the concert stage, but it's really interesting. It has a really big, organic sound, like a symphony, although it's full of natural sounds. Elgar's wife said that he actually wrote it in their country house, and that she remembers the owls hooting-and they're in the piece so you can hear them! That's the English part-proper, with beautiful language, but still wacky at the same time.
You've been involved with some new ways of reaching audiences lately, both in performance and through recordings. How do you see the future of classical music progressing? I have high hopes for classical music, especially when musicians are committed to programs that make sense. Recording is only one of the many extra steps you have to take to bring people closer to the music. You need audio notes, too, so that they can know more and enjoy more, and you can maintain real excellence. It's also important to capture the performing activity of the early 21st century. We're always discovering new pieces-there's a real treasure chest of works out there-and there's so much to learn about. We're especially fortunate when we tour and find that there are communities out there like Santa Barbara, where people really care about music.
4•1•1
The Chamber Music Society of Lincoln Center will perform the program England 1900-1930: A Musical Renaissance at 8 p.m. on Thursday, November 8, at the First United Methodist Church. For more information, call 893-3535 or visit artsandlectures.sa.ucsb.edu.