Visual Arts
Cultural Maintenance, paintings by L. Frank.
At the UCSB Women's Center.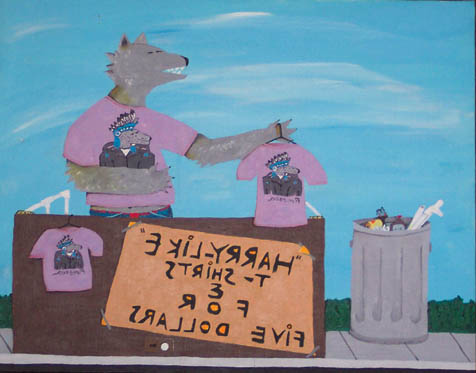 In celebration of Native American Heritage Month, the Karpeles Manuscript Library Museum and the UCSB Women's Center are currently showing work by artists from various indigenous groups. The paintings that make up Cultural Maintenance and the photographs included in Kun-Kun'-Up reflect a wide range of perspectives and interests, giving a sense of Native American collective consciousness at the beginning of the 21st century.
Kun-Kun'-Up, presented by the Indigenous Youth Foundation, is an exhibition of photographs taken by young people of Chumash, Pima, Ojibwa, Lakota, and other tribal descent. The show is organized in groups of three color photographs (primarily of nature scenes) hung alongside a poem written by the artist, as well as his or her portrait and biography. In this sense, Kun-Kun'-Up serves as a group portrait of the region's Native American youth. Their poetry further ties the show together, and evokes the importance of community that is so strong in traditional cultures. Kun-Kun'-Up is compelling because it gives voice and vision to the latest generation of this country's original ancestors, blending old and new. As Brianna Elizalda writes in her poem, next to her photos of decaying tule reeds in water, "Stains remind me of ancestor's heritage/remind me/of the message the tule brings."
L. Frank, a native Californian Tongva/Achamem artist, approaches the Native American experience as a woman, a tribal activist, and painter with a wry sense of humor. Judging from Cultural Maintenance, L. Frank sees the current Native American diaspora as defined by the collision of ancient myths and contemporary culture. In "Harry Like T-Shirts," a coyote dressed as a human sells T-shirts from a makeshift outdoor stand next to a trash can. But all of the language depicted, from the coyote's sign to the oil can in the trash, is backward. Like the coyote trickster himself, L. Frank uses manipulation to throw the entire image into question.
In the same way that a myth implies many meanings, Cultural Maintenance shows without telling, leaving the viewer to search for meaning in bears, condors, abalone shells, and oil cans. However you interpret her modern-day mythology, L. Frank's paintings prove that the Native American mythopoeic universe is alive and well.