News
Frimpong Accuser Testifies
Her Memory Clouded by Alcohol, Defense Says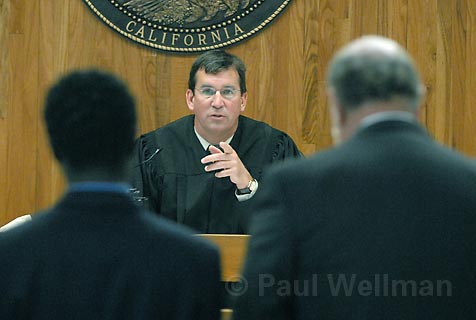 Attorney Robert Sanger's questions to witnesses in the rape trial of Eric Frimpong have gradually revealed his defense strategy for the accused soccer star. At least for now, Sanger seems to be proving his point. At the outset of the trial, which began November 26 in Santa Barbara Superior Court Judge Brian Hill's courtroom, Sanger suggested that authorities hadn't looked at the possibility that there could be other suspects in the alleged rape of a 19-year-old UCSB student in the early morning of February 17. In fact, it appears through his examinations that Sanger has someone particular in mind-the woman's "intimate partner," Benjamin Randall.
But no witnesses-not Randall, the alleged victim, nor any others-have given testimony that might help prove this theory true. Randall, who had been at a party with the alleged victim on the night in question, testified he saw Frimpong and the young woman walking along Isla Vista's party street, Del Playa Drive. He said he called her to see where she was going. While he didn't admit it at first, Randall eventually even said that seeing the two of them together made him slightly upset. "That she was with someone else, I guess you could call it jealous," he said. Both he and the alleged victim denied that he followed her and Frimpong to Frimpong's Del Playa house, and they both denied that he watched them play beer pong there. It was eventually determined that Randall's sperm was found on underwear the alleged victim was wearing at the time, but the young woman said she and Randall had had consensual intercourse the previous Wednesday.
The alleged victim's testimony over two days revealed that she had had roughly 13 drinks during the course of several hours that night. While witnesses have described the young woman as coherent, an examination yielded that she had a 0.20 blood alcohol level the next morning. The young woman also revealed on the stand that she was tentative in reporting the alleged rape to authorities because she was on probation for a DUI she had received when she was 17.
Sanger has been trying to prove that the woman's memory of the events that night is cloudy at best as a result of the alcohol she consumed. She didn't remember any of the events between stepping into her friend's car after the alleged attack happened and arriving at Goleta Valley Cottage Hospital-a time period of about an hour. Despite giving almost a blow-by-blow account of how she was raped on the beach by Frimpong, her memory is hazy, she said, and she couldn't remember the "exact chronology" of what happened. Earlier, the alleged victim told the court she had blacked out between five and 10 times from alcohol in the past, a point Sanger has frequently brought up since.
But prosecutor Mary Barron asked the woman if, in her interview with Detective Daniel Kies, she described the person who attacked her, to which she replied yes. She also testified that she had, when viewing a six-photograph lineup, selected the photograph of the person who attacked her. But in his re-cross examination, which followed Barron's questioning, Sanger quickly jumped up to clarify: "[Kies] asked you to describe the person who you met on Del Playa and played beer pong with. He didn't ask you to describe the person that attacked you." The alleged victim responded by saying she didn't remember what she had been asked.
Sanger has contended that his client was repulsed by the young woman's smoking, as well as her tongue ring. He claimed in his opening statement that she actually grabbed at Frimpong, a statement refuted by the woman at the end of Barron's examination. "Mr. Sanger has told this jury that your DNA was found on Mr. Frimpong's penis and scrotum because you reached into his pants and grabbed him," Barron told the young woman. "Did this happen?" The woman flatly declared, "No."