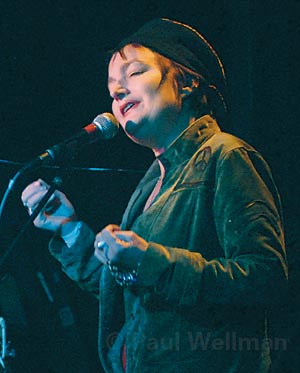 What makes Canadian singer Jane Siberry a standout among other contemporary female artists is her ability to create eclectic songs that range from pensive and insightful-such as "Taxi Ride," from 1985's The Speckless Sky, which tells of the heartache of a one-sided love affair-to quirky and unexpected, like the toe-tapper "Everything Reminds Me of My Dog." The track, off 1989's Bound by the Beauty, is literally a list of all the things-far-fetched as they may be-that remind her of her dog. Nearly 20 years and one name change later-Siberry now goes by the moniker Issa-and the singer is as delightful, unconventional, and musically experimental as she ever was, as she proved last Sunday night at SOhO.
Playing to an intimate crowd, Issa sang nine of the 33 new songs she's written since changing her name, which she decided to do on a train while traveling from England to Brussels a year and a half ago. Issa hit the stage clad in a long red dress with black piping down the front, a hat under which her auburn-brown hair peeked out, and light turquoise sleeves, cutting a figure of a French chanteuse to the crowd. Accompanied only by piano, played by the ¼ber talented Tim Ray-who has performed with such legends as Lyle Lovett-Issa's impressive vocal control and range was clear as she effortlessly moved from high to low registers without losing the clarity of the notes in the process.
The song "You Had a Good Thing" combined jazz and spoken word to great effect, while "Mamma Here By" was a poignant tune about the love and pain shared between a daughter and a mother. Before launching into "Then We Heard a Shout," Issa confessed to the two regrets she has in life: that she "played with voices in ways that I realize now were careless" and "gave away my grandma's manual typewriter." She promised never to do the former again. Following the digression, "Then We Heard a Shout" showed off Issa's rich, powerful voice, making it far too easy to get lost in the beauty of the song, its composition, and its story. And when she hit the high notes, she sounded like an angel.
A muse of unique caliber, Issa's funky style and innovative music were just the thing to warm the spirits of an appreciative audience on a cold December night. And with any luck, her new name will bring with it another 20 years of new material for us to enjoy.