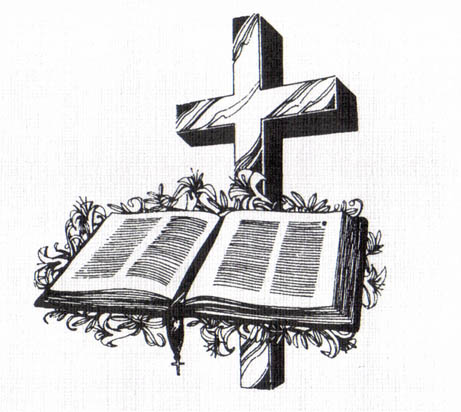 In the process of exploring all things spiritual in Santa Barbara, Your Worship has visited a variety of different churches and religious gatherings. However, for anyone who is unfamiliar with the incredible variety of religious offerings just in this town, let alone in the world as a whole, it's hard to distinguish between prolific numbers of denominations, groups, and congregations. To this end, every fourth Sunday Your Worship will investigate a different religious denomination, to discover what sets them apart. What, for example, is the difference between a Seventh-Day Adventist congregation and a Methodist congregation, in terms of belief and ritual?
This week, we're exploring what it means to be Baptist.
Santa Barbara has a variety of Baptist churches, which are listed at the end of this column. They vary in their demographic composition and of course their location, but all share several aspects of the way they practice Christianity.
The name itself derives from the Anabaptists, a sect of Christianity which was most prominent in sixteenth century Europe, immediately after the Protestant Reformation. The Anabaptists believed that children should not be baptized by their parents, as being baptized is a personal profession of faith. Since children are too young to understand the implications of baptism, it should be a choice they make later in life. Modern Baptists also espouse this belief.
One interesting aspect of the Baptist faith is the belief each Baptist church should have autonomy both from government and from other religious organizations – even other Baptist churches. As a result, this common ground actually fosters small differences in Baptist communities, as all contact between the congregations is voluntary. Although there are national organizations to connect Baptists, such as American Baptist Churches, USA and the Southern Baptist Convention, they don't control individual Baptist communities – they exist merely to help the public understand what the Baptist church is all about and to facilitate communication.
And the Baptist faith is very widespread in America; there are quite a few congregations with which to communicate. The first Baptist church in America was founded in 1639, although which of two churches one in Newport, RI and one in Providence, RI was the first is still debated. With this long history, it's unsurprising that one website devoted to data on religious observance estimates American Baptists at anywhere between 12.9 and 16.3 percent of the population.
If you fall into that percentage and are looking for a Baptist church in the Santa Barbara area, there are thirteen to choose from between Goleta and Carpinteria. Although all share certain basic Baptist beliefs, each congregation is unique in its community offerings and in its style of worship.
Calvary Baptist, at 736 W. Islay St., Santa Barbara. Call 569-0508 or visit cbcsb.org.
Cambridge Drive Community Church, at 550 Cambridge Dr., Goleta. Call 964-0436 or visit cambridgedrivechurch.org.
Carpinteria Valley Baptist, at 800 Maple Ave., Carpinteria. Call 684-5014 or visit carpinteriabaptist.org.
Faith Baptist, at 4485 Hollister Ave., Goleta. Call 683-1463 or visit lifewaylink.com.
First Baptist, 949 Veronica Springs Rd., Santa Barbara. Call 682-2485 or visit firstbaptistsb.com.
First Baptist Church of Carpinteria, at 5026 Foothill Rd., Carpinteria. Call 684-3353 or visit first-baptist-carpinteria.com.
Friendship Missionary Baptist, at 912 E. Cota St., Santa Barbara. Call 965-7879.
Goleta Valley Church, at 595 N. Fairview Ave., Goleta. Call 967-4113.
Grace Baptist, at 400 Puente Dr., Santa Barbara. Call 967-5424 or visit gracebaptistsb.org.
Greater Hope Baptist, at 430 E. Figueroa St., Santa Barbara. Call 963-5405.
Hispanic Baptist Church, at 925 Santa Barbara St., Santa Barbara. Call 965-3202.
Second Baptist, at 1032 E. Mason St., Santa Barbara. Call 965-8912.
Trinity Baptist, at 1002 Cieneguitas Rd., Santa Barbara. Call 687-7797 or visit trinityvoice.com.