Film & TV
Santa Barbara's Reigning Film Fanatic Runs Down His Top 10 Films of 2007
The Best of a Banner Year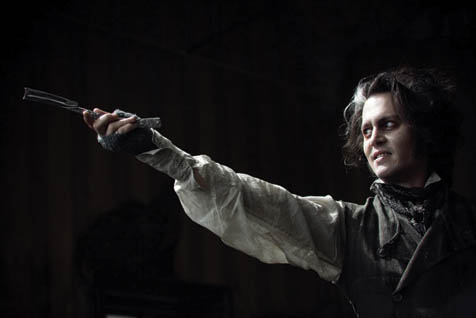 This past year was a banner year for film, so coming up with the best 10 is a difficult exercise. I started with a list of 25, and had to simmer that down substantially, eventually cutting out some favorites along the way. So before we get to my top 10, here are some movies worth mentioning:
Juno: A great ensemble and the second comedy dealing with pregnancy this year (see the list below for the other). Jason Reitman arrives as an A-list director. I laughed so hard the first time I saw this, I couldn't hear most of the dialogue.
I'm Not There: Todd Haynes's interpretation of Bob Dylan's career is frustrating, but has dashes of brilliance. And Cate Blanchett's Dylan is one of the most amazing transformations captured on film.
Control: Anton Corbijn's take on the short life of Joy Division's Ian Curtis. Like I'm Not There, this is not your typical biopic.
The Bourne Ultimatum: As good as action films can be, and a thinking man's version. This is what the James Bond franchise should be all about.
Hairspray: A delightful confection, as good as dessert. What more can I say about a film that left me smiling and humming its tunes as I left the theater?
The Savages: A funny and heartbreaking study of two siblings dealing with the care of their elderly father. Laura Linney and Philip Seymour Hoffman are one of the most believable brother and sister teams.
La Vie en Rose: In a year of great transformations-think gender-bending Blanchett and John Travolta-Marion Cotillard's Edith Piaf is the best.
Away from Her and A Mighty Heart: The return of the great Julie Christie and Angelina Jolie to serious acting and two of the best female performances of the year.
The Orphanage: As scary as movies can get because it gets under your skin. Spanish director Juan Antonio Bayona takes the notion of children's games and makes one of the tensest film experiences ever.
My Top 10 Films of 2007 (in ascending order)
10) Atonement: An intimate epic, sweeping and romantic, dealing with the consequences of a child's lie. In the middle of it, there's a five minute-long shot that takes your breath away. Great work from actors James McAvoy and Keira Knightley, while director Joe Wright establishes himself as one of the best working today.
9) Before the Devil Knows You're Dead: Never underestimate the work of an 83-year-old master, especially if he's responsible for 12 Angry Men, Serpico, Network, and The Verdict. Sidney Lumet's Dead is as tragic as a Shakespeare play and just as inevitable.
8) Sweeney Todd: The Demon Barber of Fleet Street: The perfect marriage of star and director. Tim Burton has done the almost impossible by translating Stephen Sondheim's dark, Tony Award-winning musical onto the screen, and Johnny Depp is haunting as the title character. (And, yes, Depp can sing.)
7) Knocked Up: Nobody's making more entertaining and touching popcorn films than Judd Apatow (responsible as well for producing Superbad and Walk Hard). In Knocked Up, he deals with the shock of love and the reality of pregnancy in a profane, hilarious, and warm-hearted way.
6) There Will Be Blood: This is like no other American film, and serves as a directorial departure for brilliant Paul Thomas Anderson. At times off-putting but always hypnotic and terrifying is its central character, who is inhabited so well by Daniel Day-Lewis in the best male performance of the year.
5) Ratatouille: Wonder of wonder, miracle of miracles. This movie defies the notion that animated films are just for children and only watchable for adults. Director/writer Brad Bird and PIXAR are alchemists. I challenge you not to be moved when the food critic tastes the ratatouille!
4) Zodiac: The emotional payoff of an obsession is the obsession itself. The way and style that David Fincher crafted his movie is aligned with the context of the film, as meticulous as the serial killer it's portraying. The first half is all bathed in yellow tones; for the second half, blue's the prominent color-yellow equaling Earth and facts; blue symbolizing the sky and art. The film becomes a conflict between the two extremes.
3) No Country for Old Men: A nihilistic look at violence that we've brought upon ourselves. It dares you to look away. Lyrical and beautifully crafted, this is the Coen brothers' rare foray into adaptation, and it's their best work to date. Josh Brolin, Tommy Lee Jones, and Javier Bardem are pitch-perfect in their roles.
2) The Diving Bell and the Butterfly: Julian Schnabel's latest film gives you the impression that you're discovering watching movies for the very first time. His mise-en-scne (most of it from the point of view of his subject) is daring and thrilling.
1) The Assassination of Jesse James by the Coward Robert Ford: This is the most divisive film of the year, but aren't some masterworks misunderstood at first? This epic is part literary, part ballad, and a meditation on our current infatuation with celebrities-all disguised as a Western. I never thought I'd ever write this, but Brad Pitt as Jesse James is simply terrific. Yet the film truly belongs to Casey Affleck as Robert Ford.