News
Judge Hears Frimpong's Retrial Motion
Professes His Belief That Convicted Rapist Is Guilty
Convicted rapist Eric Frimpong is hoping testimony from a dentist who didn't take the stand during his jury trial will force Santa Barbara Superior Court Judge Brian Hill to grant a motion for a new trial from Frimpong's attorney Bob Sanger. A proceeding to hear testimony began today in front of Hill.
In a long trial that began before Thanksgiving, Frimpong, a former UCSB soccer player, was found guilty on Dec. 17 of sexually assaulting a fellow student he met at an Isla Vista party in February 2007. The 19-year-old victim testified that after going back to Frimpong's house and playing beer pong with him, the two went for a walk on the adjacent beach, where he raped her. Frimpong, who didn't take the stand during the trial, and his supporters don't deny that the woman was raped, but allege that it was the woman's sexual partner, Benjamin Randall, who committed the crime. Randall's semen was found in the woman's panties. Neither Frimpong's nor Randall's DNA was found in or on the woman, but her DNA was found on Frimpong's scrotum and under his fingernails. Frimpong alleges the DNA was there because she reached into his pants and grabbed his crotch after he denied advances she made at him. Sanger argued Thursday that Randall should have been a suspect in the case all along, especially after his semen was found in her panties, but that authorities were gunning for his client.
Before beginning testimony, Hill-in response to the vocal support Frimpong has received from people believing he is innocent-offered his feelings on the case, which judges often do post-trial and pre-sentencing. Hill said that it "would've been helpful for this courtroom to have been filled," to see the ins and outs of the trial, including the testimony of the victim, her demeanor and speech pattern when she testified and the testimony of several people who saw her within minutes of being assaulted. "It was important for the members of the jury to hear it and it would've been helpful for members of the community to hear it," he said. Testimony on the DNA in the case also would've been extremely helpful, he added. "My observations about the case may not carry a lot of weight," he said, noting that it was the jury's collective opinion that mattered. But, he said, in his 27 years as a practicing attorney and as a judge, he's not seen more "incriminating, credible and powerful evidence" in a case where the defendant has not admitted guilt. "There's a tremendous amount of evidence in this case," he said. "Often times there's no physical evidence whatsoever." But despite these opinions, he said, the "ultimate goal here is to provide a fair trial for both sides." If he's convinced that there wasn't a fair trial, he will sustain the motion for a new trial. "I'm anxious to get to that," he said.
And they began to get to it Thursday, when Dr. Charles Bowers took the stand. Bowers, who testified that he became ill and had to have surgery toward the end of the trial and was unable to attend, offered testimony Thursday which directly contradicted that of Dr. Norman Sperber, who testified for the prosecution during the trial. Bowers, who like Sperber has published books and testified during trials before, essentially said that he believes the bitemark on the victim's cheek showed bottom teeth on the side nearest her mouth and top teeth away from her mouth, a 180-degree flop from Sperber's testimony. Using several photographs, transparencies and overlays, Bower showed how he came to his conclusion, and was convincing in his argument, even as the two doctors-friends of his, Duane Spencer and Gregory Golden who later will provide testimony backing Sperber's observation-sat in the courtroom watching. He often acted flippant on the stand, fielding cross-examination questions from prosecutor Mary Barron sarcastically. He called the bite marks "much more consistent" with moldings of Randall's teeth than Frimpong's, based on the arc of the bite as well as the alignment of the teeth.
The courtroom was packed – more packed than it had been during the trial – Thursday afternoon with nearly Frimpong's the entire soccer team in attendance, as well as coach Tim Von Steeg and Frimpong's girlfriend Yesenia Preito. The families paying for Frimpong's defense were also in attendance, as were representatives from ABC News and ESPN The Magazine. Since Frimpong's conviction, his supporters have begun a website and gotten word out of their cause through editorials in local papers, appearing in a local Martin Luther King, Jr. Day parade, and, apparently, by contacting national media.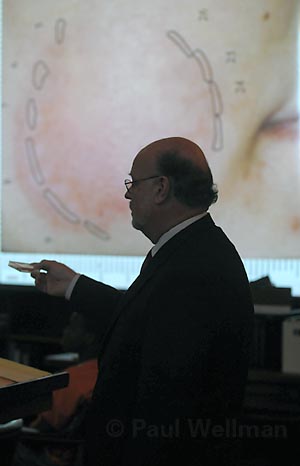 In Barron's opposition to Sanger's motion for a retrial, she claims Sanger failed to meet any of the nine criteria necessary for a retrial. She also includes several declarations from jury members providing a different view of the deliberations which seem to discount juror Ann Diebold's concerns in her declaration. Diebold said that during deliberations a requested readback of testimony was interrupted and not properly conducted, and that the jury rushed through deliberations because of pressure to conclude the case by a certain day. "I feel that I made a terrible mistake," Diebold's declaration said. "I felt rushed and stressed to conclude this case. We were not given the evidence we requested. I do not think the verdict was fair and it should be set aside." Barron also included an email from Diebold to fellow jury members after the trial, in which she expresses none of the concerns contained in her declaration. Barron also said in her own declaration that in a post-trial conversation she had with Diebold, the juror made "no mention that she felt deprived of a fair opportunity to deliberate and fully review the evidence."
Frimpong faces three to eight years behind bars. The hearing, which is expected to continue until at least Monday, resumes Friday at 1:45 p.m. in Dept. 2.