News
First of Bloodless Sundays Signifies Hope for Peace
A Day at the Park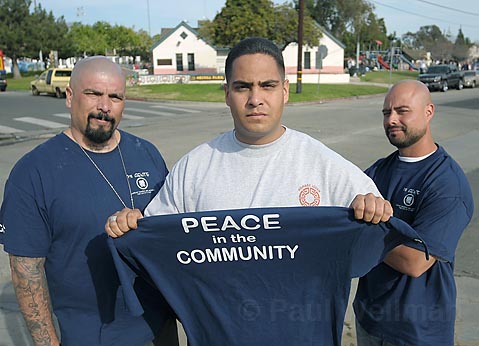 The first fruit of a truce among gangs from the Eastside, the Westside, and Goleta was a lazy Sunday picnic at Ortega Park. Starting at around noon on March 2, parents brought children to play in a bounce house, and a handful of teenagers congregated on the street side of the park's Welcome House.
As the afternoon wore on, though, young men continued to arrive, alone or in groups, to join that first group of teens, each new arrival making sure to pay his respects to everyone already there before heading for the food. Before long, the small clot of teens had amassed into a crowd of several dozen young men-at least one of whom displayed brand new Eastside tattoos in addition to those he already had. They stood around talking, with the Peace in the Community T-shirts they had been given slung over their shoulders. They stayed all afternoon. And that was all.
Passersby might have been excused for wondering, with some trepidation, what all these young men were all doing on that corner, but probably would not have guessed that it signified the first day of a gang truce, agreed to by veteran gangsters with influence in their respective neighborhoods.
The deal was brokered by Michael Valdez, founder of the community organization Mi Gente, and former Santa Barbara City Councilmember Babatunde Folayemi, who is himself a veteran of Harlem gangs. Their shuttle diplomacy among neighborhood leaders over the past weeks resulted in the signing of a document declaring that three successive Sundays-March 2, March 9, and March 16-will be "days of Peace in the Hood." They are to be celebrated by picnics in each of the three areas. "We the elders agree that on these days there will be no acts of aggression between our neighborhoods," the document reads. The fact that the Eastside youths showed up in force, organizers said, signified their willingness to respect the pact.
One of the other remarkable aspects of the day was the fact that police, whose appearance at the park caused a ripple of nervousness, did not confront any of the assembled youth or enforce bans against their socializing with one another, which is a common condition of probation or parole. Their cooperation had been secured ahead of time.
A number of youth workers in attendance have been working together under the umbrella of the newly formed Collaborative Community Foundation, directed by Folayemi and funded with a grant from retired IBM executive Fernand Sarrat. They represent a variety of approaches. "We all used what we had, and all our credibility, to get people to come together," said Valdez, who is heavily and unapologetically tattooed. His good friend Efran Reynozo, founder of the Tri-County Youth Program, advises youngsters to tattoo only in places covered by clothes, as he does. Nancy Davis, director of the City at Peace performing arts project, is an expert mediator committed to nonviolence at all levels. Juan Carlos Ramirez, who first met Reynozo when they were both inmates at Chino State Prison, now works for the Community Action Commission with boys recently released from incarceration, taking them on field trips aboard U.S. Coast Guard ships, where he points out to them that they can get paid for carrying guns instead of jailed for it.
These youth workers are united in believing that the solution to gang violence lies in dealing with neighborhood kids as a group. "When I took this job, I said it was on the condition that I will not tell them not to gang-bang. Would you like someone telling you what to do with your life?" said Reynozo. "What I am interested in doing is offering options. These kids are willing to give their lives for their neighborhoods. I ask them to help me think about what else the neighborhood needs: Doctors? Shops? Lawyers? Tattoo parlors? And then working to make that happen."