News
Sheriff Deems San Antonio Creek-Area Shooting "Tragic"
Slain Man Was "Despondent" Following Medical Diagnosis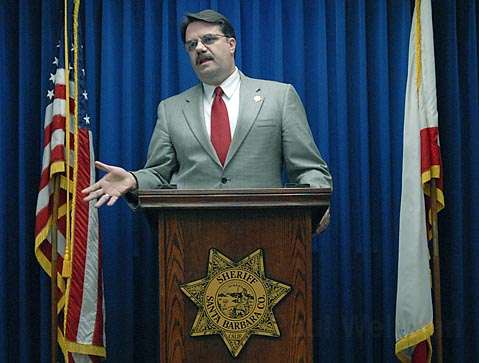 Sheriff Bill Brown spoke to reporters at 3 p.m. today of details surrounding his deputies' shooting of Via Gennita resident Donald George yesterday. The incident began when officers arrived to quell a purported domestic disturbance. When George would not put down a hand gun he was holding, deputies opened fire. George died hours later during surgery at Cottage Hospital. Brown said that the incident is not currently being investigated as "suicide by cop" but also wouldn't rule this out. "We don't know enough at this point to indicate this," he said. "We're still conducting an investigation. It was out of character for the person. It's possible, but we're still investigating it.
According to Brown, George's wife was the one who initially called law enforcement, allegedly because she feared for her husband's safety. (Though Brown did not specifically mention this condition as being a brain tumor, a neighbor of George's told an Independent reporter yesterday that he believed that was the case.) Upon arrival at the scene, George's wife was removed from the house for her own safety. George, gun in hand, exited his home's back door, whereupon deputies ordered him to drop the weapon. George went back inside. Deputies ordered George to again drop the weapon when he returned to the back porch area. According to Brown's narrative of the events, deputies then apparently perceived George to be racking a round into the gun's chamber and then point the weapon at a deputy standing approximately 15 feet away. At this point, all three deputies fired their weapons, in all shooting off 11 rounds. George was shot several times.
As the situation had been "neutralized," in Brown's words, deputies began administering first aid and called an ambulance. "At this point in the investigation, all indications are that the deputies followed department policy and standard law enforcement practices in their actions," Brown said. He also said he would not be releasing the names of the deputies involved, as we wanted to give them and their families time to process what happened. The deputies, who have three years of Sheriff's Department experience among them, are currently on administrative leave.
Speaking to reporters after his statement, Brown noted that, in the end, George's gun was loaded. Upon being asked if 15 feet would have been close enough for deputies to have used a Taser, Brown explained that that "wouldn't have been an appropriate force option when someone has a handgun."
Brown reported that there had been no indication of prior domestic troubles at the Georges' house prior to yesterday's incident. However, upon being asked if sending armed deputies should have been the first course of action when responding to a despondent man, Brown explained one had to take into account others' safety and that the end result of this was ultimately tragic. "On these initial calls, the initial response has to be to contain a person in the location that they're in. Otherwise they could get outside that area and be a threat to someone else. The call transpired very quickly and coming in very quickly. The deputies have limited information and don't have the luxury of looking back on this like we've done over the last day to see what all the details were," Brown said. "This is something that they're having to make split second decisions on and in this case it was very, very tragic and very, very unfortunate, but all indications are that they acted appropriately."
CORRECTION: An earlier version of this story stated that George's gun was not loaded. The Independent has since learned that the gun was loaded.