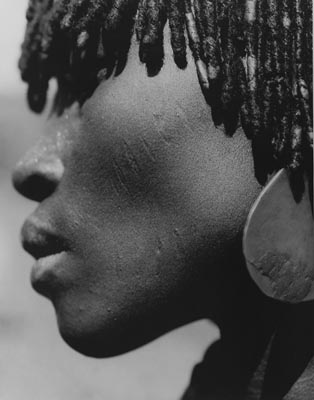 Muddy Waters Cafe, the coffeehouse-cum-showspace on Haley St., has made a name for itself booking under-the-radar rock outfits, playing host to some delightfully whacked-out art exhibits, and providing a safe haven for lovers of all things fringe. So it's really no surprise that Summerland photog Amanda Grandfield's rich, startling, and culturally relevant snapshots of scars have recently been added to Muddy's chipped walls. Captured over the course of five-plus years, Grandfield's pictures depict close-ups and wide shots of all types of injuries, along with stories, written by her subjects, of how each scar was made. And be forewarned, some of the tales included in the exhibit's written guide are not for the faint of heart.
The images, which wrap around the cafe's east- and south-facing walls, are all done in black-and-white silver gelatin photographic prints, creating astoundingly detailed shots that tell deeply personal stories. Grandfield's subjects are a diverse collection of individuals from all across the United States, as well as select members of the Hamar tribe in Southwestern Ethiopia.
The hanging begins in the U.S., depicting injuries that range from one woman's unfortunate run-in with man's best friend ("Tana, Dog Bite") to one man's botched effort to off himself ("Uralli, Suicide Attempt"). The photos' corresponding stories, all written in the first person, provide anecdotes and grizzly details that both individualize the subjects and unite Grandfield's overall vision.
The shots of Hamar, which were taken throughout 2004 and 2005 thanks to a Fulbright grant, give a slightly different view of scarring, as the people there often perform ritualistic mutilations for the sake of beauty, as well as to cure disease. Visually jarring shots of healed whip marks and facial cuts hang alongside photos of accidental knee scrapes and the show's closing piece, "Dillcoinda, Drunken Fall." And in the end, Grandfield's message reads loud and clear; each scar, like the person it belongs to, is individual, and special, and each holds with it secrets of the past that stay with you forever, no matter who you are or where you live.