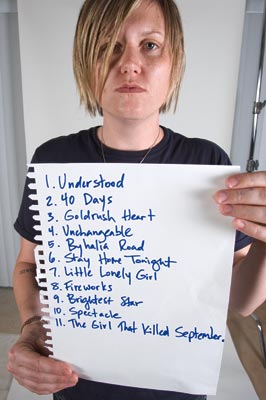 If anyone has paid their musical dues, it is Nashville-based singer/songwriter Garrison Starr. She recorded her first album independently right out of high school, and her major-label sophomore album generated enough momentum to land Starr a gig on the now-historic Lilith Fair. She then went on to record with some of the country's most visible independent labels, all the while working closely with longtime friend and musical ally Neilson Hubbard. Fifteen years later, Starr has released The Girl That Killed September, her sixth studio album. The recording finds Starr basking in all her straightforward and uncontrived glory. And, as I recently found out, directness is not only a trait that drives her music-it's also one that seemingly defines her approach to life.
I believe I've interrupted your attempt to pack for your trip to Austin. What does South by Southwest offer an artist such as yourself? That's a really good question. It offers me the chance to network and look for opportunities. I'm not under the assumption that I'm going down to Austin and that experience is going to change my life or career, 'cause that's really not what South by Southwest is about anymore. There's just too much going on for that to really happen. It's really hard for people to "break out" of South by Southwest because you have to have momentum going into it for that to happen. So I'm just going down there to see some people I haven't seen for a while, meet some new people, and give away some copies of my record and try to raise the visibility of it a little.
It's almost like music has reached a critical mass. There seem to be more outlets and more people than ever out there pushing their wares. How does that impact you? Mostly in the sense that sometimes I just want to go in and exterminate the music business! I want to get rid of people who are dead weight in this industry; the artists and bands and musicians who don't need to be there, who don't have talent and are just wasting space. The entertainment business has become such a joke. There's reality TV with everyone wanting to be famous and in the spotlight and, in a lot of ways, that's what the music business has become as well.
Along with your own musical undertakings, you have also gotten involved in a number of collaborations. One of which-North La Brea All-Star Conquistadors-features Jay Nash, who is joining you at SOhO. What do you get out of these projects? I'm trying to get involved in other projects just because it's fun to stay creative. If I just sit around and keep beating my head against the wall about why my career doesn't look a certain way : it gets depressing. It takes me on a dark road, because I'm asking questions that are very subjective and can't really be answered. I start comparing myself to other people and trying to figure out why certain people don't respond to me and why they respond to another artist. But those questions are fruitless, and they don't help me to move forward, so I'm combating that with staying busy.
Was that the impetus behind Plover, your new musical venture with Glen Phillips and Neilson Hubbard, as well? Absolutely. That, and Glen being one of my favorite songwriters and singers of all time. His voice touches me in a really profound way. Glen and Neilson thought up that idea and wanted to make a record. It's their brainchild. And of course we would love to go out and tour behind it. That would be a dream come true. If we can ever get Neilson to leave home and get out on the road, and Glen is available, then I'll be there, because they're two of my favorite people in the world.
You talk very passionately about touring. What do you enjoy about recording music and playing live? That's the thing. I don't really enjoy the process of making a record. That, to me, is very tedious. I think I would enjoy it more if I was self-contained enough to do it all myself. But because I'm not a recording engineer and can't play every instrument on my record, it's the sitting around that gets to me. I just hate that part of it. But I really love the live side of it. I love being on the road, as that's where I feel the most comfortable and it's also where my records come to life. Everybody has always said my live shows are better than my records, and I think that's great. I'd much rather it be that way than the opposite. But when I do get to make records, I get to do it with very talented people who can offer something more than me. So I always grow from those experiences; I always walk away a better singer, or a better arranger, and even a little bit better player and songwriter. I feel like I grow a little with every experience in the studio.
4•1•1
Garrison Starr will play SOhO (1221 State St.) on Tuesday, April 8, at 8 p.m. with Jay Nash and Joey Ryan. Call 962-7776 or visit sohosb.com for details.