Arts & Entertainment
A Taste of Hotel Cafe Helps Bid SOhO's Anna Zamir a Fond Farewell
A Soulful Journey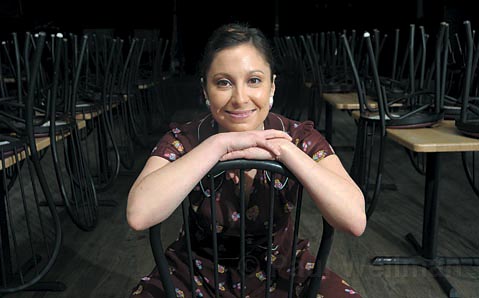 It seems that Los Angeles musical haven Hotel Cafe is making quite an impression on our music scene of late. With the official Hotel Cafe tour passing through Santa Barbara just last month, this coming Friday night finds SOhO presenting several of the Los Angeles venue's other musical mainstays. In featuring Chris Pierce, Joe Firstman, Jay Nash, and Tony Lucca, the night not only aims to celebrate the impressive heights that the singer/songwriter genre is currently reaching in Southern California but also the contributions SOhO's resident booking agent-Anna Zamir-has made to our very own music scene.
After several years spent entertaining Santa Barbara with some of the finest musical offerings we have seen of late, Zamir is moving on. During her tenure at SOhO, she has brought us a captivating array of performances by a diverse collection of musical luminaries. Who could forget the sold-out Calexico show that caused a ticket line to stretch all the way to State Street? Or when rumors of a second Cat Power show overwhelmed Fiona Apple's headlining performance at the Bowl? Zamir also served up shows from TV on the Radio, Aqualung, The Church, and Rickie Lee Jones. And doing so is something that she has obviously enjoyed.
"Being able to bring Man Man here was a personal highlight," recalled Zamir, "just because I love the band so much and I didn't know if I was going to be able to get them in here. And being able to bring TV on the Radio here was also a huge thrill. But one of the best shows I've seen here was the time when Glen Philips performed and decided to unplug for a couple of songs and sing acappella to a completely silent room. There have just been so many exciting shows, it's really hard to pinpoint just one."
And despite that fact that her SOhO duties consumed so much of her time, Zamir still managed to find opportunities to get out of town and experience what was taking place musically in other locales. And a lot of her musical attention was focused on the Los Angeles music scene, which is where she first encountered many of the musicians occupying Friday night's bill. While Zamir is certainly appreciative of the fact that she has been able to bring these artists to the forefront of the S.B. scene, you can also detect a hint of disappointment that their musical cause hasn't been echoed here to the degree it has down south.
"The one thing that's a little bit sad to me is that, in L.A., these guys play to packed houses, and in Santa Barbara, they don't get nearly the recognition they deserve," offered Zamir. "They have always been performers I've loved seeing, particularly live. Their recorded stuff is great but, for me, a live performance tells you so much more about a performer. All of these performers sing with so much soul. That's something that I really enjoy, and it's definitely something that's caught my ear and kept me listening."
One artist in particular that has kept Zamir listening is Jay Nash. Nash has been somewhat of a regular at SOhO, with his last visit taking place only a couple of weeks ago when he joined Joey Ryan and Garrison Starr for an evening in the round. A singer/songwriter of immense talent, Nash is also the epitome of the modern-day independent musician. Having spent the past four years touring solidly, playing venues that ranged from grimy bars to lavish auditoriums, Nash is about to release one of his most important recorded undertakings yet. And in doing so, he is prepping himself for yet another long stint on the road; but not before visiting Santa Barbara with a few friends.
"In the early years, within the same tour, we would a play a beautiful music hall one night and the next night we'd be in a double-wide trailer roadhouse bar," said Nash. "It was amazing and challenging on so many different levels, and I wouldn't trade it for anything, but I've done enough of the trial-run kind of gigs that the charm has worn off some. Playing music with my friends is always fun. It doesn't matter where it happens, but I definitely prefer the shows where people turn out and the sound is great and when we're operating under ideal conditions. Those are the shows I look back on and think, 'Oh, that's as good as it gets.'"
Though Friday promises to be yet another of Nash's "preferred" performances, when he and his Los Angeles colleagues unplug post-show, the night will stand as just another routine undertaking in their collective musical careers. But for Zamir, the evening signals the end to one of the most exciting and rewarding chapters of her professional life. While she realizes the degree to which she will miss both the work and the people at SOhO, Zamir feels that she needs to take this opportunity to step back from music for a while. But she also rests assured in knowing that this is by no means the end of her musical story.
"It's definitely not something I'm planning on stepping away from for good," she mused. "It's just a change that needs to happen right now. I would definitely predict [that] somewhere down the line I will stay involved with music. Whether or not [it would be] in Santa Barbara I'm not sure, because I probably wouldn't work at any other venue in Santa Barbara other than SOhO-unless it was the Santa Barbara Bowl! I would probably move to Los Angeles or another city to be able to pursue something on a larger level."
4•1•1
SOhO (1221 State St.) plays host to Chris Pierce, Joe Firstman, Tony Lucca, and Jay Nash as part of Anna's Good-bye Bash on Friday, May 9. The show starts at 9 p.m. and tickets start at $12. Call 962-7776 or visit sohosb.com for details.