News
Pedophile-Priest Victim Describes Meeting Pope
Between Faith, Fury & Forgiveness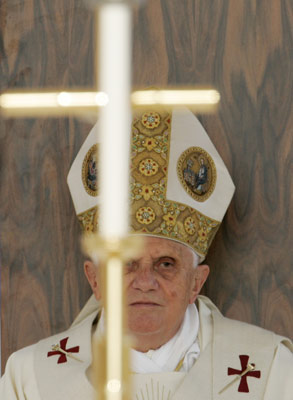 Olan Horne does not mince words. "I've dealt with a lot of bishops, liars, and bullshitters in my time," said the burly ex-Catholic who has spent the last eight years butting heads with the Boston Archdiocese over pedophile priests. But reigning Pope Benedict XVI, Horne said, does not fall within their ranks. Horne enjoys the rare, if painful, distinction of being one of the few sexual abuse victims to have met the new pope during his April visit to the United States. "You know what's PR and what's not. He seemed sincere," Horne said. "He was heavy. It was sitting on his shoulders. I mean, how do you come to terms with what these priests and the church have done and look us in the face?"
Likewise, the question confronting Horne and many victims of priestly pedophilia is how exactly they should look back at their tormentors and the church out of which they sprang-in anger or forgiveness? In rage or reconciliation? "I'm not saying there isn't reason here for bitterness and rage," said Horne, who will be speaking in Santa Barbara on June 20 and 21, "but if you're a survivor and you don't want to be angry, then you forgive."
Horne was invited to Santa Barbara by the Franciscans themselves, by Safe Net, a survivors' group led by former St. Anthony's student Paul Fericano and by UCSB's Law and Society program, to help propel a discussion on healing and reconciliation among victims of pedophile priests and the broader Catholic community. Santa Barbara's sexual abuse scandal within the Catholic Church broke around 1990, well before it became a national trend. But even with that substantial head start, South Coast victims and the clergy are still grappling with the sustained aftershocks that followed revelations of widespread sexual abuse taking place at St. Anthony's seminary, and to a lesser extent, the Mission.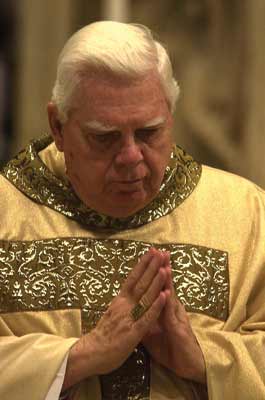 In this context, not all survivor groups agree that forgiveness is warranted, justified, or necessary. Within the raw wound of the survivor universe, the issue of reconciliation remains controversial. But for Horne, the issue was a matter of self-preservation. "I had rage issues. I beat people sometimes," he said. "I was rotting from the inside out. So I had to deal with this. I had to take this blanket of shit off me; it was heavy. I didn't want to become a cynical punk." What made Horne angry, he said, wasn't so much being molested by Father Joseph Birmingham at age 10 at his parish in Lowell, Massachusetts. By that time, Horne said, he'd already been sexually abused by someone associated with his own family. Horne had gone to Birmingham for help, and for his efforts, was groomed for further abuse by the priest who would later emerge as one of Boston's most notorious pedophiles. What Horne found most infuriating, he said, was discovering at age 43 how high-ranking church officials, including Boston Cardinal Bernard Law, kept moving Birmingham from parish to parish every time a whiff of scandal surfaced regarding the priest's predatory predilections. "The most egregious aspect of the abuse was the cover-up, and on such a grand scale," Horne said.
Horne got involved by bird-dogging Cardinal Law. Even though he'd renounced his Catholicism long ago, Horne began attending masses officiated by Law, sitting in the front row whenever possible. On the way out the door, he'd always have a barbed yet politely delivered remark for the cardinal. Over time, the two developed what Horne described as an intimate, if prickly relationship. "I knocked on his door 100 times before he ever answered," Horne said. As blunt and confrontational as Horne was, he was regarded by church officials as "moderate" compared to many of Boston's more vehement archdiocesan critics. In 2002, Law agreed to attend a gathering hosted by Horne with six sexual abuse survivors. But when Law showed up, Horne said the cardinal was confronted by a room filled with 150 people. "[Law] said, 'This is a set-up,'" Horne recounted. "I said, 'This is six survivors. These other people are their families.' I just wanted him to see."
Shortly afterward, Horne claimed, Law publicly apologized and effectively resigned as Boston's cardinal. He was reassigned to a post in the Vatican.
Horne and two other survivors met with Pope Benedict on April 17 at the Vatican Embassy in Washington, D.C. The "unscheduled" visit had been carefully planned about a month in advance. In that intervening time, Horne said, he never experienced any anxiety about what he would tell the Pontiff. Only when he walked through the doors of the chapel, where the meeting took place, did he experience second thoughts. Nobody ever told him the meeting would take place inside a chapel, and Horne began to suspect he was being set up. How real could any exchange be in such a setting, he wondered. "I thought it might be a ceremonial dodge," he recalled.
As he waited for Benedict to arrive, Horne said he surprised everyone by asking one of the prelates in attendance to hear his confession, a sacrament he'd not taken in 40 years. When asked what he wanted to confess, Horne answered, "I had hated the pope's church and I had hated him personally for all that he had done and all that he had not done," he said. "You have to understand that before he was pope, Benedict knew more about this than anyone at the Vatican. He had the ability to intercede and do something, but he didn't." After confessing this hatred, Horne said he kneeled down in a pew and meditated. "I looked down and I see a pair of red slippers," he remembered. It was the pope. "I said 'Holy cannoli!'"
The first thing Horne and his fellow survivors did was give the pope a 40-page book written in calligraphy containing the names-or initials-of all the people who'd been sexually abused by Boston priests. "It contained 1,500 names," Horne said. "The pope gasped a little bit and stepped back. He had thought there were 500 because that's the number of people who sued. A lot of people never came forward." In addition, Horne said the book denoted those who had since died, often by suicide or overdose. Horne also gave the pope several photographs of himself taken when he was 11 years old. "I said, 'Take these,'" he remembered. "I said, 'Don't think about this big guy you see right now. Look at this little kid. If you don't know what to do, think about this.'"
"He said he dealt with these cases more than anyone and that he understood how terribly huge the issue was. He said he understood from the bottom of his heart. It felt real."
Horne said he was favorably impressed by the pope's response. "Here he is, four feet from us. He spoke to the pain and suffering this caused, and said how he wakes up every day thinking about it and praying about it," Horne recounted. "He said he dealt with these cases more than anyone and that he understood how terribly huge the issue was. He said he understood from the bottom of his heart. It felt real."
Horne said he's been criticized by some within the survivors' community for being a propaganda tool of the pope and allowing himself to be used. Some have questioned why the Vatican would select Horne to meet with the pope in the first place. Horne said he's accustomed to such doubts. "Look, he [the pope] didn't have to meet with us at all," Horne said. "By the time we spoke, he'd already addressed the issue publicly. He'd put the bishops on notice that they'd better deal with it."
Shortly after his meeting, Horne commented that the true test of the pope's understanding would emerge out of his actions, not his words. Horne announced that he would hold the pope's feet to the fire. Since then, however, Horne has said the real nitty-gritty between priests and their abusers would occur at a grassroots level, not by papal edict. He credited the Catholic Church for allowing "good touch, bad touch" to be taught in Catholic schools so that children would be armed with a socially acceptable vocabulary with which to defend themselves from predators. He added that the Vatican should impose a universal standard of acceptable conduct on all the bishops. "Not all bishops and all parishes are so open to dealing with this. If I'm in Nebraska and I don't want to talk about it, then it's not going to happen. Why is that okay?" he asked.
"Still, it was a significant step. No pope has met with victims before," said Higgins, whose son was molested while attended St. Anthony's.
In Santa Barbara, some survivors are of mixed mind when it comes to Horne's message. Ray Higgins, for example, would have preferred that Horne's meeting with the pope was publicized in advance, rather than announced after the fact. "Still, it was a significant step. No pope has met with victims before," said Higgins, whose son was molested while attended St. Anthony's. "But the real test is what actions follow."
Tim Hale, the lawyer representing many former seminarians and other victims of sexual abuse at the hands of Franciscans assigned to Santa Barbara, claims that since 1960, no less than 24 friars molested 60 minors, mostly seminarians. (The Franciscans themselves indicate there were 72 victims and 27 abusive priests.) Hale claimed the culture of abuse goes back even further, and that some of the perpetrators-like Father Robert Van Handel-were themselves sexually abused while attending the seminary in their youth. The litigation stemming from all this abuse has cost the Franciscans more than $32 million to settle. That does not count, however, the amount the Franciscans have spent on therapy bills paid on behalf of many former victims and their relatives. Rather than go bankrupt, the Franciscans have sold off many of their assets, including St. Anthony's. In addition, they were forced to shut down their infirmary in the Mission to cut costs. Given that more than 50 percent of the Franciscans are 70 years old or older, the order is confronting some stiff costs in the days ahead.
Angelica Jochim, the therapist contracted by the Franciscans to see that counseling is provided to anyone who qualifies, said she's not sure exactly how many people the Franciscans have provided care for since the scandal broke, though she estimated as many as 40 are receiving such care now. Although the Franciscans' offer is limited to one year of therapy, Jochim said many clients wound up receiving more than that. Since she's been in charge, she said no one seeking therapy has been turned down. "The Franciscans have done a tremendous job in responding to this crisis," she said. "And they're certainly ahead of the others," she added, referring to other religious orders struggling with their own histories of sexual abuse.
Higgins agreed, albeit conditionally and grudgingly. "But some people just can't trust the Franciscans no matter what. And others have been so offended by their experience, they won't go back," he said. To fill this void, Higgins started the Therapy Trust for Victims of Clergy Abuse, a nonprofit organization that provides counseling and therapy to those who find Jochim's connection to the Franciscans, however indirect, troubling. Using money donated by the victims themselves-through their legal settlements-Higgins is offering up to two years of care. "We still have six to eight slots open," he said.
Since discovering his son's abuse, Higgins and his wife have abandoned the church that served as the hub of family activities as well as their spiritual life. Although it's been many years since his son's abuse took place, there's a freshness to Higgins's sense of betrayal. His distrust for the Franciscans is palpable, and for all the talk about "transparency," he wonders why no one notified the community in 2004 before allowing Father Gerald Chumik, wanted in Canada on molestation charges, to stay at Santa Barbara's Mission infirmary for two years. "They didn't tell anyone," said Higgins. "Maybe some people would have liked to know." Franciscan officials insisted they could not order Chumik to turn himself in and that federal extradition treaties did not compel the United States to turn him over to Canadian authorities. They also pointed out that Chumik suffered from advanced diabetes and cancer and was too ailing and infirm to pose a threat to anyone. And, they added, the Mission School had, in fact, been notified. Nonetheless, when protestors showed up in front of the Mission, Chumik was sent to St. Louis and placed in the care of a facility for pedophile priests.
"For the Franciscans to ask, it's too little too late," he said. "And since I have nothing to do with the church anymore, what difference does it make if I forgive anybody or not?"
For Higgins, the issue of forgiveness is almost irrelevant. "For the Franciscans to ask, it's too little too late," he said. "And since I have nothing to do with the church anymore, what difference does it make if I forgive anybody or not?"
For Paul Fericano, a former St. Anthony's seminarian who was sexually molested by the prefect of discipline Friar Mario Cimmarusti, forgiveness lies at the heart of healing. "It's a gift you give yourself," Fericano said. "It has nothing to do with the other person accepting responsibility for his actions. It's a great act of mercy and compassion you have for yourself." Like Higgins, Fericano long ago left the Catholic faith and has no intention of ever going back. But he still experiences spiritual cravings. It would be nice if Cimmarusti were to acknowledge his actions, Fericano said. But if that never happens, why let Cimmarusti victimize him twice?
For Fericano, the proof of his approach is manifest in Horne. "He's not pissed off anymore," he said. "He was, but he's not anymore." Horne phrased it slightly differently. "I have an unshakable belief in hope. I believe with hope that all things are possible," he said. "But maybe I'm stupid."