Visual Arts
Graffiti Photographs by Nancy Chargualaf Martin
At Antioch University. Shows through August 10.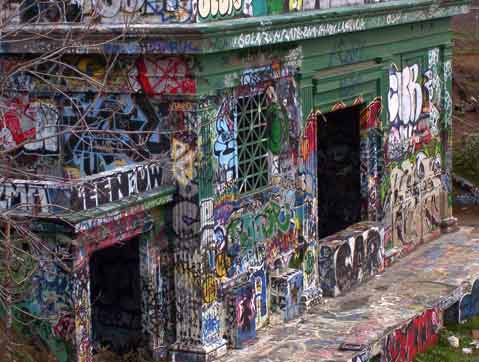 In her poetic studies of graffiti-strewn buildings, Santa Barbara-based photographer Nancy Chargualaf Martin offers a quiet reflection on an international sign of urban rebellion. Now showing in the upper exhibition space at Antioch University's Garden Street campus, Martin's images survey a subject that inspires a barrage of social conjecture.
For many, graffiti is nothing more than visual pollution, but for the practitioners-and for some appreciators-graffiti is a unique blend of visual and performance art. Martin's work addresses these divergent perspectives.
In some images, the photographer hones in on discrete sections of more elaborate work, bringing to the fore abstract details reminiscent of classic Suprematist paintings. Bright colors and geometric forms play off each other on canvases that range from brick walls to corrugated sheets of iron to riveted metal structures. Many of these abstract compositions have an almost soothing symmetry, but in the moments when the photographer steps back to expose the entire scene, a very different sensibility resonates.
Entire buildings are engulfed in layer upon layer of paint-traces left by spray can-wielding artists battling over turf. Two of the more whimsical offerings in this exhibition document railroad cars. In each of these panoramic photographs, the lower regions of a freight car are covered with graffiti, but at a certain elevation, the graffiti disappears. At first, this choice appears to be an aesthetic one, but on reflection, the line of separating the painted region from the blank is determined simply by the artist's reach.
Across this body of work, the artist avoids passing judgment on her subjects. She freely exposes graffiti art in all its menace and its beauty. Of course, Martin's photographs are considered fine art, while the work she is documenting is considered vandalism. Yet in presenting her subjects starkly, without straying into social commentary, she brings graffiti art a kind of safe zone-a place where pure observation becomes possible, and what might have been seen simply as destruction is reframed as creation.