News
Closure of Goleta Center Leaves Moms-to-Be One Less Choice
Special Delivery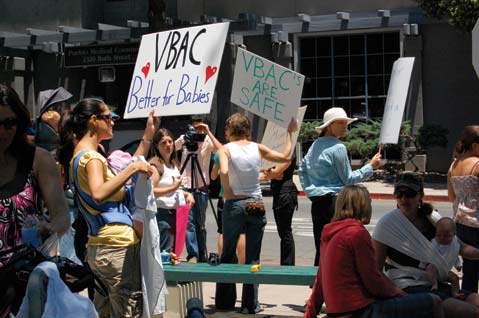 The buzz about birth choices in Santa Barbara has grown audibly louder in recent months. In January, the Central Coast Doula Association sponsored two sold-out screenings of the documentary The Business of Being Born. The Baby! International Film Festival expanded the dialogue in the community over Memorial Weekend with a series of films and expert panels. Dozens of community members rallied for regional access to vaginal birth after cesarean (VBAC) on June 23. And the labor and delivery unit at Goleta Valley Cottage Hospital closed its doors on July 1.
With the 2003 closure of St. Francis Hospital, Cottage Health System's (CHS) facilities became the only hospitals in the area offering labor and delivery services. Santa Barbara Cottage Hospital (SBCH) averages more than 2,400 births annually and is equipped to handle higher-risk pregnancies and critically ill newborns. In comparison, Goleta Valley Cottage Hospital (GVCH), which catered to low-risk births, averaged 350 births per year. Although CHS had always intended to consolidate obstetrical services and staff in the downtown location upon completing SBCH's new women and children's facilities in 2011, recently announced changes in physician practices accelerated the closure of the Goleta birth unit three years ahead of schedule.
While Santa Barbara lacks a true birth center-by definition, a "birth center" is staffed by certified professional midwives-the Goleta unit was long considered a happy medium between home births and a traditional hospital setting. It was the first hospital in the area to implement a family-centered maternity program, pioneering a more progressive attitude toward the in-hospital birth experience. In 1997, the center was awarded "Baby Friendly" certification by the World Health Organization and UNICEF, the first in California to achieve this distinction for its optimal breastfeeding conditions and support.
"People are lamenting the closing of the birth center," said Mary Jo Terrill, a nurse who had worked at GVCH's Labor and Delivery unit since the early '90s. "It was a very sweet place, very humble. Our team of nurses shared the same goals for mother care and baby care; they believe in and want to give a very sensitive kind of high-touch, low-tech care. It's not that they didn't give high-tech care if it was needed. But they wanted to proceed gradually and gently, so they used interventions as, and only when, it became apparent that maybe an intervention would have been helpful for mother and baby, based on what the physician and the nurse and the mother decided."
"It's a bit early to say what [from GVCH] is being incorporated into the new hospital" – Cottage spokesperson Janet O'Neill
The Goleta center was considered the alternative to a traditional hospital birth for women who desired the comfort of a home birth but felt more secure delivering in a medical setting. With the loss of the Goleta unit, SBCH is now the only option in the area for a hospital delivery. SBCH's new maternity wing will feature all private rooms like its more intimate Goleta counterpart. "It's a bit early to say what [from GVCH] is being incorporated into the new hospital," commented Cottage spokesperson Janet O'Neill, "but it'll have a very comfortable feeling." While GVCH represented an option for pregnant women anticipating low-risk births, SBCH has been the go-to place for higher-risk pregnancies, such as multiples and breech births. Their high-risk maternity programs offer prenatal care to women who require bed rest and monitoring prior to labor, and their vaunted Neonatal Intensive Care Unit ministers to about 10 percent of all newborns, including premature babies and those who develop complications at birth.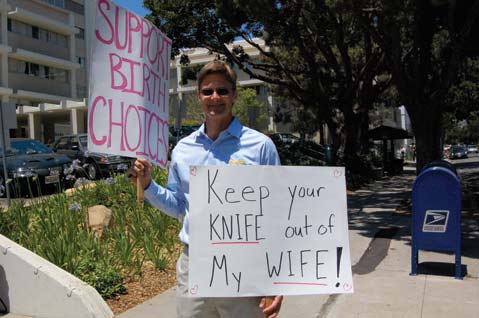 The VBAC Debate
Although vaginal birth is the normal biological consequence of pregnancy, a cesarean section or C-section-a major surgical procedure in which an incision is made through the mother's abdomen and uterus to deliver her child-may be needed when vaginal delivery endangers either the mother or the baby. To save either's life, a C-section is worth the risks involved. In recent years, however, it has been performed commonly in cases of doubt, and even upon request for what would otherwise have been straightforward births, causing the number of C-sections performed in the U.S. to rise dramatically-a 46 percent increase since 1996. A 2006 study examined 5,762,037 live births and found that neonatal mortality rates were three times higher for babies born via cesarean section (1.77 per 1000 live births) compared to babies born via vaginal delivery (0.62 per 1000 live births). Potential risks to babies delivered via cesarean include low birth weight, prematurity, and lasting respiratory problems.
SBCH has a 24.7 percent total cesarean rate, as compared to a state average of 27.3 percent, according to a 2006 study conducted as part of the California Healthcare Foundation's California Hospital Assessment Reporting Taskforce initiative. The total cesarean rate includes both primary and repeat cesarean sections, as mothers who deliver by cesarean find themselves facing future C-sections for any subsequent children they may have. Mothers who deliver by cesarean find themselves facing future C-sections for any subsequent children they may have. Currently, more than 90 percent of women who have had a prior C-section also deliver their next baby via C-section instead of via VBAC, the practice of delivering a baby vaginally after one or more deliveries by C-section.
Despite research that supports the safety of VBAC, issues of liability have made healthcare providers and institutions wary of the procedure, making it the subject of great controversy and debate, both locally and nationally. In 1999 and again in 2004, the American College of Obstetricians and Gynecologists (ACOG) modified its VBAC guidelines, recommending that "VBAC should be attempted in institutions equipped to respond to emergencies with physicians immediately available to provide emergency care."
This addition to ACOG's guidelines has had a major impact on the availability of VBAC to birthing mothers nationwide. Many hospitals have interpreted the recommendation to mean that a full surgical team must be on standby to perform an emergency cesarean section for the duration of a VBAC labor, leading them to prohibit the procedure entirely.
"That is a choice by the medical staff, and they have chosen not to do that" – Janet O'Neill
This has been the case in Santa Barbara. Although VBAC is still commonly performed in other communities, it's no longer possible to have one here. In 2003, following ACOG's revisions, a VBAC ban was implemented at CHS facilities. "That is a choice by the medical staff, and they have chosen not to do that," O'Neill said. The de facto ban leaves mothers with a previous cesarean history with two choices: undergoing another cesarean or leaving the community while in labor to give birth at a hospital that permits VBAC, such as UCLA or Cedars-Sinai in Beverly Hills (the closest hospitals that offer it).
A current of "VBACtivism" has been brewing in communities along the Central Coast. The recently founded Birth Action Coalition (BAC)-birth professionals, parents, and community members who believe that the birth journey is an essential expression of human dignity requiring partnerships between women, families, and healthcare providers-works to create supportive birth environments in the Santa Barbara and Ventura areas through education and advocacy projects. The BAC considers regional access to VBAC a top priority and key issue. "Whether or not you're personally seeking one, VBAC is relevant to all birthing families and our community at large because informed consent and refusal of treatment is at the foundation of all birth choices and patient rights," attests Kolmi Majumdar, who cofounded BAC. "In our region, the current ban on VBAC requires planned cesarean surgery for a large number of mothers and babies regardless of individual health concerns and values and is a denial of the right to informed consent or refusal of treatment."
VBAC and repeat cesarean carry different risks, low in both cases. Uterine rupture-when a C-section scar on the uterus separates during labor-has been a small but known risk of VBAC for decades. A woman with a vertical uterine incision is not considered a VBAC candidate, but with a low transverse scar-as 90 percent of women who have had C-sections since the '70s have-risk of uterine rupture is only about 0.5 percent, research shows. The statistics, however, don't consider the relationship between induced labor, induction drugs, and uterine rupture. Synthetic hormones like Pitocin and Cytotec, used to promote and maintain contractions and dilation, have been found to double the risk of a rupture during a VBAC. (Should a uterine rupture occur, an emergency cesarean is required.)
The consequences of repeat cesarean surgeries include increased possibility of maternal infection, rehospitalization after birth, increased risk of placental abnormalities in subsequent pregnancies, chronic pain, and infertility. Although ACOG staffing recommendations for VBAC have made some hospitals and physicians wary of the procedure, a 2006 ACOG study elucidated that "a trial of labor after cesarean seems to be as safe for the mother and infant as planned cesarean delivery, and the hospital stay is shorter." As an alternative to major abdominal surgery for women who have had previous cesareans, some consider VBAC a safer option.
Seeking Alternatives
Despite the loss of the GVCH birth unit, another option exists for mothers-to-be with low-risk pregnancies who prefer an intimate environment to the busy halls of the hospital: their own homes. Just over 3 percent of Santa Barbara babies are born at home. Yet home birth, generally undetected on the public-forum radar, has suddenly enjoyed nationwide attention, thanks in part to the success and visibility of high-profile films like The Business of Being Born, which dispels myths about midwife-assisted delivery. The film also reminds us that prior to the 19th century, women didn't give birth in hospitals-they did so at home.
In February 2008, perhaps in direct response to the renewed interest in home birth, ACOG released a statement reiterating its longstanding opposition to the practice, asserting that "choosing to deliver a baby at home : is to place the process of giving birth over the goal of having a healthy baby." In June, the American Medical Association resolved to develop legislation that will name hospitals as the safest place to have a baby. However, research on the safety of home births indicates that planned home births in the care of a qualified health care provider achieve excellent perinatal outcomes, with no increase in risk to mother or baby. A 2005 study of 5,418 women across North America giving birth at home with certified professional midwives found maternal and infant mortality rates matching those of low-risk women giving birth in the hospital, with a significant decrease in medical interventions such as cesarean section (only 3.7 percent), use of forceps and vacuum, labor induction and augmentation, spinal-epidural anesthesia, and separation of mother and baby during postpartum recovery.
Midwifery fees for a home birth average about $4,000, which is often covered by insurance as an out-of-network reimbursement. Other than lab work, ultrasound, and a minimal amount of supplies, the cost includes all prenatal visits, the birth itself, and extensive postpartum care to ensure that everything from baby care to breastfeeding is going smoothly. Midwives often work in conjunction with doulas, who can provide emotional and physical support to a laboring woman during childbirth and then ease the family's transition to life with a new baby. The Central Coast Doula Association offers pregnancy, labor, birth, and postpartum doula support, as well as continuing education for its members and the community at large who are interested in learning more about midwifery and home birth.
"The midwifery model embraces pregnancy as a normal physiologic event, not as a problem or emergency waiting to happen" – Alice Levine
"The midwifery model embraces pregnancy as a normal physiologic event, not as a problem or emergency waiting to happen," explains Alice Levine, a Certified Nurse/midwife who has been in practice for over 30 years. "The problems are really uncommon. It amazes me how complicated birth has become in our society. It's really simple-women get pregnant, they grow babies, and it's usually very unproblematic, and pregnancies usually go fine."
Midwives use very specific criteria to determine eligibility for a home birth. In the event of a risky pregnancy, midwives recommend a hospital delivery. The decision to give birth at home is revisited constantly over the course of the pregnancy, based on findings during the midwife's prenatal visits and during labor. About 10 percent of home birth labors transfer to a hospital.
"We're really grateful that we have modern medicine to help out," Levine continues. "We don't have the illness and mortality that we had 200 years ago because of the incredible things that modern medicine can do when things go wrong. The doctors accept that we're here, that we practice safely, and that we don't come in that often. It must be hard for them to have people from such a different paradigm coming in and asking for help, yet they do it graciously. But the midwifery concept is that things don't normally go wrong, so we approach it from the idea that this is a normal event : except that it's huge. The miracle and the mundane-pregnancy happens everyday, yet it's such a miracle every time.