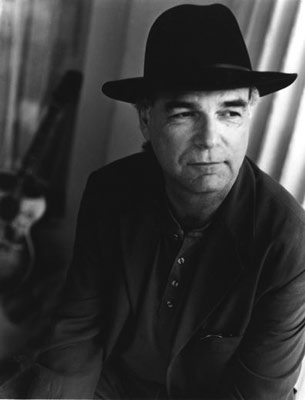 With the current Sings Like Hell series already boasting an impressive array of emerging roots artists (Dustin Welch, Kathleen Edwards, JT Nero), Saturday's installment fittingly presents one of Americana's most legendary stars. Nashville-based David Olney has been a musical stalwart since the early '70s.
After dropping out of college, Olney settled into the country music capitol of Nashville where he fronted the legendary X-Rays. Since the band ran its musical course, Olney has emerged as a contemplative singer/songwriter, not to mention an international troubadour. The wealth of his contributions can not only be measured in the 20-plus albums he has released, but also in the quality of artists who have embraced his songs. You can hear treatments of Olney's material in the discographies of Johnny Cash, Steve Earle, Emmylou Harris, and Linda Ronstadt, among many others.
While Olney's resume boasts an impressive list of names, the beauty of the Sings Like Hell series is that it presents Santa Barbarans with the opportunity to spend a little time at the musical source. "It's a little like looking in someone's family photo album," agreed Olney. "The pictures might not be all that good looking and representing people at their best, but what you are seeing is the real people. Living in Nashville, that is pretty much how I get to hear songs when I go out. I am usually hearing the person who wrote the songs play them. For me, personally, the way I want to hear music is done by the people who wrote them. But maybe that's just because it's a way to compare crafts notes and things."
That being said, it would be interesting to see how other singer/songwriters react to Olney's song "Titanic." While the historic incident is entrenched in folklore and has inspired a bevy of folk songs, Olney tackles the happening from the perspective of two souls coming together at the wrong point in time. But in this musical outing, the two perspectives we glean are perhaps not the most likely to be telling the tale.
"Right from the very get-go, I wanted the song to be from the point of view of the iceberg," Olney explained. "I imagined the iceberg singing this song. It's your typical love song about the wrong people getting together, only in this case, it just happens to be an iceberg and a luxury liner."