Say what you will about Jack Johnson's campfire-ready, sing-a-long friendly brand of acoustic rock-the UCSB alum can put on a show. Traveling with a veritable circus of eco-friendly educators, Jack's Sleep Through the Static Tour rolled into UCSB's part-time soccer stadium, part-time concert venue on Wednesday evening with a lot more than music and a flashy set of big screens to show for itself. The mini-festival of sorts spread throughout the venue, boasting info and merch booths for a number of regional and national nonprofit organizations (from UCSB's Environmental Affairs Board to the Surfrider Foundation) that focus their efforts on going green, registering voters, promoting the arts, and protecting Mother Nature.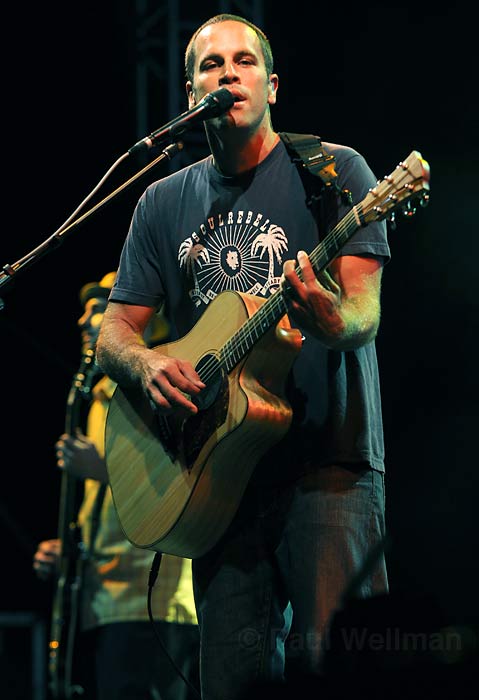 But all earth-saving efforts aside, Jack and his musical cohorts spent the majority of Wednesday night playing like, well, like they were home. Appearing more at ease-and talkative-than I've ever seen him before, Jack reminisced about penning Brushfire Fairytales during his stint in I.V., gave props to his Village Green volunteers, and rocked out with all three of his opening acts. Beneath a stage setup that was about as technically awesome as they come, Jack played an unhurried set that spanned his four album discography, taking time to jam out on "Staple It Together," "Breakdown," and "Wasting Time" with an unfiltered joy that seemed fitting for the scope and size of his homecoming show.
Following a start-and-stop rendition of "Bubbly Toes," pianoman Zach Gill recalled aloud, "Ever since I was in the dorms, I had a Harder Stadium dream of 50,000 people jumping up and down." Even from the sidelines, you imagine the overwhelming view from the stage as the crowd obliged. The nearly two-hour-long set hit its high when openers Zach Rogue, Paula Fuga, and the Culver City Dub Collective joined Jack's band onstage for renditions of Rogue Wave's "Eyes," Jack's "Constellations," and a duet of Fuga's "Country Road."
In the end, Wednesday's show was much like the innumerable outdoor festival dates that Jack has spent his summer headlining: shining stars, thousands of fans, and slick, near-perfect acoustics. But for those who have been privy to the shows that Rockstar Jack has recently played, the subtle difference was crystal clear-the UCSB performance meant more and felt homier than anything the folks at Coachella, Bonnaroo, or Outside Lands got to witness.