News
Pro-Choicers, Gay Supporters Rally at Courthouse
Group Convenes to Encourage No Votes for Props 4 and 8
About 40 people gathered on the south patio of the Santa Barbara Courthouse Friday for a Planned Parenthood rally opposing two propositions on November's ballot – measures that, if passed, would mandate parental notification for teens under 18 seeking abortions, and overturn the State Supreme Court's May 15 ruling extending marriage rights to same-sex couples.
Representatives of the many local organizations that spoke the rally against Prop. 4 and Prop. 8 included the League of Women Voters, Pacific Pride Foundation, Santa Barbara City Council, SEIU Local 620, the Santa Barbara Women's Political Committee, and Clergy for Choice, an interfaith group that supports women's access to reproductive freedoms.
Cheryl Rollings, CEO of Planned Parenthood for Santa Barbara, introduced the rally with a short speech explaining her organization's stance on Prop. 4. Rollings acknowledged that "parents want to be involved with their teens, but in the real world, this is not always how it goes. The most important thing is keeping teens safe."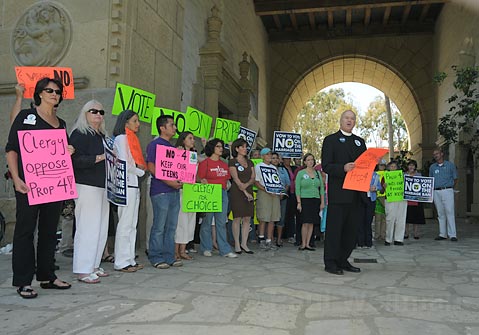 "The real answer," Rollings continued, "is family communication before [an unplanned pregnancy occurs]."
Reverend Mark Asman of the Clergy for Choice organization also spoke at the rally, echoing Rollings' statement that legally forcing physicians to notify the parents of pregnant teens in order to provide abortions might lead to dangerous family problems for many young women.
"We know that parents rightfully want to be involved in their teenagers' lives, especially in the case of a major decision like an unplanned pregnancy," Asman said. "We also recognize that teenagers who do not talk to their parents about this decision usually have a very good reason [not to do so].
"For those young women who live in families where neglect and violence are a reality," Asman continued, "requiring parental notification before abortion could lead to more abuse, more teenagers out on the street, and desperate young women willing to take matters into their own hands."
Joel Rodriguez-Flores, a member of SEIU Local 620, spoke about both propositions at the rally. "This election is about issues that matter to families," Rodriguez-Flores said. "[Prop. 4] will put teens in harm's way – and this is despicable. Trust can not be legislated."
"In addition, same sex couples deserve access to every single thing heterosexual couples do," he added. "I know my family does not hold homophobia as a family value."
David Selberg, executive director of the Pacific Pride Foundation, spoke at the rally about Proposition 4, but also expressed his organization's opposition to Proposition 8, which would again make same-sex marriages in the State of California illegal. Voting against the proposition, Selberg said, "is about not treating people differently.
"Regardless of how anyone feels about this issue, we don't need Proposition 8," Selberg said. "We don't need more government in our lives. Just like the government shouldn't tell you what to read, the government also shouldn't tell you who to marry."
Dr. Linda Phillips of the League of Women Voters, pointed out at the rally that both propositions 4 and 8 have been on the state ballot several times before in recent years, and that voters have repeatedly defeated all such measures. "Both of these propositions threaten basic Constitutional rights," Phillips said.
Helene Schneider, a member of the Santa Barbara City Council, echoed Phillips' statements. "Voters have voted against these issues already," Schneider said. "What part of 'no' do you [the lobby groups who put Props 4 and 8 on the ballot] not understand?
"The history of our country has always been to gain rights, not to lose them" she added.
Also present at the rally were 2nd District Supervisor Janet Wolf, 3rd District Supervisor candidate Doreen Farr, a representative of Assemblymember Pedro Nava, Santa Barbara Mayor Marty Blum, and former S.B. city mayor Sheila Lodge.
Note: Prop. 4 would, in fact, mandate the notification of only one parent or legal guardian, except under unusual circumstances, but most speakers at the event mentioned parents in the plural sense as they were referring to all hypothetical pregnant teens and their parents.