The sun was still warm at seven o'clock on Saturday when the threesome that is the Black Rebel Motorcycle Club (BRMC) quietly took their places onstage at the Santa Barbara Bowl and, without further ado, poured straight into "666 Conducer." They rocked for a full hour, spanning over their entire repertoire, including songs from their debut record, B.R.M.C. The music darkened as a full moon took the place of the sun and the gents closed their set with "Six Barrel Shotgun."
Cheers aplenty, it was roughly 20 minutes before a thin-but not as thin as before-Scott Weiland bounced onto stage wearing tight black skinny jeans, a white blazer, shirt and tie, fedora, and a pair of sunglasses. He led his Stone Temple Pilots into the first song ("Big Empty") of what would become a night full of the sonic relics of a bygone era. Swinging his shoulders from side to side in the signature dance move he's had the past 15 years to perfect, Weiland was joined by the thousands before him-most of whom sang along enthusiastically without missing a beat.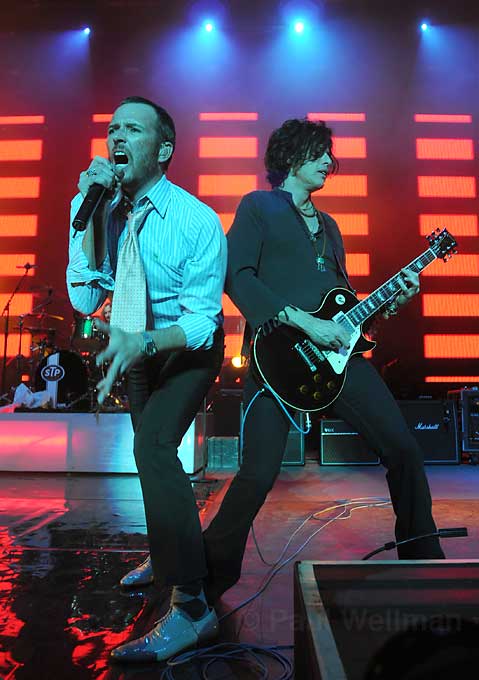 The night was a gleaming success. Between a very animated (and at times, slightly pornographic) projection show that illuminated the entire backdrop of the stage, a barrage of hits, and hundreds of cell phones capturing pictures and video of Weiland on stage, the long term success of STP was obvious. All around people were talking about "this time in high school" and "that time in college," making the show seem like a piece of '90s rock history. This was further evidenced as their set went on, as almost every song they played had, at one point, been a highly recognizable single from the past decade-and-a-half.
During their set, STP dutifully hit "Wicked Garden," "Big Bang Baby," and "Vaseline" spot on, leaving room for "Sour Girl," which sounded good, but just slightly off. All the while the much-talked-about Weiland (who spoke slowly and sounded oddly similar to Bob Dylan) and his bandmembers indulged in quite a few smokes on stage before closing things out with a very well received "Interstate Love Song," "Creep," and "Plush."