News
Risk, Challenge, and Choice on the Wildland Urban Interface
Living with Fire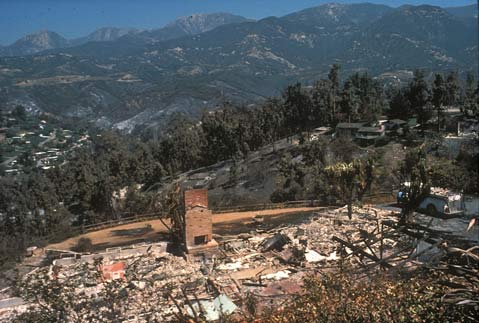 There is nothing like a wildfire roaring downhill, threatening to burn homes and forcing thousands of people to evacuate in a panic, to illustrate the dilemma Santa Barbarans face every day: We love living right on the edge of one of the world's most scenic backdrops, but the privilege brings with it the potential for catastrophic disaster most any time the weather turns hot and the wind blows dry.
That's what happens when you build homes next door to one of the most flammable ecosystems on earth-the chaparral-and just hope for the best. The dull green brush covering the front side of the Santa Ynez Mountains is a tough mixture of drought-resistant plants, 15 to 18 feet tall. Thick enough that it is almost impossible to penetrate once fully mature, the chaparral represents an equally tough challenge for those who have to figure out how to manage it.
Eyes Wide Open
Until we're in the midst of an inferno like the Gap Fire, it's easy to be complacent. But on July 3, smoke was swirling through the streets of Goleta, 100-foot flames were nearing the Edison power lines, there was no electricity, and massive evacuations were underway. Onshore winds were now pushing the fire northwest. Extending his index finger and thumb so there was just a sliver of space between them, County Fire Public Information Officer Captain Eli Iskow said, "We were just that close to the fire directly threatening Santa Barbara."
By the end of the following week, everyone breathed a sigh of relief, knowing we'd dodged another bullet, like we did with the Zaca Fire last year. But as the smoke cleared, the questions began to mount. What if the fire had jumped Highway 154? What if it had started above Santa Barbara rather than Goleta, whose orchards served as buffers between the wildfire and the homes? And most of all, do we have the will and the pocketbook to do what is needed to protect lives and property before the fire next time?
"In an ideal world, you'd never mix homes with brush that is this flammable," said Santa Barbara County Fire vegetation specialist Captain David Neels. Nonetheless, thanks to spectacular views, and the irresistible opportunity to live in beautiful natural surroundings, there's been an explosion of new homes built on the edge of the chaparral since the 1950s. Working on the Grand Prix Fire in the San Bernardino Mountains in 2003 brought the danger home to Neels in vivid terms. "When almost a thousand homes burn in a fire you've been fighting and you can't save nearly enough of them, you don't forget that easily," he said. "There were areas where we could see it might be safe to go into a neighborhood and save homes but then a few minutes later the wind would shift and we'd thank ourselves that we didn't go in right then. With the right wind and location, there's no doubt a fire of that magnitude could happen here."
Not If, But When
Fire experts call it fuel loading: The chaparral has progressively turned to dead, woody material over a period of several decades, with no fire to clean out the older vegetation in the front country. Today, as much as 90 percent of it is ready to burn. It is the process by which the chaparral stores massive amounts of potential energy that can be released when the next spark sets it off. In the 44 years since the Coyote Fire burned the entire front country, the amount of burnable material is approaching the energy equivalent of several Hiroshima-type atomic bombs. Each summer when the fire season officially opens, firefighters wonder, will this be the year a really bad one occurs? Typically, the ones that do the most damage come in September and October when sundowner winds kick in.
Those who've lived in Santa Barbara for most of their lives know the costs of a wildfire running down the mountain. The 1977 Sycamore Canyon Fire lasted only seven hours and burned just a few hundred acres, yet in that time destroyed 195 houses. The 1990 Paint Fire (aka Painted Cave) burned more than 500 homes, caused at least $250 million dollars in damage, and killed one person in an even shorter period of time-less than four hours. "We will have another Paint Fire or Sycamore Canyon Fire," said Iskow. "We just don't know where or when."
What concerns fire officials most are the values at risk. You can have a wildfire on the other side of the mountain, such as the Zaca Fire, which burned 240,000 acres but destroyed no homes, put no community lives at risk, and cost just $120 million to put out, even though it lasted more than two months. On the other hand, a fire on the front side of the mountains can put thousands of lives at risk, destroy upward of a billion dollars in property (which is what the price tag for the Paint Fire would be in today's housing market), and do it in less than a day.
The City of Santa Barbara's Wildland Fire Plan identifies four areas, comprising 4,500 homes, in what the city considers high fire hazard territory in the foothills behind town, their total property value exceeding $6 billion dollars. Mission Canyon alone, which is perhaps Santa Barbara County's highest fire danger area, represents another $3 billion-$4 billion worth of real estate.
Indefensible Space
It is not a simple matter to remove the loaded fuel. "Last year when the huge smoke columns from the Zaca Fire appeared, we removed almost 65 tons of brush from the Mission Canyon area, and we barely made a dent in what's there," Neels said.
A drive through Mission Canyon illustrates the point Neels is making about its vulnerability and that of other old communities like the Riviera area and Eucalyptus Hill. Almost none of the private roads in Mission Canyon meet County Fire Department standards for width (24 feet) or have the 40- to 48-foot turnarounds now required at the end of dead-end lanes. The public roads are also narrow and winding, vegetation has been allowed to grow well into the road right-of-ways, fences encroach onto them as well, and on-street parking has turned many of the streets into what are almost one-lane roads in many places.
In the draft Mission Canyon Community Plan, which is being updated to replace the 1984 plan, the residents articulate a desire to protect the "neighborhood character and charm," noting particularly the "eclectic mix of residential styles, mountain, city, and ocean views, starry nighttime skies, and narrow winding roads without curbs, sidewalks, or traffic lights"-precisely the qualities that place it in harm's way.
"If you look at the area east of Gibraltar Road where the development is more recent," Needs explained, "a lot of the roads are wider and the houses built to more stringent codes that include both defensible space and fire-resistant construction practices. The landscape vegetation is much more fire resistant, too."
Though firefighters are committed to doing whatever they can to protect the homes in Mission Canyon, they acknowledge that some locations are virtually indefensible. This is also true of much of the area where homes burned in the Sycamore Canyon fire. "I'm comfortable coming down here to fight a small brush fire, but if we had a major fire coming this way, there's no way I'd bring my crew here," an engine captain from Los Padres forest said while helping to put out the last bits of a small fire recently on Canon View Road in the Eucalyptus Hill area. "There's no way out, and it is almost impossible to turn around. This area could easily cost people's lives." Clearly, though no one will say so publicly, when the next wildfire comes, residents on Canon View or the nearby feeder street, Sierra Vista, will more than likely be on their own.
Some residents wish the county would be more vigilant about enforcing compliance with road encroachment and zoning violations such as unpermitted second units. Many would like to see the county be much more restrictive when it comes to other land use planning issues as well. One of these is what is known as "transient use" within the Mission Canyon area-conditional use permits that allow organizations to hold activities or events periodically throughout the year. Most prominent of these are events at three Mission Canyon institutions: the Museum of Natural History; the Rockwood Woman's Club; and the Santa Barbara Botanic Garden. Ranging from the ArtWalk at the Natural History Museum, weddings at the Woman's Club, or a major fundraiser at the Botanic Garden, these events can bring hundreds of visitors onto the main emergency exit route out of upper Mission Canyon.
"Right now, we estimate that if everything goes well, we can get everyone out of the canyon in less than a half an hour," said Ray Smith, who chaired the committee that helped put together the Mission Canyon Community Plan. "If you add a few hundred cars driven by people who don't know the area who are attending one of these events, it may be almost impossible to get everyone out."
Fire-Safe Yourself
Iskow's goal is to make every homeowner aware of how they can make their homes as fire-safe as possible. "We don't say 'fireproof,'" he explained, "we say 'fire-resistant.' There is no way a home can be protected completely, but you can come close." The County Fire Department Web site offers guidance toward building a fire-safe community (sbcfire.com).
"There are three key things every home-owner in a high fire-hazard area needs to do," Iskow said, ticking each off on his fingers. "The first is to reduce every fire hazard near your home and to open up as much defensible space as you can. The second is to look at how to make your home more fire-resistant. The third is to begin developing a wildfire action plan as soon as possible. You don't know when the next fire is going to happen, which direction it is going to come from, or how fast it will be moving. You don't want to be making your first decisions about what to do when you see the flames coming up over the hill."
Wildfire Protection Plans
Building a buffer in the areas above where the homes intersect the chaparral is another key component of reducing fire risk. Neels began working in 2006 with members of the Mission Canyon Association to build the Community Wildfire Protection Plan (CWPP) under the umbrella of the Healthy Forests Restoration Act, passed by Congress in 2003 and designed to help reduce the amount of flammable vegetation in the Wildland Urban Interface (WUI). To be finalized in the next few months, the plan encompasses an area of 16,000 acres stretching from San Roque Canyon on the west, Los Padres National Forest on the north, Gibraltar Road on the east, and the city boundary on the south.
A good part of Neels's job includes meeting with private property owners in the upper parts of the Mission Canyon area to gain permission to conduct fuels modification programs on their property. With the help of federal grants obtained through the California State Fire Safe Council Grant Clearinghouse, several projects are in progress and more are planned. Renting goats is one of the approaches under consideration.
Help in thinning out the surrounding chaparral may be on the way in the form of grants through the National Resources Conservation Service (NRCS). Santa Barbara is among seven Southern California counties currently partnering with the NRCS to identify potential projects that, if funded, would allow the county to treat an additional 53,000 acres at a cost of $134 million, borne by the federal government.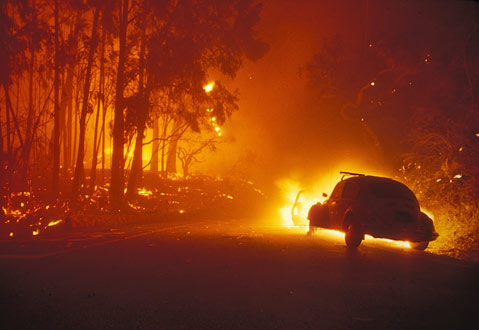 Prescribed Burns on the Front County?
Recently, the Santa Barbara County Fish and Game Commission sent its Wildfire Task Force Report to the Board of Supervisors, in which it recommended use of prescribed burning throughout the county to counteract what it terms a "constant threat to public health and safety" in the form of wildfires. "Unless we responsibly and naturally reduce the fuel levels as the Native Americans did before us," it reads, in part, "we are not adequately addressing the problem.
"To burn on the front country you need an established boundary you can fire off, and even then using fire is tricky at best given the values at risk." – David Neels
While Neels can understand the practicality of using prescribed burns in the backcountry areas of the county, he is more realistic about its use on the front country. "To burn on the front country you need an established boundary you can fire off, and even then using fire is tricky at best given the values at risk," he explained. Even in the 1970s, Forest Supervisor Bill Hansen recognized that using fire here would not be easy. "Usually chaparral either won't burn at all or it burns with such intensity that it is difficult to control. The work is costly. If the fire does not burn hot enough to clean up the fuels the effort is a waster of time and money. If it burns hot enough to do the job, it requires extraordinary measures to keep it under control. And then the soil exposed to winter rains must be re-vegetated to prevent excess runoff."
Some environmentalists are particularly unhappy with this focus on using fire as a strategy for reducing fire risk. Rick Halsey heads an organization known as the California Chaparral Institute in Escondido and is the author of a quarterly publication known as the Chaparralian, devoted to an understanding of and appreciation for the chaparral ecosystem. Last winter, I toured the Witch Fire burn area outside Escondido with Halsey. "The experts will tell you that once you burn the chaparral, it will act as a buffer to the next fire," he said as we looked over a series of blackened hillsides and shells of burnt out homes. "But this area burned only three years ago, yet the fire roared through here again. The large fires are the ones driven by wind and embers and it doesn't matter whether the area burned a few years or thirty years ago. Wind-driven fires will take out anything."
On the way back to Halsey's house we crossed the freeway near a point where the fire had jumped it. We stopped, got out of the car, and walked to the overpass. "You've got three lanes on each side of the freeway," Halsey said, "and there's the middle divider and a frontage road along one side." He stops for a second and his arm sweeps across the expanse of concrete, and he adds, "The fire barely paused before it jumped across and continued on. If that freeway didn't stop it, what chance do you think a small break cut on the edge of the chaparral will have of stopping a firestorm coming down the mountain with a 40 mile-per-hour wind driving it?"
What concerns Halsey as much as anything are impacts on the chaparral ecosystem itself if prescribed burning were to be introduced onto the front country. "Everyone assumes that the chaparral is virtually indestructible and that you can pretty much burn it out any time you want and it will still come back, but that's not true."
At one point along Highway 78 we stopped again and Halsey pointed to the mountainsides on either side of the canyon road. "Twenty years ago most of these hills consisted of chaparral but it is almost all grass now," he explained, "a lot of it the result of too many fires too often." He pointed out a solitary manzanita the size of a small tree that did not survive the Witch Fire. "It probably took that tree a hundred years to get to that size and more than likely it won't come back."
Fire-Resistant Community-Building
Like County Fire PIO Iskow, Halsey advocates making communities capable of surviving a wildfire. Both agree that what homeowners do to protect their properties, and how seriously they plan for the next wildfire, will be as critical as any of the options available to the public agencies. But is this something the Mission Canyon community will buy into?
"In terms of attitude, there's a sea change in the canyon, especially in the upper parts closest to the fire danger," Ray Smith, chair of their Community Plan. "Ten years ago I'd have a different answer if you asked me if homeowners here got it, but today most of them are starting to do what's needed to make the area a lot more fire safe."
Smith's home offers the perfect example of what needs to be done. Though there are 14 large oaks on the property, none of their canopy overstory is closer than 10 feet to the ground. Leaves are cleared beneath them and throughout the yard there is only a scattering of drought-resistant plants, many of them succulents. His house is a Spanish-style adobe with no wood surfaces that could burn save his garage door that he says is treated with non-flammable chemicals to keep it from catching on fire. In a shed behind the garage Smith proudly shows off the compressor, sprayer, and Phos-Chek fire retardant that he plans on spraying the house and vegetation with if he's forced to stay and defend his home.
"Yes, it's expensive, but it isn't as expensive or heartbreaking as counting the losses or rebuilding my home." – Ray Smith
Recently, Smith hosted a rare sort of party-one in which he invited others who lived in the area to a demonstration of a home protection system called FoamSafe. Using fire detectors, a 5,000-gallon water supply, and propane driven compressor, the system will foam the entire house, grounds, and even the tops of Smith's biggest oaks. Though it costs $30,000 to install, he is thinking of doing it. "Yes, it's expensive," Smith said afterward as he marveled at how the three-inch thick foam clung to the trunks of one of his oaks. "But it isn't as expensive or heartbreaking as counting the losses or rebuilding my home."
Questions remain as to whether others will be as proactive as Ray Smith. A recent survey sent to the 1,100 members of the Mission Canyon Association indicated that most would support an annual assessment of $125, to be used for improving evacuation routes, brush chipping, building additional fire breaks, and inspections to ensure that vegetation clearance laws were being observed. If passed, it would generate more than $100,000 per year.
Support for the assessment was overwhelming, but unfortunately, just 200 of the association members responded. "Only a ballot will determine if we have true support," commented Ralph Daniel, who helped do the survey. If it does pass, perhaps the next fire that burns through Mission Canyon may not be as destructive as firefighters fear."