By the time k.d. lang's "Constant Craving" dominated the airwaves back in 1992, the Canadian musician had already firmly established herself as a notable (and bankable) county singer. A 1987 duet with Roy Orbison on "Crying" landed the pair a Grammy Award for Best Country Collaboration with Vocals in 1989. But it was "Craving" that scored lang her own statuette, and helped to catapult its album, Ingenue, to the top of the adult contemporary charts. Brimming with sparkling, intelligent songs, the record thrust lang into the world of popular music. And while her last two musical endeavors have beautifully explored the great American and Canadian songbooks, lang has most recently returned to the scene touting her first album of new material in eight years. Watershed is a deeply personal foray that fittingly encompasses her many and varied musical influences. With a rebellious, independent spirit channeled through a beautifully majestic voice, lang is a true original. And with an upcoming performance at the Arlington Theatre this Saturday night, fans can rest assured that this is one performance that will leave the audience craving more.
You recently scored your first number one album-and it was in Australia. What was it like to tour down there following that? I don't even know how to really define or express my relationship with Australia. It's really an illusive and amazing thing. To have my first number one in Australia makes perfect sense to me and makes me really proud and happy.
You also have a shelf full of Grammy awards. How do you measure artistic success? I think just still going after 25 years. That's an amazing accomplishment for someone who's not really alternative or commercial, but, "Where the hell am I?" Yet I still have a career. I think that's pretty amazing. And it's something that I definitely don't take for granted.
You have embraced an amazing degree of diversity with your music throughout the years. Do you think that has played a role in keeping your career alive? I think so, because of the fact that I have allowed myself to follow a muse and stay engaged and interested in music. I don't think that it's because I am psychic or can prophesize the music industry. I think it's really just that I stay interested. And I also think that it is my biggest downfall. I think it has also made my career very, very difficult to track. I mean, if you go on iTunes, Ingenue is under country and then a record like Hymns of the 49th Parallel is under pop, and it's very confusing to the market. But I think it has been an absolute necessity for the longevity of me as an artist.
Your last two recordings-A Wonderful World [with Tony Bennett] and Hymns from the 49th Parallel-featured you interpreting some iconic songs. What was it like to then return to writing your own material? It's a pretty ominous thing to try and come and be a songwriter after doing those. But I think once I got over the initial comparison and the putting undue pressure on myself in trying to come up with that kind of song, it was really liberating. And in some ways, having those songs move through me as a singer and as an artist kind of cleared out the channels as to what a good song actually is. It was almost like a reset button.
By taking songwriting out of the equation, did those two projects help you evolve as a singer? It did. Although I would say that that is something I have been working on for a long time. The lifelong evolution of me as a singer is that I'm always trying to become more spontaneous and vulnerable and honest and be right on the edge. I am trying to capture that initial emotional reaction and I get kind of jealous of people who don't technically have voices like mine.
In what regard? My voice is technically quite clear and my pitch is quite good, and I think that makes me sound like I am very meticulous on my vocals in a way that kind of bugs me. Then there's a singer like Tom Waits, for example, who's technically not a great singer, but when he sings a song like "Long Way Home" it's so gut-wrenching. And that's something I struggle with because I'm a lot more alternative in nature than my voice.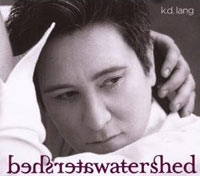 The new album, Watershed, was written across quite an expanse of time. Was it difficult to maintain consistency in the writing? I started writing Watershed in 2001. So that is a period of seven years, which is quite a large flock of time. I think one thing that is consistent is that it's a pretty self-examining record. I think that is why Watershed came together as a cohesive album.
You cut very close to the bone lyrically on this album. What's it like to now be sharing those emotions and feelings with an audience? It's actually a lot easier than singing something that you don't like or don't believe in. I don't think that I go through any human emotion that we all don't, so I don't feel particularly vulnerable as a public person or anything like that. I think it makes it much more viable and important that I'm singing something that I understand and that I feel.
You are out on the road with a new group of players. How has that impacted you as a musician? It feels like a new era and I have a new lease on life. It has enthused new energy into me and my music and I have totally fallen in love with the new band. But, you know, all things are impermanent, so I'm going to try and not get too attached to these guys because I know they have really brilliant careers ahead of them. I'm slowing down and they're just getting going, so I have to be very open in that regard.
Is there a glass ceiling for female artists? We embrace our Leonard Cohens and Neil Youngs, but the female equivalents are few and far between these days. That's the way of the world.
Given where you are in your career, is that something you are conscious of? I think in my more human moments I get pissed about it. But, ultimately, the people who have influenced me are older women like Peggy Lee and Ella and Billie and Carmen McCray, and it's actually their later work that really interests me. So I just don't think that the media and commercial world give that much attention to women. But I do think they're certainly as pertinent and as strong, so it's really up to the individual to feed their artistic hunger.
You are headed our way, so I should throw forth the obligatory Santa Barbara-related question. Are you familiar with Katy Perry, our latest musical export, and what are your thoughts on her most recent confession? I have to say it's going to be an unbiased answer because my management company manages her. She's in my family. Of course "I Kissed a Girl" is something I'm quite familiar with. [Laughs.] Go Katy! And she has a good first name :
4•1•1
Nederlander presents k.d. lang with opening act Dustin O'Halloran at the Arlington Theatre this Saturday, October 11, at 8 p.m. Call 963-4408 or visit nederlanderconcerts.com for tickets.