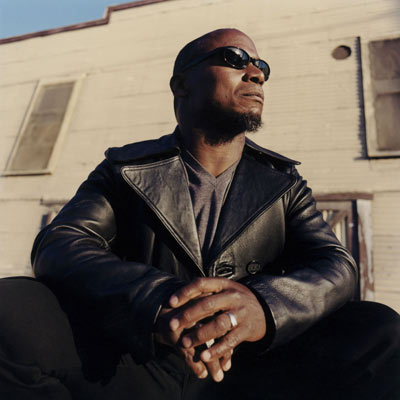 IT'S A SMALL WORLD: In celebration of all things matrimonial, Colorado deejay and soon-to-be-husband Peter Blick will be throwing an open-to-the-public, post-wedding party this Saturday, October 11, at Stateside (1114 State St.). And, based on what I've learned from the fine folks at E! News and Us Weekly, that simply means that Blick will be bringing his music biz buddies along for the after party.
In fact, the night is slated to feature some of the hottest West Coast and Colorado deejays, including DJ Seven (djseven.com), Jon Nedza, and DJ Blick himself, all spinning in Stateside's back room. For the wallflowers out there, don't fret. The night's biggest draw just happens to be the band that will be hitting the lounge's main stage. Composed of Tiny Universe "frontman" (and Lenny Kravitz sidekick) Karl Denson (karldenson.com) (saxophone, flute, vocals), Brian Jordan (guitar), Darren Pujalet (drums), Christian Schinelli, and Steve Aguilar, Blick's Mix will undoubtedly be the night's big draw. They're promising tunes that range from funk-infused originals to classic covers-it is a wedding reception, after all. Doors open at 9:30 p.m. and the show starts at 10 sharp. Presale tickets are available at Stateside for $12, and day-of tickets are $15. For more information, call 564-1000 or visit statesidesb.com.
TRAINS, PLANES, AND AUTOMOBILES: Hitting the road this week for a different type of tour is pro surfing-turned-song penning Oxnard dweller Timmy Curran, who will be filming an upcoming documentary titled The Train. The first in a three-part series, The Train will follow Curran (along with Dane Reynolds, Damien Hobgood, and Ian Walsh) as they traverse Amtrak's West Coast route from San Fran to Encinitas, California. The flick will include surfing footage, interviews, musical performances, and "lifestyle commentary" on the people who live around these California train and surf spots.
Of course, such a short-but-sweet filming excursion would be nothing without a couple of live shows. Curran (along with The White Buffalo) will take on Ventura's The Lodge (11 S. Ash St.) on Saturday, October 18, and our very own SOhO (1221 State St.) on Thursday, November 6. As for the film, well, the finished product is slated to tour the nation during summer 2009, with the second and third installments to film in Japan and along the East Coast respectively in the two years to follow. For more on Curran, visit myspace.com/timmycurran.
Also leaving town this week is former Sprocketeer Glen Phillips, who will be traversing the U.S. in support of his latest EP, The Secrets of New Explorers, through early December. The closest tour stops include a November 9 date at Slim's in San Francisco, a November 12 show at Largo in L.A., and a performance at Agoura Hill's Canyon Club on November 13. For the full itinerary, visit glenphillips.com.
BLOOD BROTHERS: Before they head out on tour with Tokyo's Polysics, the collaborative threesome that is Jaguar Love (myspace.com/jaguarloveband) will be stopping through town this week for a show at Velvet Jones (423 State St.) on Tuesday, October 14, with S.B. favorites Kissing Tigers (kissingtigers.com). Made up of former Pretty Girls Make Graves guitarist Jay Clark and previous Blood Brothers bandmates Johnny Whitney and Cody Votolato, Jaguar Love embody screamo for the new generation. Their debut full-length, Take Me to the Sea, fluctuates between chaotic prog-rock la the Mars Volta ("Vagabond Ballroon") and synth-heavy electro dance that calls to mind the band's one-time tour mates The Faint. Like his work with the Brothers, Whitney's high-pitched, warbled cries are what resonate here. But unlike past efforts, the tunes and guitar licks here are upbeat, punching, and downright rockin'. The show starts at 8 p.m. and tickets are $8 in advance, $10 at the door. For more info, visit numbskullshows.com or ticketweb.com.