Best Of
Wants to Needs
Best of 2008
Hotel/Motel for Your Relatives
Fess Parker's DoubleTree Resort Santa Barbara 633 E. Cabrillo Blvd., 564-4333
The imposing DoubleTree has a lot of pluses to recommend it for your visiting family. It has a nice pool heated year 'round, the restaurant scene is varied from coffee shop to steakhouse, and without doubt it brings visitors face to face with that which defines us as a destination, the deep blue sea. But it's also closer to the center of town than the few other upscale hotels: you could reach either La Super Rica or the Arlington in about the same few minutes' driving time. So, to review: swim, eat, sunbathe, or take in a little local culture. What more could your relatives want? You might not even have to talk to them.
FINALIST
Upham Hotel
Retirement Residence
Maravilla Senior Living 5486 Calle Real, 967-1965
They prefer the term "senior living community," but they also think that Maravilla is more like a resort hotel than a retirement village. That's according to Executive Director Brian McCague, who spent most of his earlier career in the hotel industry as did many of the staff. "I think this is our fourth year to win, and we like to think people like us because we promote an active life for our guests," he said. The amenities are many as are the happenings ranging from exercise classes to culture. "We even take them for trips over the hill to the Chumash Casino. A lot of our guests love to gamble," he said conspiratorially.
FINALIST
Casa Dorinda
S.B.-Based Web Site
Edhat Santa Barbara edhat.com
We got the following email, naturally: "Ed and the gang are pleased to be named best Web site for a second straight year. But the key to our Web site is not what we do, but the great community participation of our readers. The pictures, local stories, and comments shared by Edhat subscribers are what make our Web site great. Proof was in the pudding during the Zaca Fire when the community came together on Edhat to share information in a time when there was little to be found."
FINALIST
Santa Barbara's Blog
Travel Agency
AAA Automobile Club of Southern California 3712 State St., 682-5811
Not only are they great at putting together detailed itineraries for those life-defining road trips through the native soil, but AAA brags about having great connections throughout the world to get you a flight, some lodging, and, as it should be, a car to drive when you get there. The readers' favorite for the last three years.
FINALIST
Santa Barbara Travel Bureau
Travel Store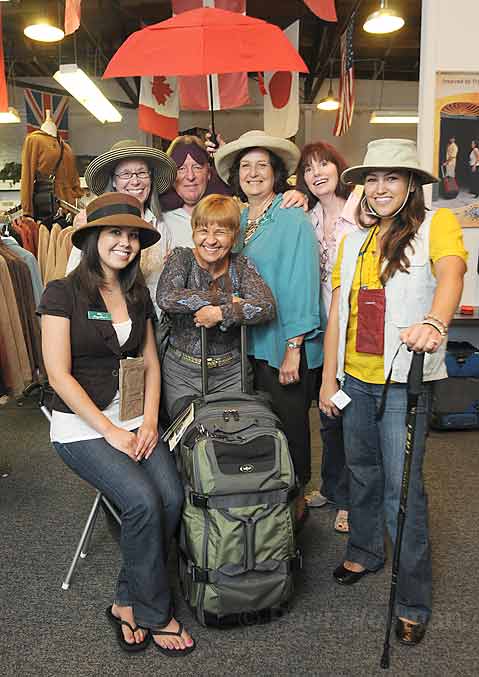 Magellan's 110 W. Sola St., 568-5402
They have everything from electricity converters to maps, from travel-appropriate clothing to iPod alarm clocks. Another one of those businesses that got its start here-a city that loves to get away from itself-and a convenient first stop to enable yourself both to get there in grace and come back with fun stories to tell.
FINALIST
Pacific Travelers Supply
Bank
Santa Barbara Bank & Trust 19 locations, (888) 400-7228
There are many reasons besides the chauvinistic appeal of its name to prefer this banking chain over the larger institutions. (And in light of recent developments, this bit of folk wisdom might prove even more true.) With about 50 branches and more than $7 billion in assets, the bank's most appealing aspect in this town-where the property bubble didn't burst quite as hard as elsewhere-is its extensive trust services in a community that has disproportionately large wealthy and retired communities. SBB&T has been around since 1960 and been the readers' pick for at least the last 10 years.
FINALIST
Wells Fargo
Copy Shop
FedEx Kinko's 1030 State St., 966-1114; 23 S. Hope Ave., 569-5100; 5749 Calle Real, Goleta, 964-3522
Of all the businesses that began in Isla Vista, this is the best known (even Mr. Zoggs Sex Wax, believe it or not, doesn't draw as much public recognition). Now owned by FedEx, but, as far as we can tell, still the same 24-hour copying and graphics store, Kinko's sounds like it ought to make its own wax, but, instead, makes a great business out of repeating itself, repeating itself, and repeating itself.
FINALIST
Bill's Copy Shop
Frame Shop
Aaron Brothers Art & Framing 601 State St., 966-3954
There's just the one store on State Street and it's been the readers' only pick since this poll began. At press time, there was a 25 percent discount on all wood and metal frames, and the prices are reasonable before the rate was cut. Great customer framing and art supplies to boot. It's a hang-up the readers prefer.
FINALIST
Michaels Arts & Crafts
Pharmacy
Longs Drugs Six locations
Reliable druggists are as essential as police and fire protection, though few people seem to acknowledge how we depend on them. Any short association with a neglectful pharmacy service-and they exist in this town-will convince you of this fact. Longs is quick, personable, and convenient with stores spread all over town-and that's exactly what the doctor ordered.
FINALIST
Rite Aid Pharmacy
Weight Loss Program
Weight Watchers (800) 651-6000
Falling somewhere between an AA meeting and an advanced calculus class, Weight Watchers is a 45-year-old program that creates hyper-awareness of food values as they apply to an individual's body mass and weight. Members attend regular meetings, learn the calculations, eat appropriate foods according to a variety of plans, and when they attain their weight, learn maintenance diets and attend regular weigh-ins where they may be "fined" for going off their diet. A longtime favorite here, Weight Watchers has franchises all over the world.
FINALIST
Martial Arts Family Fitness
Acupuncturist
Lonnie Wu, OMD, LAc, RN 682-2153
Long the reigning practitioner of Chinese medicine, Lonnie Wu is a beloved figure and advisor to many people in this town. "I've been taking some time to refine my own goals," said Wu. "And when you think of it, that's what I do for others-I refine their relationship to their own health. I want to thank the readers very much," she said.
FINALIST
Lori Guynes
Chiropractor
Dr. John Craviotto (Craviotto Family Chiropractic) 2922 De la Vina St., 563-0007
He's a fifth-generation Santa Barbaran; his family through marriage-the even older S.B. Gonzales family-goes back even further. But his chiropractic skills are entirely current, though humanity-based. "I think I try to take care of people the very best way I can. And I think it shows, at least it shows in the fact that they voted for me," he laughed.
FINALIST
Dr. Aaron Austin
Dentist
Dr. Michael W. Thompson 536 E. Arrellaga St., Ste. 104, 730-7565
"We have a warm, friendly staff, and I try to keep up with all the latest technology to make the experience painless," said Dr. Thompson. "You know, we do a lot of cosmetic work, we remake people's smiles. And I find this kind of work so exciting. We effectively get people in here who are afraid to smile and after working on them we can change their whole personality for the better. I love that."
FINALIST
Dr. David Dart
Orthodontist
Dr. Stewart E. White 15 E. Arrellaga St., Ste. 7, 962-7441; 164 Kinman Ave., Goleta, 964-7666
"I'm ecstatic that I even placed in the list," said Dr. White, another Santa Barbara-born-and-raised health provider. (He went to Montecito Union, Cold Spring, and Laguna Blanca, by the way.) "I have a lot of happy patients and a lot of happy parents to sing my praises, I guess. I'm very grateful to them and very grateful to live here."
FINALIST
Dr. Alex Trigonis
Licensed Massage Therapist
Stephen Fountain 965-5339
"I am totally honored and humbled to win this again; thank you," said Stephen Fountain, who even took off some time this year but still won the readers' support. "I am blessed to be a vessel of healing energy and thankful to be here."
FINALIST
Cynthia Lore
Optometrist
Dr. Taka Nomura 5300 Hollister Ave., 692-6977
"I am very happy to have won," said Taka Nomura, who has been examining the windows of other people's souls for 29 years in Santa Barbara. "I believe in providing the very best eye care possible, and I try to keep up with all the healthcare advances. I take a lot of time with my patients and try to answer all their questions," he said. "To me, quality care is the most important thing."
FINALIST
Dr. Thomas F. Burke
Medical Marijuana Dispensary
Helping Hands Wellness Center 4141 State St., 692-1419
At press time, the fate of any of the medical marijuana dispensaries was in jeopardy, or at least unclear. Most people believe that if Barack Obama is elected, the enforcement of these absurd laws will be put way back on the burner. We hope so, for the whole country's sake. There is no point in conducting a war on a drug that provides relief for those who are suffering and otherwise low on hope, and repeatedly has been shown to exhibit minimal downsides compared to alkaloids and opiates. We hope Helping Hands gets a chance to keep helping soon.
FINALIST
Hortipharm Caregivers
Study Spot
Santa Barbara Public Library 40 E. Anapamu St., 962-7653
Though certainly not free from distractions, all the public libraries in this town offer that hermetic feeling surrounded by the atmosphere of intellectual pursuit that only the perfume of all the ink, binding glue, and pencil dust that imbues the air could instill. There's also access to the Internet, unbelievable reference collections, and those long-suffering reference librarians who are nearly worn out just from Nick Welsh's pesky questions yet unbelievably spring back when you offer them a tricky question. Hallowed ground for homeworkers, the library stays fairly quiet, too.
FINALIST
Coffee Cat
Personnel/Temp Agency
Select Staffing 456-5200
"Of course we are so excited to win," said Select Staffing's Marketing Director Lori Weathers. "I'm sure people voted for us because of the longevity we have in this community; we started here in 1985. And though we are national now, we have our corporate headquarters here. Because of this longevity, we get the really good jobs. And because we get the really good jobs, we have great job-seekers. So it all works out."
FINALIST
Apple One