News
First-hand Report from Chicago
One American's Experience Among the Masses of Obama Revelers
For the past two and a half years I have had the fortunate pleasure of calling Chicago my temporary home. In that time I have had many adventures; none, however, greater than witnessing tonight's events.
What follows is a simple accounting of my adventures through November 4. I will do my best to keep it short and to avoid all those sympathetic, pithy hyperboles (i.e. "the palpable sense of unity was of the highest urgency" or something like that). I am sure that we are going to be bombarded with in the coming days. All of these stories are true and I have done my best not to inflate them. I hope that you enjoy:
My day began early, at 5 a.m. in order to make it to the polls before work. I reached the polls at 5:45 a.m., 15 minutes before they opened, and was met by a line already 40 minutes deep. The line moved amicably enough, but not really fast enough to keep you from getting antsy. Close to actually entering the polls, I noticed about three kids struggling down the street with about 15-20 folding chairs; new chairs, still in plastic.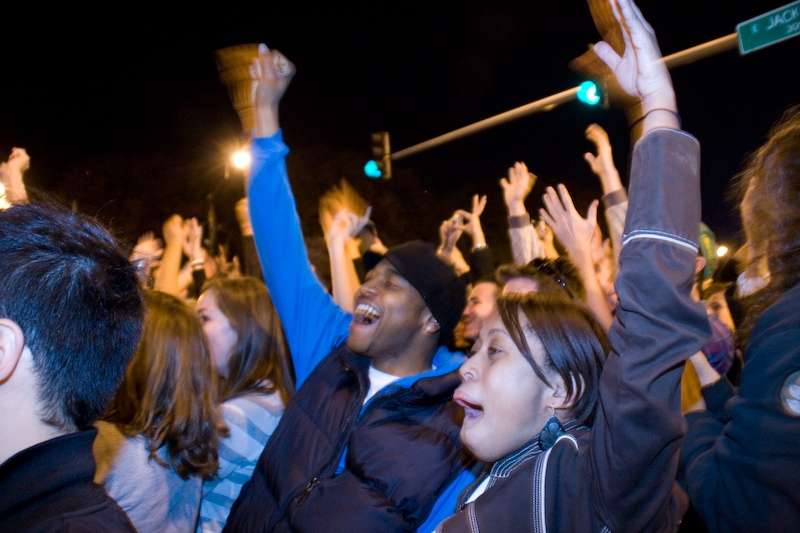 The kids had to have been about 18 or so and were clearly not associated with the other polling officials They quickly distributed the chairs to the eldest members of the crowd and then . . . they left. They simply left. Not having the chance to wait to see the results of their deeds, I entered my place of polling, cast my vote and made my way out the polling building. Outside, a mother and her two 7-10 year old girls were distributing juice from red wagon to the people in line.
The work day was like any other and I was fortunate enough to be able to beat the traffic home. (On the way, I passed my AM polling place and couldn't help but notice the chairs were still being put to good use.) I ate, dressed, and made my way downtown to a local bar to meet up with some friends.
By this time, I am sure that you have all seen the crowds that made their way to Grant Park. What you may not know is that the Obama campaign only distributed 70,000 tickets for people to attend his celebration in Grant Park. (Sidebar: even now I am struck how my Windows document has underlined "Obama" in red as a misspelling. Oh, how things are about to change).
At first, city officials were discouraging the masses from attending the celebration. But Mayor Daley, whether by choice or by a miscalculation, stated that "everyone was welcome" to the world's celebration. People had their attendance further encouraged today, when NPR put out a report that was quickly picked up by our local news stations that apparently Obama denied his celebrity friends tickets to the event because "the party is not for you. It is only for the everyday citizens that voted for me." How the city was going to cater to the massive crowds and the estimated 500-750,000 people that were to show was completely unclear for a majority of the day.
After we gathered our group, we walked from the bar to Grant Park (essentially following the other thousands to what seemed like the place to go). The city, out of courtesy to those without tickets, set up a dozen or so projection TVs throughout areas of Grant Park not associated with the "official" event. We found a TV and settled in. Quickly (in a matter of minutes) I was surprised to find myself just surrounded by masses people. All had their eyes glued to the large TV in front of us. It was all very eerie.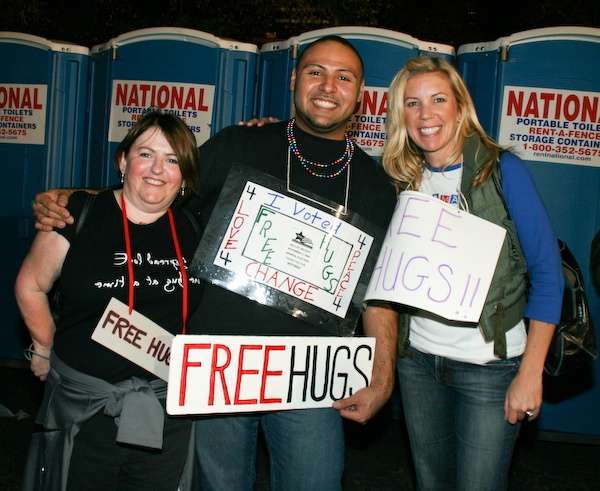 We had arrived at our viewing post at about 9 p.m. and results from the battleground states were still up in the air. As word of Obama's victories in Minnesota, Pennsylvania, and Ohio began to trickle in, people starting getting more and more excited. There was lots of chanting and lots of singing.
At around 9:50 p.m., just before closing of the Western polls, people started getting very quiet again. I was sandwiched next to this middle aged, African-American male who started to spontaneously cry in the middle of all this. At 10 p.m., the polls closed in the Western states and Obama was declared the winner of the election.
The crowd just went crazy. People were jumping up and down, hugging strangers, giving high-fives, and just yelling at the top of their lungs. This continued on for at least 15 minutes straight and I turned around to be rather overwhelmed by the sheer number of people that stood behind me (a large football stadium, just standing in the grass, watching one TV). The celebration continued and was only quieted by McCain giving his concession speech. I was impressed not only by the humility of McCain's speech, but also by the respect (by way of silence and appropriate clapping) that the mob afforded McCain.
After McCain's speech, there was some more cheering and then there was about a 30-minute lull before Obama appeared on stage. During this lull, people started getting a little restless, but once again I was impressed by the respect and general good-mannered nature of the crowd. The worst of it was watching two geriatric women trying to push their way across the crowd's horizon by saying: "Coming through! Old, fat women that have to pee!"
"Sweet Home Chicago" was piped over the projection TV speakers and the small football stadium sang along. A Jewish kid behind me that was clearly not old enough to vote turned to his friend and said: "Dude. Can you believe that we have a president that fist-bumps and plays ball?"
Finally, the national anthem was sung and Obama made his appearance. His speech was very emotional to say the least and I would be hard-pressed to think that it did not strike a few of your own heart-strings. But let me tell you this: try sitting in a football stadium that is dead silent except for the light sounds of people (a whole football stadium of people!) crying without joining them.
For the first time in my life, I felt apart of something that we learn about in only history class. All those songs about patriotism that we are forced to learn and all those civic lessons about the foundations of modern democracy finally meant something. This was someone that I was proud to call my President and it was someone that finally made me feel like I had something to say to the middle-aged black guy next to me that was quickly running out of tissue paper.
I won't belabor any more about Obama's speech, because I don't want to ruin your own experiences with it; just know that I think we found a President that finally knows his contingency. After his speech, our football stadium filed out into the streets of Chicago to mingle with the 10 or so other football stadiums that were leaving other parts of the park. The streets were one big party with everyone chanting out the name of their next president. There was so much to see and participate in.
A huge black kid yelled to this little old white lady: "Aren't you glad that we don't have four more years of those Republicans."
White old lady: "If they won, I was planning on moving to Mexico."
Black kid: "I don't have enough dough to leave Chicago, let alone go to Mexico."
White woman: "What do you do for a living?"
Black kid: "I paint houses."
White woman: "I was just thinking about getting my house done . . . "
(No shit! It happened just like that!)
And my most favorite moment: Watching an old black guy who was probably one of those saxophone players at the train stop during Xmas, playing "Hail to the Chief" while a group of teenage kids danced around him.
I made it home not to long ago. It is now almost 2 a.m. and I have to get up in four hours in order to work a 30-hour shift tomorrow. I am sure that I am going to be a mess, but I just thought that I had to share some of these stories with you; I hope that it manages to make a difference in your life. I wish that you could have been there.
Let me just finish by saying this: as a result of this experience, I, for the first time, am excited to wake up tomorrow to see what happens next. Can you believe that we have a President who plays ball?