Arts & Entertainment
Gil Shaham and Sejong at UCSB's Campbell Hall
Classical Ensemble Performs with Immediacy, Virtuosity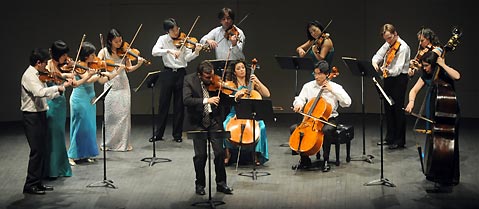 It's a rare classical ensemble that fulfills the promise of an unmediated experience of the music. Sunday's performance by Gil Shaham and Sejong at UCSB was one of those unusual occasions when the group and the material come together to create the sense that the music is just there, completely alive and seeming to breathe the same air as the audience.
The impression was there from the outset, as the extremely self-effacing Gil Shaham took up his position at the center of a semicircle of 12 standing musicians without saying a single word of introduction. In fact, Shaham never addressed the audience at all during the entire performance. Instead, he let his flawless technique and lyrical tone do the talking for him. Sejong are a leaderless ensemble, and they handled the intricacies of the first two pieces marvelously well. Both violin concertos by Joseph Haydn-the G Major and the C Major-were spun out into delicate, mesmerizing webs of sound. The absence of a conductor made the performance feel more intimate, and the effect of a string-only ensemble on the music was to highlight the magical intensity of the bass, cello, and viola parts.
Shaham manages to combine extraordinary virtuosity with uncommon restraint, and both qualities have made him a favorite soloist with the world's leading symphony orchestras. Yet the setting here made his playing if anything more special, lending an engrossing sense of listening and communication to the act of making beautiful music. If the silence achieved by the rapt audience was any indication, this was one of the most fully appreciated concerts of the season, and by the end of the third call back, any doubts on that score had been thoroughly banished.
In the second half of the concert, Shaham was joined by seven of the Sejong musicians for Felix Mendelssohn's charming and cosmic Octet in E-flat Major, Op. 20. This is one of the crown jewels of the chamber music repertoire, and few will have heard it played any better than it was on this occasion. The majestic sweep of the augmented quartet form was given full rein without any diminution in tone or execution. The sound was lush without a trace of buzz, and open and airy without ever becoming wispy or faint. The ultimate triumph of this concert was in the great blending achieved by the ensemble and the soloist, two powerful forces in the service of a higher cause.