Arts & Entertainment
eighth blackbird Lands at Ojai Music Festival
Contemporary Music Ensemble eighth blackbird Directs the Ojai Music Festival This Year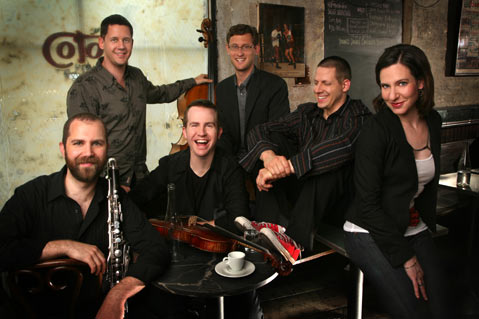 For more than half a century, the Ojai Music Festival has been celebrated as a showcase for cutting-edge classical music. But this year's four-day event, which begins tonight in the city's Libbey Bowl, may be the riskiest and edgiest of them yet-and the most fun.
Serving as artistic director this year is the critically acclaimed Chicago-based ensemble eighth blackbird. True to its reputation for innovation, the sextet has put together an eclectic program which juxtaposes pieces in surprising ways, encourages guest artists to stretch themselves, and incorporates elements of theater and dance.
Collaboration is a central theme of the festival, with players taking center stage for one performance and blending into the ensemble for another. Responsibility for the results will be shared. The six concerts (to be complemented by numerous ancillary events) will include several works that require a small orchestra, but no one will be waving a stick in front of the players.
"This year's festival," declared flutist Tim Munro, "is a conductor-free zone."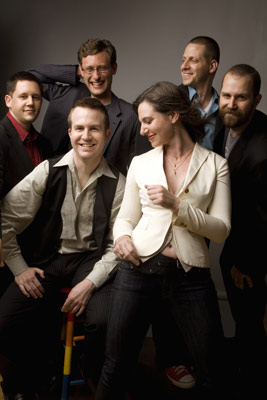 A native of Australia, Munro joined eighth blackbird in 2006, shortly after the group made its Ojai Festival debut. It was right about that time that festival director Thomas Morris decided to hand the ensemble the reins to the 2009 event. "That was kind of an audacious decision," Munro said with a laugh.
Throughout the three years of planning, "We were like kids in a proverbial candy store," he said. "We've programmed works we've always wanted to play but never had the opportunity to, such as Steve Reich's Music for 18 Musicians." That composer, who was on hand for last year's festival, will also be represented by a performance of his Double Sextet, which was recently awarded the Pulitzer Prize.
Friday night's performance will feature the world premiere of Slide, a music-theater work created by composer Steven Mackey and writer-performer Rinde Eckert. As artistically adventurous Santa Barbarans will recall, that same duo performed an earlier collaboration, Ravenshead, at UCSB's Campbell Hall in February 2000.
Munro describes the new work as "kind of a character study of a psychologist who ran a study 40 years earlier, in the 1960s. It concerned people's reactions to out-of-focus slides that gradually come into focus." The piece is structured to reflect that study-its themes gradually come into focus.
On the Saturday morning program, pianist Jeremy Denk will perform the seldom-heard First Piano Sonata by Charles Ives with the weekend's single piece of pre-20th-century music, J.S. Bach's Goldberg Variations. "The juxtaposition is wild," said Munro. "After the chaos of so much of the Ives, you hear the Goldberg Variations in a totally different way."
For the Saturday night concert, "We're doing a brand-new staging of Schoenberg's Pierrot Lunaire that employs a dancer as well as a singer [Lucy Shelton, a renowned interpreter of this challenging work]," Munro said. "We've worked with a wonderful contemporary dance choreographer in New York, Mark DeChiazza.
"Mark has not tried to impose a narrative on the piece, but the stage imagery he creates conveys a sense of going away to a weird place. There's then a sort of a homecoming in the end. I'm finding it pretty fascinating. I get to dance a bit, and move a lot of chairs. There is a lot of well-choreographed chair movement."
At 6 p.m. tonight and 2 p.m. Sunday, there will be free live demonstrations of two interactive sound sculptures created for the festival by the artist Trimpin. One is based on the sheng, an ancient Chinese instrument; its music is activated by a motion sensor. The second is made out of plastic toy guitars, which are hooked up to a computer to produce a wide variety of sounds.
If that sounds whimsical, well, that's a word New York Times critic Allan Kozinn used several years ago to describe eighth blackbird. Even the group's name is playful. Munro explains that the original members (he is the only replacement to date) met while students at the Oberlin Conservatory of Music.
"The violinist was an English major as well as a music major, and he loved the poetry of Wallace Stevens-particularly the poem "Thirteen Ways of Looking at a Blackbird," which includes allusions to music and rhythm. The name stuck.
But why is it lowercase? Is that because it's written that way in the poem?
"No," he admitted. "It's lowercase because it looks more cool."
4•1•1
The Ojai Music Festival runs from Thursday, June 11, through Sunday, June 14, at locations in and around Libbey Bowl. For tickets and information, call 646-2094 or visit ojaifestival.org.