News
Sailing Adventure to Teach Climate Science
Kiri Voyage to Give Teens Feel for the Coast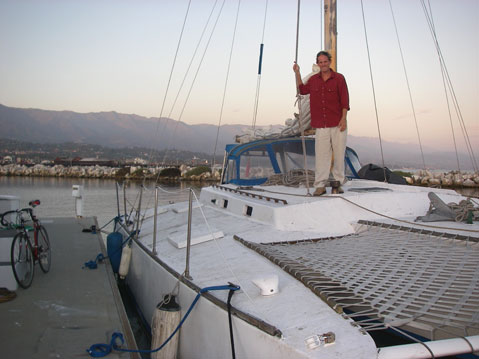 Kristian Beadle is on a mission: to get teens from Santa Barbara to southern Mexico interested in climate issues with the help of his 43-foot trimaran, the Kiri. He and his crew of outdoor educators will begin the journey southward in December, docking in coastal communities to make presentations to local students. Beadle hopes relating the adventure of sailing to issues like waste management will make a lasting impression. "When you have a pleasurable experience with nature, your relationship with it changes," Beadle said. He hopes the students' experiences participating in the project will get them excited about preserving the coastline environment.
The voyage of the Kiri will be the first exposure to climate science for many young students, Beadle believes. His team will meet with dozens of middle and high school groups from cities along the coast, giving them the opportunity to visit (but not sail aboard) the boat and participate in challenges against other schools, such as waste reduction campaigns and a project to determine where their fresh water comes from. The students will make "climate commitments" for their communities and email updates to Beadle.
Beadle calls the sailboat a "traveling model of sustainability" and a way for teens to think about the infrastructure of their own cities, as the Kiri has its own water tank, power supply, and sewer system. He considers the boat a good way to demonstrate what he calls "climate adaptation"-comprehensive sustainable practices that focus on more than just reducing emissions. The boat's practices, including responsible trash management, will show the crew's own commitment to sustainability.
This voyage will be the longest to date for Beadle, who has sailed in Australia and California. The journey is part of Beadle's research as a Rotary Ambassadorial Scholar, which he will continue in May 2010 at the Kiri's final port of Huatulco, at the Universidad del Mar. In his role as a goodwill ambassador, he must give presentations of his research, in his role as a goodwill ambassador, and in addition to his work with students, his project will include pledging local businesses in each port to adopt more sustainable practices.
The Kiri takes its name from Kiribati, a Pacific island nation facing extreme climate challenges, especially a depleted water supply. The communities that Beadle's crew will visit on the voyage experience some of the same issues as Kiribati, such as the need for better water management, including, in some cases, the problem of salt water affecting crop production. Despite common ground though-or common ocean-the various communities have wildly divergent political and social issues, and Beadle hopes the Kiri's voyage will create a dialogue between students of different cultures who share this coastline.