Arts & Entertainment
Under the Sea and Unbelievable
Two Recent Works of Water Photography Gone Mental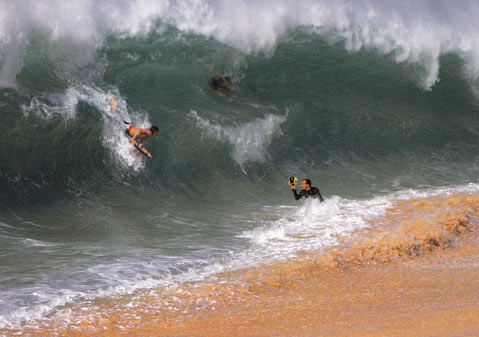 Sea of Light: Underwater Photography of California's Channel Islands
To put it simply, this book is remarkable. A large, coffee-table type publication, Sea of Light, by Santa Barbara photographer Richard Salas, is an unprecedented and visually stunning love poem to the underwater world of the Channel Islands, America's least visited National Park. It is, as Salas describes it, "my photo album of family and friends from the sea."
With an understated design that is light on text, the book allows the plant and animal species that call the Channel Islands waters (i.e., our backyard) home to be the stars of the show. Giant bladder kelp stretches from the deep, dark depths like a redwood forest; a galaxy of anchovies streak through a dark abyss; lingcod and sheephead stoically stare you down for trespassing onto their turf; sea urchins explode with Fourth of July sparkle; and octopuses casually meander, sharks consciously ignore, jellyfish dance, and sea lions playfully wave for Salas's camera.
An alumnus of Brooks Institute, Salas turns the often cold, dark, and always menacing ocean around Anacapa, Santa Cruz, San Miguel, and Santa Rosa islands into an impressively well-lit studio all his own. As a result, the archipelago's below-sea-level universe is revealed in its full glory. You can get lost in the pages of this book—the images, often bordering on psychedelic, transport you to a place both fragile and enduring, unequivocally compelling and important.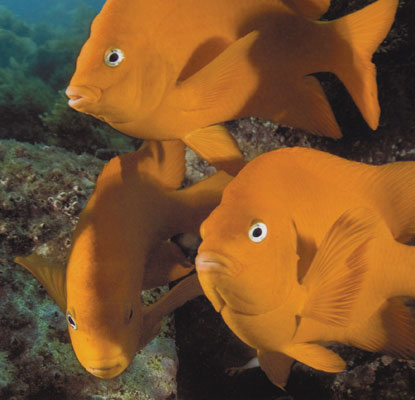 Culled from several years of island adventures by Salas, Sea of Light spills the beans on one of the best-kept—albeit unintentional—secrets in the world of nature. Those in the know like to call the Channel Islands "North America's Galapagos"; luckily for us, we just call it home. And now, thanks to Salas, we can know it a little better without ever getting wet.
For more information and to purchase Sea of Light, visit seaoflight.net.
The Shorebreak Art of Clark Little
Hawai'i's Clark Little first made a name for himself surfing waves that kill people. While he hasn't stopped his heavy water escapades, he has added a curious and compelling new wrinkle to his act. A waterman of the highest degree, Little started taking cameras into places most people would associate with breaking their necks rather than fine art, and the results, as evidenced in The Shorebreak Art of Clark Little, are nothing short of fantastic.
Since 2007, Little—armed only with his years of ocean experience, a pair of swim fins, and a Nikon camera with a fisheye lens and water housing—purposely has been sitting in the path of 20-foot waves as they explode along the sandy shores of O'ahu's fabled North Shore. Often hanging out in only a few feet of water as hideous, man-eating waves suck up and over him, Little manages to freeze the deadly chaos that is the shorebreak at Waimea Bay and Ke Iki into well-composed, one-of-a-kind, mind-boggling masterpieces of sand, sun, and sea. To even the most jaded photography nut, these images are show-stoppers, as in, "How the f*%& did he take that picture?" and, "Oh my god! That's a wave?!" Or, my reaction, "How is that even real?"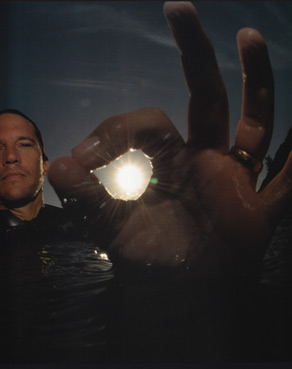 At 185 pages, Shorebreak Art—which features forewords by Jack Johnson and Kelly Slater as well as some very revealing shots of Little in action and in harm's way—is a heavy-duty serving of work from a relatively newborn photographer. At first blush, you might think such a dose of shorebreak photography might be overkill, but in fact, the book, if anything, leaves you wanting more. The always changing moods of the ocean combined with the dynamic collision of shoreline and ocean's edge make for simple yet moving (both literally and figuratively) subject matter.
At its best, The Shorebreak Art of Clark Little feels like a magic trick of sorts—incredibly quiet, contemplative moments of beauty distilled from one of nature's most violent and destructive symbiotic relationships. At its least, it is simply some of the most unique eye candy to come down the line in quite some time.
For more information and to purchase The Shorebreak Art of Clark Little, visit clarklittlephotography.com.