News
Counting the People With and Without Homes
Census Activities Ramp up in Santa Barbara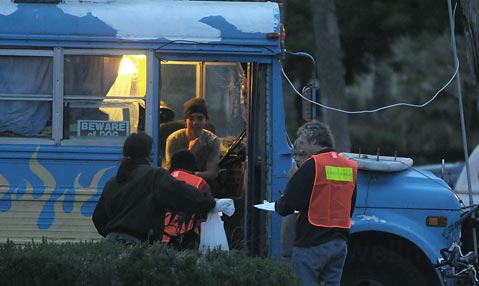 The Census is coming, the Census is coming. In fact, the once-every-decade federally sponsored enumeration of people is already in full swing here on the South Coast. And, while the simple 10-question surveys started showing up in mailboxes throughout the county in mid-March, the pavement-pounding, person-powered, door-to-door head-counting that ensures the military-esque operation misses as few people as possible officially kicked off this week with one of the Census's more difficult in-the-field tasks: counting the people who don't have a place to call home.
Starting with homeless shelters and soup kitchens on Monday and segueing into the actual surveying of homeless camps and common RV parking zones late Tuesday night, Census workers plan to have accounted for the vast and varied homeless population of Santa Barbara County by the end of this week. "[The Census wants] to focus on every aspect of the community," explained Amy Allen-Lopez, the assistant manager of Santa Barbara County Field Operations this week. "So we have to go outside to the various places where the homeless or the temporarily homeless live … From rail roadways and parking lots to beaches and benches, we are going looking for them anywhere."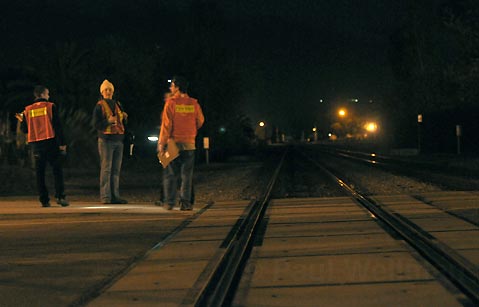 A basic vehicle for helping the federal government decide how much and where funding is sent for things like roads, schools, and health services — and, perhaps more importantly, providing the foundation for how voting districts are drawn up — the goal of the Census is to (as accurately as possible) count the number of people living in any given area and get their names, nationalities, ages, and phone numbers. Simple in scope and daunting in scale, the process requires an enormous amount of legwork in order to be successful. To that end, Census crews have been in place since 2008 — based out of an office in Santa Maria — in preparation for the final push this spring. Officially partnered up with the Santa Barbara County Association of Governments (SBCAG) to help facilitate their undertaking, Census folks (long before questionnaires could be mailed out or shelters scoured) spent the bulk of last year identifying all the housing units in the county, be they on major roads or seldom-used country lanes. From there it was documenting all the group homes such as campgrounds and marinas. "We have to figure out any place a person could potentially stay … Then we start counting," summed up Allen-Lopez.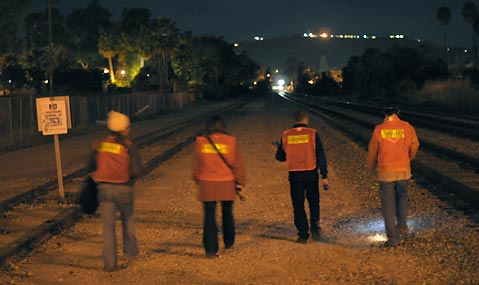 According to Allen-Lopez, each head counted equals roughly $2,000 of federal funds out of the approximately $400 billion doled out in aid each year, so the stakes are high to get figures as representative of reality as possible. Based on the results of their address-searching legwork, questionnaires were mailed out at the end of the second week in March. Residents have until National Census Day, April 1, to answer the survey and send it back, and anyone who doesn't answer can expect a knock at the door in their near future. So far, she said, 51% of county residents have turned in their forms. "Whoever doesn't respond, that is who we will follow up on," said Allen-Lopez. (It should be noted, however, that questionnaires received at Census centers by mid-April most likely won't prompt a house call.) She figured, between San Luis Obispo and Santa Barbara counties, it will take a team of up to 1,400 temporary — though specifically trained — Census employees, and all residents of the communities they are counting, to handle the door-to-door surveys. Moreover, this does not include the several dozen employees — also specifically trained — counting homeless heads this week. If all goes according to plan, the whole process should be done by the end of July. And then, as per the law, the Census Bureau must deliver population information to the President by December for apportionment decisions, followed by a mandatory March 2011 deadline for getting redistricting data to individual states.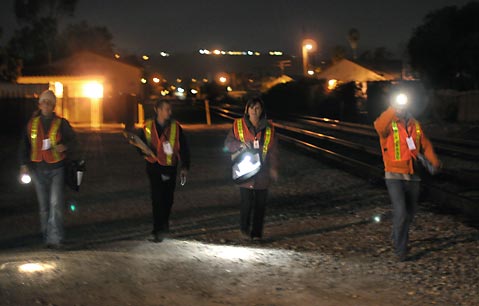 As for this week's homeless tabulation — which, in Census speak, is known as the counting of "Targeted Non-Sheltered Outdoor Locations" (TNSOL) — things were "going well" according to Allen-Lopez, in what is only the second time the Census has sought to count those without a roof over their head. Though strict confidentiality laws prevent her (or any Census worker for that matter) from talking at all about the data recorded, she said that great lengths had been gone to during preparation to provide "enumerators" with detailed maps of locations where the homeless commonly lay their heads and that training sessions were given to ensure the safety of workers during the late-hour surveys. In fact, according to one anonymous employee working on the TNSOL campaign as a person counter, enumerators have been schooled — via a two-day intensive training — in how to best approach people, to always travel in groups, and, when folks aren't receptive or are asleep, to estimate a headcount as best they can and avoid conflict at all costs.