Arts & Entertainment
Sugarland at the Santa Barbara Bowl
S.B. Goes Country for Grammy Winning Duo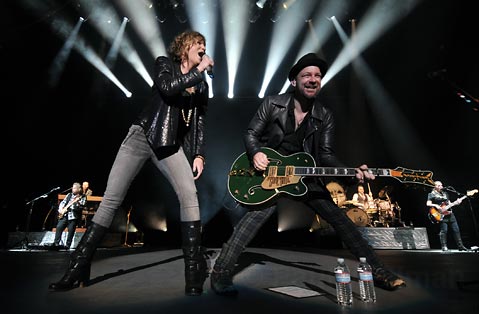 Last Sunday night, country music superstars Sugarland rocked the S.B. Bowl. Hitting the stage like a ball of fire, lead singer Jennifer Nettles led the band through three rollicking songs — including their 2006 hit "Settlin'" — before even stopping to say hi to her audience.
"How's everybody," Nettles later inquired with her Southern twang. "We are so excited to be with you in your fair city. You are lucky to live here and the humidity is great for me. I was born in the swamp. I practically have gills," she added, laughing. The at-capacity audience seemed to hang on Nettles's every word (and note), often confirming their devotion by scream-singing along with the songs she belted.
Clad in black boots, fitted jeans, long shiny necklaces, and a glimmering short jacket, the Georgia native blew the figurative roof off the place with her powerful vocals. She was effervescent on stage, skipping, dancing, and fully engaging the audience throughout the show. Kristian Bush, the only other official member of Sugarland, wore green-and-blue checkered fitted trousers and provided a steady pulse of acoustic guitar and back-up vocals. Joining the duo was lead guitarist Scott Patton, guitarist Thad Beaty, bassist (and standout star) Annie Clements, keyboardist Brandon Bush, and drummer Travis McNabb.
Though categorized as country music, Sugarland's Southern accents were often the only thing country about them. From their appearances — an amalgamation of '80s rock and post-punk threads — to their songs, Sugarland appears deeply entrenched in pop stylings. Which isn't a bad thing. The band is excellent at what they do: perform solid music with catchy hooks and lyrics that beg to be sung along to. And their hits "Baby Girl" and "It Happens" stood as toe-tapping testaments to just why they're so popular.
Throughout Sunday night's set, Nettles seemed to truly enjoy herself, and she delighted the crowd by including them in the show. She had the audience sing along on "All I Want to Do," after which she cooed, "You sound so pretty." But it was "Want To" that really showcased Nettles' vocal prowess. Her soulful voice dipped into rich low notes that wrapped around you like a warm blanket. And when she sang Sugarland's Grammy-winning ballad "Stay," the depth of her vocal talent was again made clear.
Santa Barbara was just one of the first in Sugarland's 63-stop tour, which extends through October, when their new album, The Incredible Machine, is slated to be released. Perhaps, then, it was their daunting schedule that forced the band to keep their set short, clocking in at only one hour and 20 minutes. But then again, by the time they encored with a spot-on rendition of Blondie's "Heart of Glass" I doubt it mattered much anyway.