HE'S BAAACK: Never trust a professional to do an amateur's job. That's a lesson I learned the hard way. I was jammed and couldn't make it to Jerry Brown's grand gubernatorial coming-out gala at UCSB this Monday, even if he is likely to be the state's next governor. But Jerry Roberts — grizzled guru of state politics, columnist, author, editor, blogger, mentor, and winner of more awards and honors than even Larry Crandell — generously agreed to check it out. Roberts reported back that Brown was not his usual sparklingly caustic, incandescently arrogant, smartest-guy-in-the-room, I-was-a-Zen-Jesuit-you-never-were self. In fact, Roberts noted, Brown was conspicuously flat, unengaged, and lassitudinous. He seemed at a loss how to connect with the couple hundred students who showed to serve as young-Democrat photo backdrops. Brown's thoughts seemed to materialize almost randomly and trailed off into the vapors before completion. Clearly, the most obvious explanation is that Jerry Brown is a Zombie. I mean how many times does a guy have to come back from the dead before the rest of us catch on? A two-time governor who seemed always to be running for president — and always losing — Brown morphed from touchy-feely Gov. Moonbeam to reincarnate himself as tough-talking pragmatist mayor of Oakland, and after that, into California's even-tougher-talking Top Cop, better known as state attorney general. So of course he's running for governor; Brown needs new brains to feed on. One nice thing about Zombie candidates is that they never boast how they'll "run government like a business." In fact, they eat candidates who do.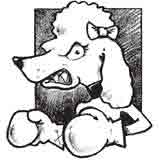 Had Roberts attended the Academic Zombie-thon that drew spill-over crowds of hundreds of eager, animated students — and no, they weren't even drunk — at UCSB's Hub last Thursday night, he might have seen the bigger picture. There, tenured professors representing the disciplines of math, geography, art history, education, film studies (more a recreation than discipline), philosophy and mechanical engineering went mano a mano, arguing why their field of endeavor would prove most useful in case of Zombie attack. Naturally, the education educator advocated a mandatory Zombie Studies curriculum so the rest of us could learn to be more culturally sensitive to the needs of the undead, otherwise known as "the death challenged." The math professor noted that there are not enough math classes because "the brainless undead" have cut funding for education. The art historian suggested that the education system itself was to blame for turning everyone into Zombies and only a bracing dose of the avant garde would bring us back to life; the geographer explained how he could help better understand the nature of Zombie demographics — plus, where best to run. Philosophers, we were told, have been investigating — for centuries — how to determine if the "people" around you are not Zombies, while the French concluded despairingly that we are indistinguishable from the Zombies around us. Philosophers could help ponder whether humans can peacefully coexist with Zombies, or should we put them in zoos, or raise them like cattle for food. Only an ethicist, the crowd was told, could answer whether Arizona would require special ID cards for all its citizens to prove conclusively that they were not, in fact, Zombies. Film Studies probably knew the most on the subject, having watched countless hours of Zombie movies in Zombie Porn classes, taught no doubt, by Constance Penley. No one, I am sad to say, had the guts to explore whether "The Transgressive Zombie Gaze" was mysogynistic or merely misanthropic. The only practical one in the bunch, the engineer actually provided a prototype telescopic hydraulic machine designed to crush Zombie skulls from a safe distance. This being a peace-loving crowd more into co-existence than conflagration, naturally he lost and the philosopher won.
Should Jerry Brown tap into this Zombie enthusiasm, his trek to the Governor's Mansion will be considerably easier. When Brown gets there, however, he will discover The Terminator left it in shambles. In his final cataclysmic budgetary no-new-taxes temper tantrum, Arnold has proposed eliminating outright the state's welfare system, known as CalWORKS. If approved, California would be the only state in the union without one. For Santa Barbara County, that's 5,000 who would be SOL in a big way and $33 million not coming into the local economy. Instead, these families would be foisted upon the county's General Relief, at a time when the county doesn't have the dough. Families making the transition from welfare to work would face a much steeper climb; childcare stipends would become much harder to get. Without the CalWORKS money, Santa Barbara County would no longer qualify for federal stimulus dollars that are now subsidizing the employment of about 250 people transitioning off welfare. Meanwhile, about 1,000 of the 3,100 frail and elderly county residents who now qualify for In-Home Supportive Services (IHSS) would have to do without any state-supported outside help. IHSS is about 40 years old and is a proven money saver, keeping thousands of people out of nursing homes. Meanwhile programs designed to help the mentally ill and those addicted to drugs or alcohol would see a 60-percent cut in state funds. That's about $6 million. But since that state money is used to leverage matching federal dollars, the impact is even greater. Under the governor's latest budget plan — known as the May Revise — only services for the most acutely distressed would be protected. In other words, there will be money for people who need to be locked up for their own protection. But there won't be any funding for services designed to prevent them from getting to that point. Of course, we wouldn't want to pass an oil severance tax, a tax on booze, a tax on plastic bags, or close a few corporate tax loopholes or two. The governor also wants to shift the burden "caring for" all the nonviolent offenders now locked up in state prisons to the counties from whence they sprang. For Santa Barbara, that translates to about 150 extra prisoners a year in a county jail that's already operating well in excess of its maximum carrying capacity, to the tune of about 200 prisoners. Should any of this come to pass, we'll be in such a bad way we'll be begging for Zombies. In that context, it might make sense to elect one.