News
Bad Night Out
Former City Council Candidate Arrested for Fighting
Although accounts of what exactly happened Saturday night vary wildly, everyone involved agrees on one thing: An argument between former city council candidate Justin Tevis and a bouncer at EOS Lounge escalated into a brawl that landed Tevis in jail. Tevis, a Tea Party activist, ran in last November's city council election and came in 9th out of 13 candidates, receiving 2,475 votes.
To hear Tevis tell it, he and his friend — Evan Howe, 27 — got into a verbal altercation with the door bouncer after he let in a group of girls that were accompanying Tevis and Howe, but refused to let the guys enter. Things reportedly got more heated when the employee asked Tevis and Howe for a cover charge, and they offered Euros as payment. According to 27-year-old Tevis, that's when he and Howe left the bar and walked away and down the street, but were followed by the bouncer and, without provocation, were attacked. "I feared for my life and acted in self defense," said Tevis.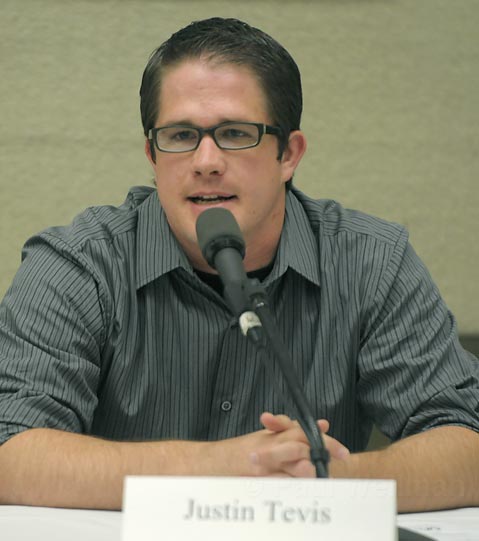 After "grappling" with the bouncer, Tevis, who is a practicing martial artist and said he recognized and countered the moves the bouncer was trying to make against him — "He tried to put me in a headlock, and I heel-tripped him into the ground. I used my jujitsu to defend myself," he said — claimed he and Howe went peacefully when the police were flagged down. "We didn't resist arrest at all," said Tevis.
According to the police report, however, Tevis was the one that started the fight at around 1 a.m., grabbing the bouncer's shirt outside the club and threatening to punch him. The report states that, at first, there was only one responding officer on the scene, but he was able to place Tevis in handcuffs with the help of the bouncer after "a short struggle." Howe, reportedly, was another story. After directing the doorman to take Howe to the ground, the report states, the officer told Howe to stay down and put his hands behind his back, which he purportedly failed to do.
Deploying his Taser, and zapping Howe in the back four times, the officer said he was forced to deliver several strikes to his ribs in an attempt to subdue him. Other responding officers eventually used "elbow strikes to the upper body" and were able to get Howe to comply. Tevis was charged with battery and resisting arrest — both misdemeanors — and Howe was booked for felony resisting arrest.
In Tevis's opinion, excessive force was used to place him and Howe in custody, and the EOS bouncer was way out of line in leaving his post and following the two to start trouble. "The key thing is I acted in self defense and was on public property," he said. Of the police's actions, Tevis stated, "What happened to my friend — it wasn't right. I was lying on the ground and had to watch him get repeatedly kneed in the face after he was Tasered four times and couldn't move." The police report states Howe had "obvious injuries at the time of booking" but was medically cleared.
Tevis said he's examining his legal options — possibly filing assault charges against the bouncer and levying a formal complaint against the police department. "There always has to be a check on authority, and whether you're a bouncer or a police officer, it doesn't give you free reign to act negligently."