Living
Toning Up
Getting in Shape with Personal Trainer Chris Ecklund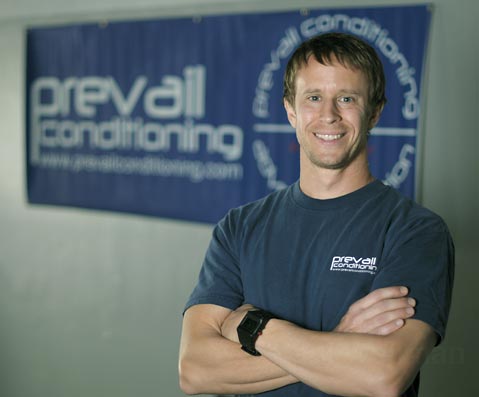 There are the folks who are serious about working out and those who are not so serious but see the benefit. I was decidedly unserious when I hooked up with Prevail Conditioning, owned and operated by Westmont College alum Chris Ecklund. But it turned out Ecklund is exactly what I was looking for: an affordable, effective, and motivating personal trainer who didn't just talk a good game, but provided results.
Ecklund graduated from Westmont College with a degree in kinesiology and got his graduate degree in the same study. He is a certified personal trainer with both the American Council on Exercise and the National Academy of Sports Medicine. He is a credentialed Olympic lifting club coach and a certified strength and conditioning specialist. And he teaches classes at both Westmont College and UCSB. He has been training people since 1996—sometimes on a contract basis, sometimes at clubs—but finally decided he wanted to open his own private facility recently. "I couldn't really do what I wanted to do," he explained.
So he found a space on Haley Street, and last fall opened a 1,000-square-foot facility called Prevail Conditioning Performance Center. Inside is turf flooring, two Keiser functional trainers, two jungle gym weight systems, two ultra slides, Olympic lifting bumper plates, hurdles, and enough medicine balls to make your abs hurt. The gym isn't huge, but Ecklund maximizes the space to make room for hundreds of different kinds of workouts.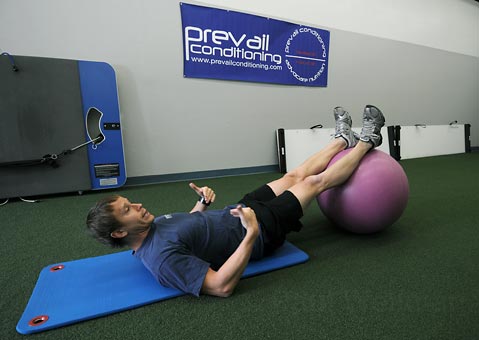 Indeed, it was exactly what I was looking for when he agreed to train me for two months. I consider myself a generally fit and athletic person, but a recent weigh-in at the doctor showed my weight and health had gotten away from me.
I went into the first day of training expecting the worst. In fact, it wasn't bad at all, except for some drills which were easy but made me feel rather silly as I did them. The drills were part of a functional movement screen, a series of tests designed to assess how my body works in movements that relate to everyday activity. "Everyone has to squat, stand, push and pull, whether you're an athlete or a soccer mom," Ecklund said. "It's about making people move more efficiently within their own atmosphere."
If there are imbalances or asymmetrical problems with your body, Ecklund takes care of those right away. For some, it can take months, others, weeks. But without proper alignment, the body isn't working as efficiently as possible. "The purpose is to look at not what you have available, but what your body uses," he said. I turned out to be pretty symmetrical (who knew!) so we didn't spend a lot of time on that. But I did have issues with stability and strength, and I didn't have much range of motion in my squatting. So we worked in more sets of pushups and quadrupeds—weights and balancing and arm and leg movement while on all fours—to stabilize through the core.
It all made sense in my head, even if I couldn't translate it to my body. Whenever I had worked out in the past, I pushed myself to the max, lifting as hard as I could, running as fast as I could for as far as I could. But with Ecklund's steady, smart approach, I could see the transformation forming as we worked on areas where my body was weak.
Ecklund doesn't try to overwhelm you with information or workouts from the get-go but slowly builds on the work you've been doing, generally increasing weight while keeping the focus on proper movements. For me, it was perfect. But he also caters to different personalities, people who might need to be challenged in different ways or who gets bored doing similar workouts day in and day out. "We can really meet them where they're at," Ecklund said, explaining he sometimes meets with clients five times a day, others only a couple times a year.
For example, often times he'll take a workout, and just add different elements to make it more difficult. For instance, I'd often find myself doing shoulder presses with free weights. Sometimes I'd be standing, sometimes I'd be kneeling, sometimes I'd be sitting. All similar, but all a little bit different.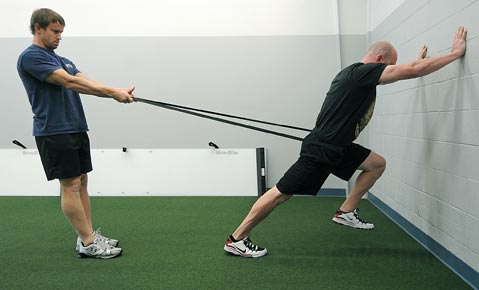 What Goes In
And then there were my eating habits. Nutrition-wise, I was a disaster. Bad eating, picky tastes, and a weird work schedule had led to poor nutritional habits. Ecklund didn't try to change everything at once, but instead gave me one task a week to focus on. The first week: Make sure I am drinking double my body weight in ounces of water every day. I was pretty good at that already, so the next week I was ready to move on to the next—eating every two to three hours consistently. This one was a little more difficult, as I didn't eat breakfast usually, so he gave me two weeks to work on my habits. From there on, it was anything from making sure to eat foods in different groups each time I sat down to not eating an hour before I went to bed each night to eating fruits and vegetables multiple times a day.
While Ecklund didn't focus overly on my eating habits, he did check on tangible results, like my body fat and weight, to make sure I was heading in the right direction. And I was. After working out in his facility for just two months, not only did I feel and look healthier, stronger, and in better shape, but I was healthier, stronger, and in better shape. My weight stayed around the same, but I lost several millimeters of fat in several different areas of my body, including my chest and stomach. My flexibility increased, despite hardly working on being flexible at all. And my eating habits improved.
Obviously, the level of work will be different for a soccer mom than an elite athlete. But Ecklund's workouts cater to whatever your needs are, from one-on-one training to group training to semi-private groups such as teams. Workouts can take place onsite or off, and services are priced so people will be committed, but they're very affordable compared to some places around town. Ecklund has two other trainers on staff to match people up according to personality, specialty, or intensity. He also contracts with massage and therapy personnel, and down the road hopes to add a sports psychologist to the payroll.
4•1•1
For more on Prevail Conditioning, call 252-8349 or visit their Web site at prevailconditioning.com.