News
Fur Freeings
Should Mink Be Released from Fur Farms?
A few weeks ago in northern Greece, there was a break-in at a fur farm and 50,000 mink were set free. According to the National Fur Breeders Association, most of the released animals are likely to die in the late August heat. An international animal rights group claimed responsibility for the incident. In an online statement, the Animal Liberation Front said it carried out the attacks last week near the towns of Kastoria and Siatista, in the heart of Greece's fur industry. They said the break-ins were meant to hit the industry "and especially the disgusting 'fur towns' of Siatista and Kastoria, plagued with hundreds of fur stores."
There's no doubt that mink on fur farms live a horrible life. Author Robyn Rolison-Hanna knows this all too well. She channeled her knowledge of the fur industry into an exciting new book called Mink. When I spoke with the author last year, she gave me some background information on the mink industry. According to Rolinson-Hanna, over 300 family farms produce close to 3 million mink pelts valued at $186 million, making the U.S. the fifth largest producer of mink pelts worldwide behind Denmark, China, the Netherlands, and Poland.
The mink on these farms have been promoted as being the best cared-for of all farm animals, enjoying nutritious diets, comfortable housing, and the finest veterinary care. But studies show that the animals become psychotic and exhibit aberrant behavior after being confined to small cages. This domestication, according to the author, leads mink to self-mutilate, pace, and exhibit other psychotic behavior. Rolinson-Hanna says these mink bite themselves, gnaw at the bars of the cage, and sometimes even eat their young. She says that mink are very physical animals who are semi-aquatic and love to run, climb, swim, and dive. Their psychotic behavior is derived from these natural instincts being shut off.
As if life weren't bad enough for the mink on fur farms, death is even worse. Rolinson-Hanna described to me the horrible methods used to kill mink. The author tells that mink are either gassed, electrocuted, or cervical dislocation is performed; none of which are humane. Although cervical dislocation is supposed to be a quick, painless death, Rolinson-Hanna said that studies have shown that it takes an average of 10 seconds to die after a neck is snapped. And although death is supposed to be confirmed before skinning, this rarely takes place leaving most mink to be skinned alive. As she told me this, I felt sick to my stomach; and this is how we should feel. Rolinson-Hanna said: "We're supposed to be civilized. We're not cave men; we don't need animal fur in this day and age. We don't even eat their meat!"
If we can agree that life and death on a mink farm is unbearable, is releasing these animals the answer? A chance at freedom, I would think, has got to be better than living life in a cramped cage and dying by electrocution. Opponents say that these farm-raised mink can't survive on their own and end up suffering. Farmers claim their livestock–chickens, ducks, and other small animals–are threatened once mink are released and forced to survive on their own.
While many people do not condone breeding and killing animals for their fur, or condone the way in which minks are held in captivity, I'm not sure that releasing these animals is the answer if they are not able to survive on their own. What do you think about mink being released from fur farms? Post your comments online following this column.
For more information on Robyn Rolison-Hanna's book entitled Mink, visit zetothemink.com
Announcements
The Great Ball Drop & Dog Festival
Join K-9 PALS for their Second Annual Great Ball Drop & Dog Festival at Elings Park Saturday, September 11, 10 a.m-2 p.m. Events include group costume contests, agility demonstrations, booths and vendors, and The Great Ball Drop where you can win wonderful prizes, including a grand prize of four free nights at the Four Seasons Resort Maui at Wailea! So, bring your dog, bring your friends and family, and we'll see you there! For more information, visit www.K9PALS.org.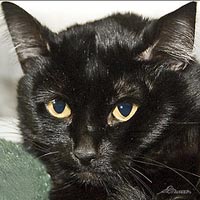 Adoptable Pet of the Week
Smitty is a friendly boy who must be pretty smart, as he was found on the doorstep of Santa Barbara High School. He is a round-faced, golden-eyed, five-year-old black, short-haired boy with a sense of humor. He has a habit of sticking his tongue out, just a bit, and is allergic to fleas. Good with other cats. The cost for adopting a cat or kitten is $65. The cats you adopt from us will be spayed or neutered, and up to date in all required vaccinations. Please contact Animal Shelter Assistance Program for further information, 5473 Overpass Rd., 683-3368.