Arts & Entertainment
Phoenix at the Santa Barbara Bowl
France's Dynamic Dance Rockers Give S.B. a Show to Remember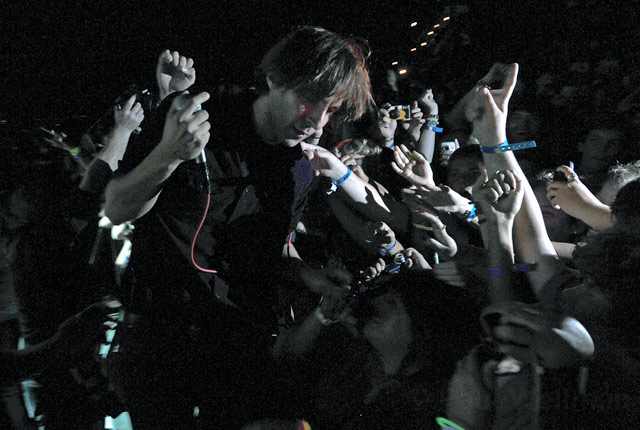 Despite receiving massive airplay, endless critical acclaim, and a Grammy for the 2009 release Wolfgang Amadeus Phoenix, the true test of a pop act remains its ability to hold up in a small market. And on Sunday night, Phoenix accomplished just that, playing to a nearly sold-out crowd that hung on the band's every move.
Things kicked off right around dusk, as openers Neon Indian took their place before the growing crowd. The band worked their way through a set of tracks off their 2009 debut, Psychic Chasms, a home recording project of frontman Alan Palomo. Sadly, the mix was heavy on drums and guitar, leaving the low end slightly gutless and sacrificing some of the charm of the recorded version, which truly is a hazy, electro masterpiece. Nonetheless, their performance was solid enough, and their sound, fresh enough to leave the crowd good and hyped for what was to come.
Phoenix barged the stage in true rock-star fashion, standing four abreast amid the wafting fog and pulsing lights. Wasting no time, they sent the crowd into a frenzy with the first riffs of album-opener "Lisztomania" and spent a chunk of their set bombarding the audience with some of their most upbeat and danceable material.
About a third of the way in, the band dropped a white sheet from the rafters, emerging ominously to delve into some of their more introspective material. This notable change in energy found the band pulling from their back catalog and proving their depth and ability to convey multiple sounds. Later in the night, though, things returned to the present, with buoyant cuts like "Rally" and "If I Ever Feel Better." For the encore, frontman Thomas Mars returned, sans percussion, for a couple of quiet ballads, including the French-language "Les Enfants." And for the closer, the whole band returned for an extended version of "1901," which found Mars making his way through the crowd and delivering his final "thanks" and "good nights" from the soundboard.
Sandwiched in between two massive radio hits, Phoenix ultimately proved themselves a dynamic sensation well worthy of the hype, giving us what was arguably the Bowl's pop performance of the summer.