BARBER SHOP
Montecito Barbers
1028 Coast Village Rd., # B, Montecito, 969-1314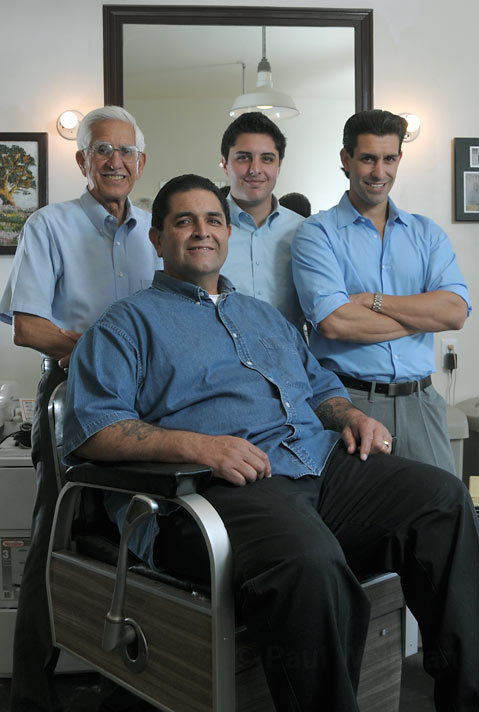 They were burned out temporarily in the fire that took out Xanadu Bakery (where will we get Princess Cakes?) but you'd never know it talking to Matt Sanchez, who's been clipping pates, nostrils, and ears for 44 years. "I'm ecstatic we won," he said. "I think people come here because, oh, gosh, because we try to make it a fun place. The kind of place where people like to come."
FINALIST: Mesa Barbers
HAIR SALON
Walter Claudio Salon Spa
11 W. Figueroa St., 963-7579
"It's awesome and it's humbling every time we win," said Angela Zungri, marketing director of the popular hair salon. "I think people respond to how genuinely we care for them. We care about service no matter who you are. When you walk in we go the whole distance for you. But people know when something is all for show, or ego, and they can tell we genuinely want to help you preserve your style."
FINALIST: Underground Hair Artists
NAIL SALON
Aqua Nail Bar
3455 State St., 687-4393
"I'm so stoked that we won," said Aqua owner Claudia Papa. "But the truth is, we just have a great clientele, they follow us everywhere," she said, referring to the store's move downtown and the appointment-based business that relies quite heavily on repeat customers. "I think it's mainly our consistency," she said, though Papa admitted that a new product called Shellac with a two-week life has got most of her customers excited. And it's not just women, either. "Fully 20 percent of our business is men," she said. "And why not? It's just good grooming."
FINALIST: Tina's Nail Salon
DAY SPA
Avia Spa
350 Chapala St., Stes. 101 and 102, 730-7303
For its entire seven-year run, Avia has been singled out for our readers' poll props. This year's no different. Management believes it's the strength of the staff that keeps people returning, though a growing commitment to organic-based products is proving popular, too. As is the signature Salt Stone Glow—a body exfoliation followed by hot stone massage and a turn under the Vichy showers. It may be even more than a body can happily take.
FINALIST: Float Luxury Spa
MEDICAL SPA
Evolutions Medical Spa
1309 State St., 687-0210
"Customer service," said Carrie Vuich, Evolution's spa director. "I know everybody says that, but it's true. We are a medical spa, and we do have a doctor on hand, and the most advanced laser equipment between San Francisco and Los Angeles," she said, referring to Dr. Terry Perkins, who deals directly with the clients. "But we're very happy to win. We've worked very hard."
FINALIST: Rejuvalase Medi Spa
PLACE TO GET A FACIAL
Skin Deep Salon
3405 State St., 687-9497
In the old days, a beauty shop was just as much for grooming as it was for growing a community. People gossiped under hairdryers and chatted with the staff, who probably knew even more secrets than they ought. Today we have Skin Deep, which combines hair salon, makeover technicians, gift shop, and gathering place for a whole younger generation who are as interested in the environment as the neighborhood. The Hasche sisters have made Skin Deep all of the above, and always garner recognition in the polls.
FINALIST: Float Luxury Spa
WOMEN'S CLOTHING; MEN'S CLOTHING; SHOES
Nordstrom
17 W. Canon Perdido St., 564-8770
Look at that list above. Well, class, that about covers everything. Since it first opened here in the early 1990s as one of the anchors of Paseo Nuevo, Nordstrom has gotten good grades supplying the missing link the city desperately needed between a touristy, well-heeled beach town and the world of department store designery, particularly after Robinsons closed. They win every year for shoes, no doubt because of the combo of wide selection and generous return policies. But this year it's head to toe, everything that needs covering on the city anatomy: a straight-A average for Nordies in the mall.
FINALISTS: Women's Clothing: Anthropologie; Men's Clothing: Macy's; Shoes: Macy's
THRIFT STORE
Alpha Thrift Store
5624 and 5949 Hollister Ave., Goleta, 964-1123
Alpha continues to be alpha dog in the thrift store arena. It packs a two store punch, albeit both are in Goleta. It is strong in local donations and supports a great organization. Employing some of the individuals that the proceeds benefit is only one of the ways that this thrift store benefits the community. They have great outdoor specials, weekly markdowns, and the "odds and ends" category is always interesting to look through. They have pricier items on the post and in their antique/vintage areas, but if you are willing to look, the possibilities are endless.
FINALIST: Goodwill Industries
VINTAGE STORE
Yellowstone Clothing Inc.
527 State St., 963-9609
It's all about moving forward into the past, explained Yellowstone owner Stephanie Haugen. "I think people like us because we are always trying to keep up with what they want. Constantly, constantly, if they mention it, we get it," she said, stressing the fact that with her co-owner and spouse, Paul, they work most days of the year buying, sorting, and selling pre-owned togs. Right now it's '80s dresses for the women and those jet-plane-lapelled '70s shirts for the guys—though '70s concert T-shirts are always in vogue, as are Western shirts. "We're just keeping up with our customers, she added. "And they're wonderful, really wonderful."
FINALIST: Cominichi's
CONSIGNMENT STORE
The Closet
920 State St., 963-8083
"We always feel so honored to get this award," said Johanna Melamed, owner of The Closet. "I like to think they vote for us because we believe in keeping the customers happy—we try to treat everyone like a best friend, we bend over backwards for them." Melamed recently realized that this Herculean effort, which they've carried over to their new digs on State Street, means handling between 300 to 500 items of mostly designer clothing each day. "It blows me away, that's what we do. But if that's what it takes. … We just want to thank the people who voted for us," she said.
FINALIST: Jessica
DRY CLEANER
Ablitt's Fine Cleaners
14 W. Gutierrez St., 963-6677
Sasha Ablitt has been running the family business for the last seven years since her father Neil, who started the store in 1984, retired. "But that's deceptive in a way because my grandmother had a dry-cleaning business here since the 1940s," laughed Sasha. In fact, all family stories told, the Ablitts' grip on the dry cleaning industry is now into its sixth generation, a saga that belies the merely old implications of the Reagan-era beginning of the place our readers love year after year. Sasha thinks people like Ablitt's for its friendliness, pickup and delivery, and ineffable aura of cleanliness-inducing history.
FINALIST: Martinizing Dry Cleaning
TAILOR
Lee's Tailoring
4141 State St., #E4, 967-5728
"Thank you very much," said deep-voiced Lee Thompson, learning that his business has been picked again as the place Indy readers would go to make things fit. "I try really hard to make things right, and if I don't, I give people their money back." He also works to keep up with all manner of fashion business. "You know, men's clothes don't change that much. But dresses? You've got to keep on top of those dresses completely."
FINALIST: Tony the Tailor
EYEWEAR SELECTION; SUNGLASSES SELECTION
Occhiali Fine Eyewear
1046 Coast Village Rd., #H, 565-3415; 7 W. Canon Perdido St., 963-5760
Since they first opened in Montecito back before the Reagan Ranch was a shrine, Occhiali has been the comfortable place in town for cutting-edge eyewear. "Our philosophy is that the customer is at the center," said owner Irwin Eve. "Every human being is unique and we try to stress the uniqueness. Our customers are not just looking for exclusivity and something different, but a high degree of personal attention and service. Our clients need to see well. We are very careful in selecting our collections and love innovative brands. We are approaching our 24th year and look forward to many more years assisting our Occhiali customers."
FINALISTS: Eyewear Selection: Santa Barbara Eyeglass Factory; Sunglasses Selection: Solstice Sunglass Boutique
SHOE REPAIR
Jesse's Shoes & Repair
5915 Calle Real, Ste. D, Goleta, 964-3414
Jesse Holder Jr. ought to get a lifetime achievement award to go alongside his rack of Best Of readers' poll awards. For 39 years, Holder has done great business in the same location. There are very few others with that kind of longevity and faithful customers. He sees it a little more clearly, though. "We get work out when we promise to have it done, and our prices are always reasonable." We're nominating him for a business advice award, too.
FINALIST: Step-N-Out Instant Shoe Repair